Agitprop filmfest brings the revolution to the cinema
The first Agitprop International Film Festival on People's Struggles is an eye-opening collection of revolutionary works that looks at pressing issues all over the world.
"Gil Scott-Heron once cautioned that the revolution will not be televised and he is right. But until that happens, it wouldn't hurt if we, together, witness on the silver screen how parts of revolutions from various places around the world come together," said festival director RJ Mabilin in his welcome message.
The film festival ran from July 2 to July 4 at the College of Mass Communications Media Center, University of the Philippines in Diliman.
It was followed by the
International Conference on Progressive Culture
, which is entitled "People's Art: Shaping the Society of the Future." The conference on July 4 to 6 gathers more than 80 progressive artists all over the Asia-Pacific region, the Americas and Europe representing a wide range of disciplines: visual arts, music, literature, dance and film.
Film activism was highlighted at the forum, which was attended by several of the featured filmmakers, despite lack of sponsorship. "This just shows how deep the solidarity is between the filmmakers who promote the same cause of social justice and change," said Mabilin.
Taking its title from the activist bywords agitation and propaganda, the Agitprop film festival aims to increase public awareness, using culture and the arts, on serious social and political realities across the globe.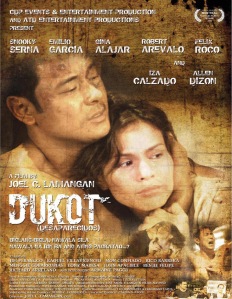 The three-day festival featured 30 entries including award-winning films such as "Cultures of Resistance (U.S.)," "Mirage of El Dorado (Canada)," "The Yes Men Fix the World (U.S.)," and "DUKOT/Disappeared (Philippines)."
The festival opened with Productions Multi Monde's "determiNATION songs," where three native artists use their talents to expose the realities and struggles in their communities. "There's a lot of prejudice, and it's because we don't know what's going on. It's because of ignorance," says Samian, one of the artists featured in the documentary.
The film explores the stories of native peoples in Canada, including the First Nations' fight for their land and the 3,000 aboriginal women who were reported missing or murdered during the long struggle.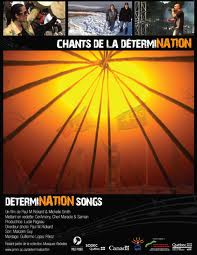 "Activism and filmmaking do not need to be separate life choices. In our experience, filmmakers who want to make films that will contribute to fundamental social and political change should be activists, too. Of course such artists have to be ready to accept sacrifice and not expect fame and fortune," wrote Malcolm Guy and Marie Boti, the directors of "determiNATION songs."
"When somebody makes a film I think they must not think about money. First, the message is very important and then maybe, money," says Mustafa Kilinc, whose film "A Smiing Face in the Circle of Fire" tells the story of history, poverty, and armed rebellion in the Philippines.
Eric Tandoc's "Sounds of a New Hope" documents Filipino-American MC Kiwi's discovery of hip-hop as a tool for community organizing in the Philippines.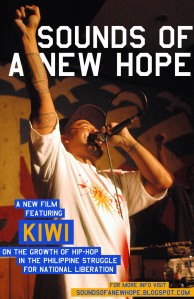 "I hope it opens your eyes. The struggle here is also spread around the world. Even though we're abroad, we understand we need to address the issues, the real problems that cause us to leave, in order for the Philippines to be truly free and truly democratic," says Tandoc, who is the chairperson of Anakbayan in Los Angeles.
For participating filmmakers, the festival is a milestone.
"Panandang-bato ito sa mundo ng independent filmmakers. Dahil dito lang nila makikita yung mga pelikula, documentary at mga video na talagang sumasalamin sa kalagayan ng lipunan at lumalahok sa paghubog ng mas makatarungan at mas makataong lipunan," says Ron Magbuhos, whose film is also featured in the festival.
His film, "Diagnosing Poverty, Building Community" is about Filipinos who take their health in their own hands, and the doctors who choose to provide medical attention that the government fails to give its constituents. "Tungkol sa mga doktor na piniling magsilbi sa mga maralitang katutubo sa Central Mindanao, rather than work in private hospitals or abroad," he says.
"I hope people come and appreciate this incredible work of resistance," says Iara Lee, whose documentary "Cultures of Resistance" is the festival's main feature.
Lee documents Medellin poets for peace, Capoeira masters from Brazil, Niger Delta militants, Iranian graffiti artists, women's movement leaders in Rwanda, Lebanon's refugee filmmakers, U.S. political pranksters, indigenous Kayapo activists from the Xingu River, Israeli dissidents, hip-hop artists from Palestine, and many more.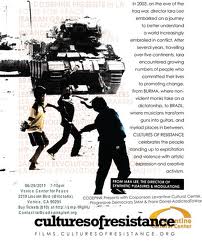 "I think culture is always a great way to unite people... This is basically what we need to do. We need creativity, we're dealing with state terrorists, weapons and powerful governments that will have no qualms about using some very horrible weapons against us. In a way I think we need to be very clever and creative to fight these machines," says Lee.
But the festival does not stop at watching the films. "A filmfest is a great way to gather and discuss what is going on, and figure out ways for action. At the end of the day we need action," she says. Lee encourages those who are not able to attend the festival to follow the discussion online.
Lee stresses that she is an activist, and filmmaking is her tool. She was on the MV Mavi Marmara, a passenger vessel in the Gaza Freedom Flotilla which was attacked in international waters by the Israeli navy in 2010, killing nine aid workers.
"I think this is basically what we need to do, to use arts and culture to promote justice. When I was younger I was very involved in arts and culture but more for art's sake. And then I realized this is a very powerful tool... We should use it for change," says Lee.
Lee observes that technology plays a big role in activist filmmaking. "I think now we have the tools like cameras and you can even make a film with a flip camera," she says.
However, she notes that the distribution process remains stuck in the old style. "It's monopolized by movie theaters and distribution channels that are very corporate style. I think what we need to do is figure out ways of getting the information out there to people," says the Brazilian filmmaker.
Despite the odds, she says activist filmmakers must persevere in their craft. "People should keep collecting their stories and sharing with people, in the local fashion at least. There is no excuse nowadays," she says. -
YA, GMA News