Scoring your dream job through social media
Who'd have thought that what started out as my picture-taking, testimonial-hoarding Friendster habit as a 12-year-old would eventually help me land my dream job? My mom never shut up about my "excessive" Internet use — until the day I told her, "Mom, I got my job through Twitter."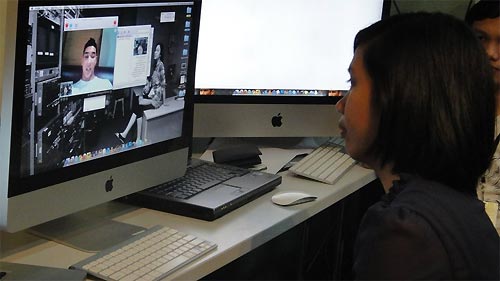 Conducting a Skype interview with Azkal Neil Etheridge who's in London for a series of advancers that ran on Social Media platforms.
Lian Buan
Not too long ago, while browsing though my Twitter timeline, something grabbed my attention: a tweet about an opening on the GMA News Social Media team. A quick bit of online research dug up my future boss' Twitter account, where I learned he had just seen David Fincher's
The Social Network
— which also happened to be my favorite movie.
I was also able to uncover his email address and promptly sent in my resume. While waiting for a possible interview, I studied his tweets to learn what might impress him or turn him off. And when that day arrived, I came well-prepared not just skills-wise, but with a little something more that would give me an edge over the the rest of the applicants.
It worked perfectly.
But that's just half of the story. The bigger question is, how do prospective employers use social media to find and hire people?
In other words, what does
your
online presence say about you as a prospective employee?
Resumes out, Web Profiles In
A recent survey by OfficeTeam
reveals that 36 percent of HR managers think that it's somewhat likely for social media profiles to eventually replace resumes.
What you do and don't post is becoming more and more a determinant of your hiring chances. Should you opt to maintain a generic, albeit distant, tone on Facebook? Or get personal with your friends, going as far as calling out your ex-boyfriend with a string of expletives?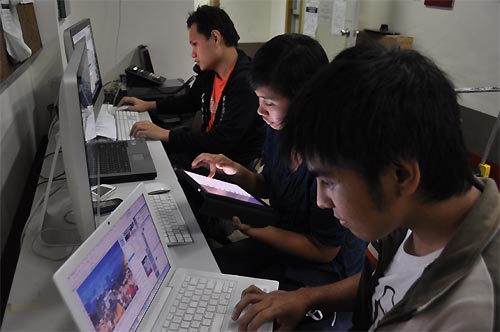 Another day at the office for the team. A very cool part of the job - we get to be the 'testers' of the latest gadgets. That's me holding the iPad.
Lian Buan
A few days before I started my job, I had jokingly replaced my surname on Facebook with that of one of my favorite book characters. What could be the harm in that?
But it backfired when I got the chance to meet Howie Severino, one of my favorite journalists in the country — only to have him ask why my surname was "Weasley" online.
Online background checks
In the US, 'Googling' an applicant has become an accepted means for employers to conduct background checks —especially since the Federal Trade Commission
gave the green light to Social Intelligence Corp.
to conduct background checks on client companies' prospective employees.
But social networking is public, and you have full freedom over what you post. Once you put it out there, you basically give any prospective employer the right to use it as a basis of gauging your potential as an employee.
While our accounts on social networks like Facebook and Twitter are not always an accurate mirror of our credentials, they are, however, a virtual crash course on our interests, how we normally think, and how we carry ourselves.
Profane tweets and drunken photos don't exactly build up your case for "employee of the month."
If you are applying to be an Economics practitioner, and you rarely blog if at all about Economics, you are likely to pale in comparison to the applicant whose Twitter timeline reeks of Wall Street Journal links.
In my case, having applied for a job that required writing proficiency, I have my Blogspot to thank. It turns out that my future boss did his own online snooping, and he said that I liked the way I wrote my blogs.
Also,
according to 'Personal Branding' blog founder Dan Schawbel
, your online presence offers clues as to how you will likely fit into a prospective company, and whether you'll be able to cope with the corporate culture there. Employers need to be assured you're in it for the long run.
Now that I'm on the other side, taking part in my team's selection process, I can speak from experience that Facebook profiles, Twitter streams, Tumblogs and Skype interviews have been very effective in helping us gauge if an applicant fits into a team that puts a premium on "gel-a-bility."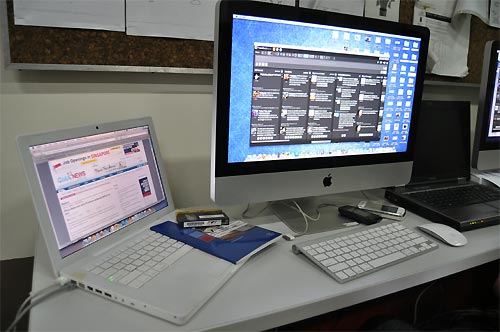 The Social Media Team's tools of the trade.
Lian Buan
Trusted headhunter
A recent survey by web recruitment company JobVite
shows that 83 percent of employers in the US prefer the "Social Media way" of hiring. Also in the same survey, employers gave social networks a 7 out of 10 rating as source of quality candidates — next only to referrals, internal transfers, and direct sourcing.
Moreover, 54.5 percent of companies this year are channeling their investments into social media as a recruitment source. As social media gains higher trust among employers, applicants can capitalize on the accessibility of social networking sites to showcase their 'qualities' more comprehensively compared to a piece of paper.
But this isn't to say that a person should treat their Facebook or Twitter profiles as an application letter. Users should be more conscious of the fact that the fate of their dream jobs could be decided by a single tweet or Facebook post.
Sacked over Social Media
But things don't stop with the magic words "You're hired." Just as an impressive online profile can help you get a job, social media misuse could just as easily backfire and get you kicked out of work.
Former US Congressman Anthony Weiner may be the most famous person in recent history to lose his job over online misbehavior. The embarrassment of posting lewd photos that led to the eventual revelations of online affairs with women led him to resign.
But most ordinary employees don't have the privilege to quit: They can get summarily sacked.
Last month, tech blog Mashable
published a report
on ten people who lost their jobs over social media mistakes.
One of them was a 22-year-old who tweeted about receiving a job offer that promised a "fatty paycheck" but meant he had to do something he hated. He was fired before he could even start.
Sure, sometimes it does get frustrating at the office and ranting helps, but we should always be responsible for what we say.
I'm really thankful to have found my dream job, and I have social media to thank for it. I found about it on social media, and got it with the help of social media. Now the challenge is keeping it — also through social media.
One piece of advice that I always follow? Think before you click.
— TJD/CM, GMA News