PNoy took figures in SONA out of context, analysts claim
In his statistics-driven State of the Nation Address (SONA), the President glossed over figures that would have depicted a more grounded and even less impressive national situationer, an economist and a think-tank analyst said Monday.
President Benigno Aquino III trumpeted his accomplishments but not in the context of certain self-imposed targets that he has not met, said University of the Philippines economics professor Winnie Monsod in a telephone interview with GMA News Online.
Sonny Africa, research head of independent think-tank IBON Foundation, also told GMA News Online that by excluding certain nuances in data, Aquino effectively reported half truths in his SONA.
Reporting the gains of his one-year-old administration, Aquino's
SONA
focused more on "social transformation," said Communications Strategy Secretary Ricky Carandang, who was part of the team that drafted Aquino's speech.
Rice gains not due to PNoy
One of the items in the speech that both Monsod and Africa singled out involves the Philippines' supposed gains in rice production. In his SONA, Aquino said the Philippines was able to slash the rice shortage in his first year in office,
lessening the need for the country to import
the commodity.
Citing data from the Bureau of Agricultural Statistics (BAS), Africa said the increase in rice production is not directly attributable to the Aquino administration.
In its
April 2011 Rice and Corn Situation Outlook
that was independently accessed by GMA News Online, the BAS projected a 14.9-percent increase in palay production for the first half of 2011, to 7.61 million metric tons (MT) from 6.62 million MT in the same period last year.
"This could be attributed to the expansion in harvest area and improvement in yield compared to last year's conditions when palay production was adversely affected by the El Niño phenomenon," the BAS explained.
Give credit to farmers
For Africa, this means it is the favorable weather and the efforts of farmers to increase the areas planted to rice that should be credited for the Philippines' rice productivity gains.
"
Walang kinalaman ang gobyerno sa weather at sa expansion ng rice lands
," Africa said, adding that he did not know of any government project that pushed for an increase in the areas planted to rice.
Noting that Aquino was "very proud" of this development, Monsod also said, "That's not an increase in production but an increase in hectarage."
In fact, rice farms were not any more productive in 2011 than in 2009, before the El Niño phenomenon — an abnormal weather pattern characterized by prolonged drought — plagued the country's rice fields, according to both Monsod and Africa.
BAS data showed that rice farms yielded 3.80 MT per hectare (MT/ha.) in 2011 — a 0.01-MT/ha. difference from 3.79 MT/ha. in 2009 when the Arroyo administration was still in office. In 2010, during the onslaught of the El Niño phenomenon, areas planted to rice yielded 3.64 MT/ha. of the staple grain.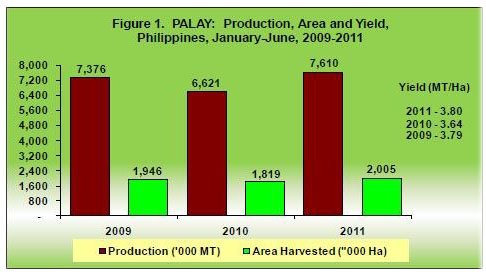 Bureau of Agricultural Statistics data show that the productivity of rice farms barely improved in 2011 as compared to 2009, before the El Niño phenomenon hit the country and during the term of then-President Gloria Macapagal-Arroyo. Screen grab from the April 2011 BAS Rice and Corn Situation Outlook
Inaccurate employment numbers
In a statement, Africa also criticized the Aquino's claims that the employment situation improved "with a slightly lower unemployment rate and 1.4 million jobs created."
Aquino said Filipinos are now finding
more jobs in the domestic market
and slowly letting go of their ambition to find employment abroad.
The IBON research head said Aquino failed to mention that the jobs created "were more than offset" by a growing labor force of 1.2 million people and an 829,000-increase in underemployment, which he said indicates an increase in the number of low-quality work opportunities.
Africa also downplayed the Philippines' supposed gains in the stock market as well as the ratings upgrades given by the international agencies Moody's, Standard and Poor's, Fitch, and the Japan Credit Ratings Agency.
"
Wala namang direktang kaugnayan 'yon sa issue ng mga karaniwang mamamayan — trabaho, pagkain
," Africa said.
Monsod also said Aquino's statement that he will not increase taxes "has no economic basis" and is "populist." She explained the Bureau of Internal Revenue (BIR) and the Bureau of Customs (BOC) have not even met the revenue targets set by the government.
In January, the Finance Department
said
the BIR collected only P822.39 billion in 2010, lower than its revised goal of P860 billion. The BOC generated only P259 billion in 2010, lower than its revenue target of P280.7 billion, the department's records also showed.
Selective data
Meanwhile, Monsod hit Aquino's supposed selectiveness in citing statistics – in particular his reference to a Social Weather Stations (SWS) survey on self-rated hunger in the second quarter of 2011.
"
Nitong taong ito, taumbayan na mismo ang nagsabi, nabawasan ang nagugutom sa kanila. Mula 20.5 percent na self-rated hunger noong Marso, bumaba na ito sa 15.1 percent nitong Hunyo, katumbas ng isang milyong pamilyang Pilipinong nagugutom dati, pero ngayon ay nakakakain na nang tama kada araw
," Aquino said in his speech without attributing the numbers to SWS.
Monsod noted that Aquino
discredited
a similar SWS
survey
in the first quarter of the year, which showed that the number of self-rated hungry Filipinos rose to 20.5 percent.
"All of a sudden, he is quoting the survey without reservations," Monsod said. "If he accepted that hunger went down in the second quarter, then he must accept that hunger went up in the first quarter."
The economist said the President "went the way of all his predecessors, which is to showcase his accomplishments but forget his shortcomings."
Referring to Aquino's slogan that the public is his boss, Monsod said, "
'Pag nagre-report ka ba sa boss mo, you will only include the good things
?"
Nevertheless, Monsod commended Aquino for his stand on the Spratlys issue in his speech, among other things. "The Philippines is firm in its territorial claim," she explained.
Compared to other Presidents
While opinions remain divided over Aquino's SONA, the performance of his predecessors during their first years in office may provide a barometer of how the President is doing, according to a special report on GMA News' "24 Oras" newscast.
The reported noted that among the former presidents' achievements include Corazon Aquino's fast rebuilding of the country's democratic systems, Fidel Ramos' actions to address the electricity and power crises during his reign, Joseph Estrada's ability to pacify the nation in the aftermath of the 1997 Asian financial crisis, and Gloria Macapagal-Arroyo's focus on the economy.
— with a report by Bea Cupin/VS, GMA News