Female cop in Agusan leads defense against NPA attack
The New People's Army thought they could take advantage of a rookie who was also a woman.
Instead, newly installed police chief Charity Galvez led about 30 police and civilian personnel in repelling an assault on Saturday by over 200 NPA guerrillas in Trento, Agusan del Sur.
"Hindi kami naubusan ng bala. Tuloy-tuloy 'yung putukan,"
Galvez said in a phone interview with GMA News Online.
An Army brigade commander, however, placed the
number of attackers at 40
.
In a coordinated attack, the rebels had charged the station using three Isuzu trucks, with NPA forces deployed around the area engaging militiamen who attempted to reinforce the police defense.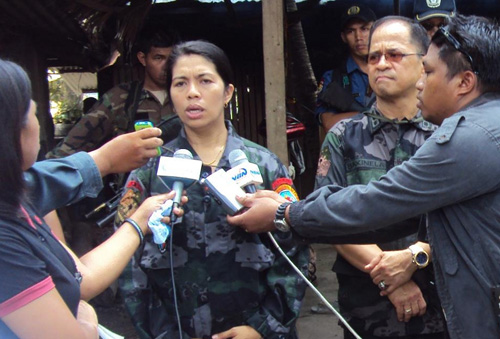 Police chief Charity Galvez recounts to reporters how she and her officers repelled over 200 armed rebels who tried to overrun their police station in Trento, Agusan del Sur. Ben Serrano
The hour-long firefight ended when the rebels left their vehicles and fled on foot, bringing with them several dead and at least two wounded, who were
apprehended
on Sunday in a Surigao hospital while trying to get treatment. Galvez's men suffered one dead, while another militia man died trying to come to their aid.
In a statement issued Sunday, the Philippine National Police (PNP) regional office in Caraga said Galvez and her personnel "courageously stood their ground" against the rebels who attacked the Trento Municipal Police Station.
It was one of the biggest NPA assaults in a population center in recent years.
Preparing for another attack
The lady police chief, a former schoolteacher, said she expects the communist rebel troops who failed to overrun her police station to try again. Police Inspector Charity Galvez told GMA News Online that she will fortify her station's defenses with physical barriers and other measures.
She said the attack on her police station was unprovoked.
"Ang ganyang atake ay pinagplanuhan nila ng ilang buwan. Wala silang dahilan sa kanilang pag-atake o anuman laban sa akin."
Galvez has been police chief of Trento only since April 1. Her previous assignment was at the provincial headquarters. Prior to joining the PNP in 2000, Galvez was an elementary school teacher for seven years. "I wanted to widen my horizons but I can still teach."
The Trento police had one fatality, Salvador Ralla Jr., identified as a "station striker", while two officers, PO1 Joel Lazarte and PO3 Mhel Hubo, sustained slight injuries.
Galvez said Ralla was a civilian personnel of the station. She praised Hubo for exceptional courage during the one-hour firefight. Galvez said she repeatedly warned Hubo to be wary of snipers whenever he would be exposed to enemy fire.
In a statement issued Sunday, PNP Caraga said the attacking forces were led by a Commander "Lalay" and a Commander "Rico".
PNP Caraga also told GMA News Online that included in the estimate of 250 attackers were combatants who were part of the blocking forces deployed around the station to keep reinforcements from coming in.
Then three Isuzu forward trucks used by the rebels were recovered later, abandoned after the attackers escaped on foot.
There was another fatality, Vergilio Perocho, a former civilian militia member, who died when reinforcements from the town of Sta. Josefa who came to the aid of Trento police were met by some of the blocking forces of the heavily-armed attackers.
Among the police's inventory of items recovered from the scenes of the encounters, were live ammunition for a M60 machine gun, a M79 grenade launcher, and a caliber .45 pistol. There were also 36 empty shells of rifles that use caliber 7.62 mm, 5.56 mm and 30 mm bullets.
- With a report by Ben Serrano/HS, GMA News