Mamma Mia! to reintroduce Filipinos to ABBA hits
At first, the idea of a musical that features blonde and blue-eyed characters in sparkly outfits does not quite appeal to me. But when it is a musical based on the songs of ABBA, well, that changes everything. After all, Manila is ABBA country!
That was actually what Cultural Center of the Philippines' operations head Ariel Yonzon told Lunchbox Theatrical Productions founder James Cundall when CATS was showing at the CCP in 2010. Two years later, Cundall is back in Manila to promote
Mamma Mia!
, which will be shown for a limited season starting Jan. 24, 2012.
I have to agree that a musical based on ABBA songs would feel right at home in Manila. Whether your earliest memory of hearing an ABBA song was on the radio, at your high school dance, or during a videoke session, it's highly unlikely that you didn't end up liking it.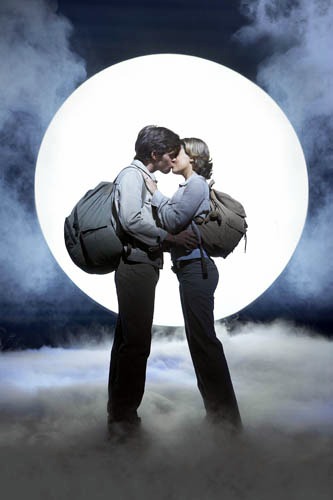 Since its debut in 2004, Mamma Mia! has been seen by over 50 million people worldwide. Photo courtesy of Lunchbox Theatrical Productions
Or, as Cundall so succinctly puts it: "You'll always remember where you were and who you were with when you first heard an ABBA song."
The Swedish pop quartet was one of the biggest bands of the Seventies, and they remain to be quite popular today, more than two decades since they disbanded in 1982.
So it's safe to predict that when the international tour of
Mamma Mia!
runs in January at the CCP Main Theater, a lot of people will be more than happy to see what is being touted as a global smash hit.
Since its debut in 2004,
Mamma Mia!
has been seen by over 50 million people worldwide, grossing over $2 billion at the box office, and has premiered in over 300 major cities.
The story, written by Catherine Johnson, is a tale that unfolds on a Greek island paradise. A fair maiden is about to marry the man she loves, and to have her father walk her down the aisle would complete her dream wedding… except she doesn't know who her father is.
With clues found in her mother's old diary, the girl sets out to find her father. Adding to the excitement is the fact that the diary mentions not one possible sperm donor, but three.
It would seem that any cultural or language barriers there might be are no match for ABBA's universal appeal. The highly contagious music and the hard-to-resist love story appeals to audiences from all sorts of backgrounds, and
Mamma Mia!
has been translated into 14 languages. It also has the distinction of being the first global musical to open in Chinese.
Without needing any translations, guests at the
Mamma Mia!
press launch were evidently looking forward to the show next year.
When members of the cast performed excerpts from the musical, the guests enthusiastically sang and danced along. Kelly Edwards (Dance Captain), Rosie Heath (Ali), Sara Poyzer (Donna Sheridan), Tasha Taylor Johnson (Lisa), and Charlotte Wakefield (Sophie Sheridan) gave the audience a taste of "Honey, Honey," "I Have a Dream," "Dancing Queen," and of course, "Mamma Mia."
They wove through the tables, pulling people to their feet, until it looked more like a high school prom than a press event, complete with wallflowers shying away from all the action.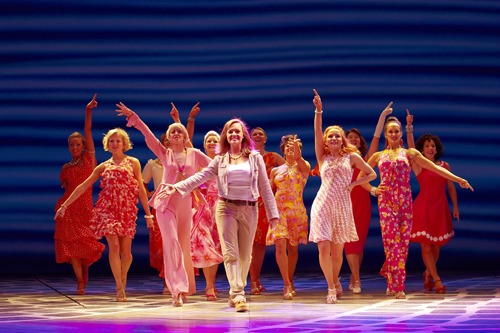 Mamma Mia! is also popular for its use of classic ABBA songs like 'Dancing Queen' and 'Honey, Honey', among others. Photo courtesy of Lunchbox Theatrical Productions
Creative producer Judy Craymer notes that it isn't just the music that makes
Mamma Mia!
such a hit. "I knew from the outset that
Mamma Mia!
had to be much more than just an ABBA compilation or tribute show. The story had to be as infectious as the music and provide a strong feel-good factor," she says in British journalist Mark Shenton's
"Mamma Mia!: The Global Smash Hit.
When Craymer commissioned Catherine Johnson to write the book for
Mamma Mia!
, the playwright found drama in Bjorn Ulvaeus and Benny Andersson's music. She also discovered that many of the early ABBA songs were more innocent, with themes teenagers could relate to, while the later music grew to be more mature and reflective.
That, together with the fact that women sang the songs suggested the mother-daughter story. While Ulvaeus felt the story should be more important than the song, Johnson believed that she should always return to the song. As a result,
Mamma Mia!
is a neatly tied artistic achievement where the story is the music, and the music is the story.
The musical is also the product of a collaboration of three women — Craymer, Johnson, and the director Philippa Lloyd. But as the ratings prove,
Mamma Mia!
appeals to all sorts of people, male and female, young and old.
"There's a mother-daughter relationship; an old romance; there's losing someone and finding them again. There are all kinds of things that everyone can relate to," says Johnson.
Sure enough, Cundall shares that he has observed several grandmothers and five-year-olds in the audience, all enthralled. "It's transgenerational," he says.
And, if for some reason you still don't identify with any of the characters, the prospect of ABBA's music taking you back to the good old days of disco should be enough for you to take a chance on
Mamma Mia!
"
Mamma Mia!
is the show Bjorn and Benny never knew they had written. Their music has made pop history; our show has made musical theater history," Shenton quotes Lloyd.
— KBK, GMA News