UP student wins intl award for building libraries in rebel hotspots
A 16-year-old Filipina Christian-Muslim won an international award for building libraries and distributing books in areas known to be hotspots of rebel and terrorist groups in the Philippines.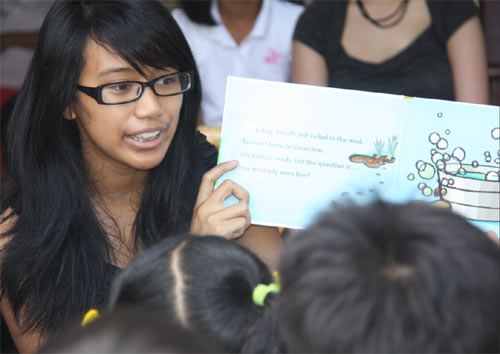 Zonta International Awardee Holds Book-Reading Session. Arizza Ann Sahi Nocum, administrator of the Kristiyano-Islam Peace Library, holds book-reading session with poor children from a slum area in Quezon City where Kris has set up its second library. Nocum is one of five international winners of Zonta's Young Women in Public Affairs Award (YWPA) for her work in building libraries and distributing books in areas known to be hotspots of rebel and terrorist groups in Mindanao.
Arizza Ann Sahi-Nocum, the administrator of the
Kristiyano-Islam Peace Library
(Kris), was the first Filipina to win the prestigious Zonta International Young Women in Public Affairs Award (YWPA).
An honor graduate of the Philippine Science High School, Nocum is a freshman at the University of the Philippines where she is an Oblation Scholar. She is majoring in industrial engineering.
Nocum and four other awardees from the US, Switzerland, India and Ghana received US $3,000 from the Zonta International Foundation.
Nocum will receive an additional US $1,000 for besting other finalists in the Zonta International District 17 which comprises of the Zonta clubs in Hong Kong, Singapore, Thailand, Malaysia and the Philippines.
Aside from Nocum, the other winners were Emily Kvalheim (USA), Mehitabel Markwei (Ghana), Anjali Chandrashekar (India) and Nasma Dasser (Switzerland).
The five finalists were chosen through a rigorous screening and review by 1,200 Zonta clubs across 64 countries.
Zonta International President Dianne Curtis will hand Nocum the award on August 27 at the Zonta's 16th District Conference at the Sofitel Hotel in Pasay.
Zonta's YWPA award is given to young women aged 16-19 years old who demonstrate a commitment to leadership in public policy, government and volunteer organizations.
Zonta International is a global organization of executives and professionals working together to advance the status of women worldwide through service and advocacy.
Dedicated to Christian, Muslim scholars
In a statement, Nocum said, "I dedicate this award to our Christian and Muslim scholars and library users whose determination to pursue their dreams amid war, hunger and extreme poverty inspires me to work harder to improve myself and to pursue our advocacy work amid my busy school schedules."
She was only seven years old when she started giving speeches and distributing books in poor public schools in Mindanao.
The Zonta Club of Quezon City in the Philippines nominated Nocum for the international award because of the essay writings and advocacy work profile sent to Zonta International.
Kris Peace Library
Nocum earned the coveted award for her work in the non-profit organization Kristiyano-Islam Peace Library (Kris) which was put up by her Roman Catholic father Armand Nocum, a former reporter of the Philippine Daily Inquirer, and her Muslim mother Annora.
The Nocums have started the advocacy in 2001.
The organization aims to eradicate poverty and conflict through the education of the youth throughout the Philippines.
It carries the belief that war is the product not only of religious extremism but also of poverty, lack of education, and hopelessness.
Seven libraries
The organization has so far established
five libraries in a slum area in Quezon City;

one library in a resettlement area for victims of Typhoon Ondoy in Montalban, Rizal, and

one library in a suspected jump-off point of the Abu Sayyaf in Zamboanga City.

The organization will set up two more libraries in a Moro Islamic Liberation Front (MILF) stronghold in Tungawan, Zamboanga del Sur.

The Kris Library has awarded 101 scholarship grants to poor children. It also provided free computer use and basic computer lessons to impoverished kids.

The organization also donated books, school supplies, and computers to public schools and poor communities all over the country.

"My dad always tells me: every book we get from our donors and send to the kids takes them one step away from poverty and one step towards a better life. That's what I believe in too," Nocum said.

As administrator of the organization, Nocum catalogues the books at the libraries, writes news articles and letters to donors, facilitates activities with children, and interacts with volunteers, donors, and partners of the organization. - VVP, GMA News