Friends 'disappear' on Facebook for 'desaparecidos'
If your friends' profile photos have disappeared, don't blame Facebook.
They have probably taken their photos down in remembrance of "desaparecidos" or missing persons to mark "International Day of the Disappeared" on August 30.
Just after midnight on Tuesday, people began taking down their profile photos, urging others to do the same.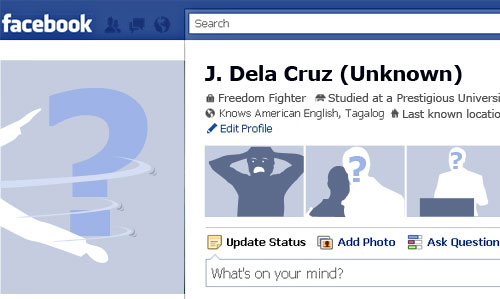 Desaparecidos Secretary General Mary Guy Portajada said the meme began in the Philippines with human rights workers Cristina Palabay of End Impunity Alliance, Aya Santos of Desaparecidos and Girlie Padilla of Karapatan.
Portajada added that the meme has spread via the social network to other parts of Asia, as well as Canada, the United States, and Europe.
"In remembrance of the disappeared in the Philippines and around the world, whose lives, rights and freedoms were taken, please take down your profile picture on August 30, International Day of the Disappeared," read the message, which originated from Desaparecidos and End Impunity Alliance.
"We invite you to do the same. No profile photo. STOP ENFORCED DISAPPEARANCES NOW! JUSTICE FOR ALL VICTIMS OF ENFORCED DISAPPEARANCES!" the group added.
Similar calls were also made via status updates, such as "Lend your voice to the disappeared. Surface all victims of enforced disappearances!"
Missing persons
Some messages were more specific than others, mentioning specific cases of Filipino desaparecidos such as Jonas Burgos, Karen Empeño and Sherlyn Cadapan.
Empeño and Cadapan are UP students who disappeared in 2006.
Burgos, a political activist and son of the late press freedom fighter Jose Burgos, disappeared in 2007.
"Remember our desaparecidos not just today, but tomorrow, the day after, and the days after that, until they are found," shared one Facebook user.
"Mrs. B"
In Manila, the group Desaparecidos, with support from The Asia Foundation, will hold two screenings of "Mrs. B, a one-act play that depicts the life of Desaparecidos chairperson Edita Burgos, mother of Jonas Burgos.
The play was directed by Soc Jose and written by award-winning playwright Joi Barrios together with Rowena Festin and Grundy Constantino of the Concerned Artists of the Philippines.
"We have brought our battle to all legal remedies available. We have also taken alternative means to increase the community's awareness on the phenomenon of enforced disappearance, which to me, is one of the gravest crimes against humanity," said Mrs. Burgos.
First staged in 2009 with Pinky Amador as Mrs. B, the restaging features Bibeth Orteza and Malou De Guzman today at the UP Aldaba Hall.
Raising awareness
Aside from staging a play, another alternative way to raise awareness about missing persons is through music. Irish rock band U2's song "Mothers of the Disappeared" is about the mothers of missing persons.
Recently, a running event — "Run for your Life: This is not a fun run" — was held in remembrance of missing persons Empeño, Cadapan, Manuel Merino, Prudencio Calubid, Celina Palma, Ariel Beloy, and Gloria Soco.
Call for protection of human rights
Early this month, non-government groups led by The Asia Foundation went to the House of Representatives to call for state protection of human rights.
The Asia Foundation consultant Al Parreño said there is a need to reeducate the military and the police, some of whose members are linked incidents of extralegal killings and forced disappearances in the country.
No law against enforced disappearance
In the Philippines, there is no law yet criminalizing the act of involuntary or enforced disappearance.
Members of Desaparecidos called on the Philippine Legislature to pass into law House Bill 3046, "An Act Defining and Penalizing the Crime of Enforced or Involuntary Disappearance."
They also urged the Aquino government to ratify the International Convention for the protection of All Persons from Enforced Disappearance which was adopted by the UN General Assembly on December 20,2006 and entered into force on December 23, 2010.
Department of Justice records show that around 10 to 12 confirmed cases of extrajudicial killings have allegedly occurred during the Aquino administration, with zero convictions.
However, the human rights group Karapatan has pegged the number of alleged extrajudicial killings during Aquino's first year to 48.
On the other hand, there were allegedly 1,205 incidents of extralegal slays during the nine-year administration of former President Gloria Macapagal-Arroyo.
Involuntary disappearances
Meanwhile, in a YouTube video posted on Monday, the United Nations Working Group of Enforced or involuntary Disappearances explains their work.
"An enforced disappearance occurs when a person is taken against their will by the state or state agents and the wherabouts is not revealed to their family or to their legal representatives," said chairman Jeremy Sarkin.
Out of the 55,000 cases they are handling, Sarkin said their success rate is about 20 percent.
"In other words, about 10,000 cases have been resolved since the working group began in 1980. We work with countries to make sure they have a particular law criminalizing enforced disappearances, setting in place mechanisms to deal with training of the miltary, dealing with a register for detainees," he said.
"Anything that can help to prevent and eradicate the practice of enforced disappearances around the world. Luckily for us, the new convention on the protection of all persons from enforced disappearances has now come into force," he added.
He lamented the fact that enforced disappearances remained a very under-reported crime.
"Many people don't know about us, don't know about these mechanisms," he said.
"Certainly we try and encourage people that have had family members or colleagues at work or others who have disappeared to come forward and report their particular cases. We hope we can be helpful in those particular situations," he added.
- VVP/HS, GMA News