GMA-7 docu 'Philippine Treasures' to explore the history that inspired Amaya
When
24 Oras
news anchor Mel Tiangco came face to face with the Golden Tara, considered by some experts as one of the most spectacular finds in Philippine archeology, she was intrigued. Was it worth going all the way to Chicago, USA to see?
"She was very small!" Tiangco told GMA News Online about the statue, showing its height with her thumb and index finger. "I thought, 'What's spectacular about this thing?'"
But the Golden Tara grew on her after she spent a few moments with it. She said she couldn't help but be entranced by the object's "serenity."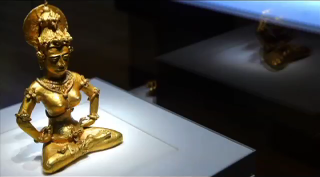 Depicting the image of a Vajryana Buddhism deity, the Golden Tara now resides in the Field Museum in Chicago, USA, far from Agusan del Sur where it was originally found. Image screencapped from Philippine Treasures
Then you fall in love with her," said Tiangco. "The more you look at her, the more she becomes beautiful."
The 5-inch-tall golden statue shares the section with precious gems and diamonds. But since it's displayed miles away from Agusan del Sur, where it was found, few Filipinos get to witness the item's beauty.
This Sunday night, however, viewers will be treated not only to the sight of the Golden Tara from its current home at the Field Museum of Natural History in Chicago, but also to stories of other intriguing historical finds from all over the country.
GMA News and Public Affairs will air 'Philippine Treasures," a special documentary about some of the most important relics from the Philippines' literally rich pre-colonial past. The documentary is hosted by Mel Tiangco, with reporting by Mariz Umali, Cesar Apolinario, Tina Panganiban-Perez, and John Consulta.
Program Manager Lee Joseph Castel said that he got the idea for the documentary after a spontaneous trip to the National Museum.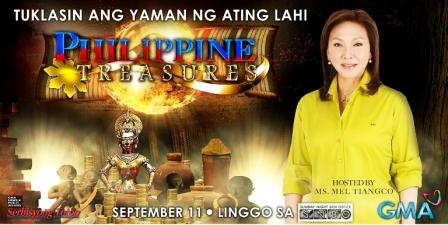 "
Na-fascinate ako masyado sa mga artifacts doon, so naisip ko parang wala pang gumagawa ng special tungkol sa historical artifacts dito sa Pilipinas
," Castel told GMA News Online. He also shared that the National Museum itself is also suffering from the lack of funds.
Motivated to change the perception that Filipinos lack a sense of history, the production staff withstood long journeys and heavy rains, and even braved rebel-infested areas, in search of the country's almost-forgotten treasures.
The team's pursuit brought them to the southern tip of Cebu, to Boljoon, where an earring believed to be once used by Lapu-Lapu was found in an archeological dig. They also visited Surigao del Sur, where in the 1980s, a farmer discovered a treasure trove of ancient golden jewelry, now on display at the Ayala Museum.
They also searched for the Maitum Burial Jars in Saranggani and investigated the authenticity of a stone found in Masbate supposedly engraved with baybayin script, an ancient form of Filipino writing.
Tiangco and Castel even also travelled all the way to Chicago, USA to see the Golden Tara in person.
"
Kaunti lang kasi ang sinasabi sa
pre-colonial history
ng Pilipinas
," said Castel. "
Wala tayong identity bilang Pilipino, pero pag titignan mo yung mga ninuno natin
, defined sila eh.
Hindi tayo natagpuang indio ng mga Kastila
."
For Tiangco, these treasures say so much about how rich our country was.
"When I say (we were) rich, talagang (we were) rich! We're talking of gold here," shared Tiangco. "It tells you how creative our people were. Not only creative but intelligent!" Tiangco was also amazed by the craftsmanship of ancient Filipinos who created human-like burial jars such as those found in Maitum.
With the success of primetime epic-serye "Amaya," which has sparked viewer interest in pre-colonial Philippine history, Castel added that a history-related special documentary is nothing but "timely."
"
Sana hindi lang yung mga televiewers, kundi rin 'yung mga namumuno sa atin, sana ma-realize ang kahalagan ng mga bagay na ito
," said Tiangco of the documentary's subjects.
Both Tiangco and Castel hope that efforts can be made by officials to preserve the Philippines' historical artifacts, and to strengthen support for the National Museum.
"
Parang wala tayong pakialam sa history natin
," said Castel. "
Kung lilingon lang tayo sa nakaraan natin, makikilala natin talaga kung sino tayo
as a race."
Watch "Philippine Treasures" at 10:30 p.m. this Sunday, September 11 on GMA-7.

-PF/HS, GMA News Online