See who's on YouTube Philippines!
No less than President Benigno Aquino III will join YouTube stars Arnel Pineda and Charice Pempengco, as well as the millions of Filipinos on the online video sharing community as it launches its localized service in the Philippines.
Local personality for a global brand
Filipinos may use the brand new YouTube Philippines, which bears a colorful jeepney logo representing the country, and offers a local interface which makes it easier for Filipinos to find videos relevant to them as well as content from local and global partners. Users can go to the localized site by choosing "The Philippines" as the location setting at the bottom of the YouTube homepage. The Philippines is the 34th localized country on YouTube, and the first of its kind for Southeast Asia.
"It provides a local lens to YouTube and the Filipino audience," said YouTube Asia Pacific Director for Content Partnerships Gautam Anand, explaining that the homepage will be customized to showcase locally relevant content that is popular and being viewed by other users in the Philippines. "It's really about giving it a local personality and showcasing that a little more visibly," he said.
Exciting growth in the Philippines
"30 million Filipinos regularly access the Internet for everything from work, to school, to entertainment. The online Filipino population is growing rapidly at a remarkable 16 percent according to Comscore," said Google Southeast Asia Managing Director Julian Persaud, adding that YouTube's investment is a long-term initiative.
"Given all the excitement and engagement in the Philippines, it just made sense to launch it here first in Southeast Asia," said Google Product Management Director Adam Smith. "It's the ultimate democratic platform for media, and a valuable tool for promoting transparency," he said, noting that YouTube has an unbelievable depth and breadth of content, from top news channels to livestreaming events, to official press conferences of presidents and kings, to video collections of famous athletes like champion boxer Manny Pacquaio.
"It connects the world together, and more importantly, it connects governments with their citizens," said Smith, adding that YouTube also has its Worldview channel where moderated interviews are held with world leaders like Barack Obama, David Cameron, and José Luis Rodríguez Zapatero.
The Presidential YouTube Channel
President Aquino is one prominent addition to YouTube, with updated presidential channels from at
www.youtube.com/govph
and
www.youtube.com/rtvmalacanang
.
"Our government recognizes the significant impact of the Internet on the quality of life of 30 million Filipino users. The Presidential Channel provides a powerful, relevant way to demonstrate good governance and transparency - the cornerstone of this administration —and its contribution to poverty alleviation and sustainable economic growth," said Presidential Communications Development and Strategic Planning Secretary Ricky Carandang.
"Filipinos around the world can see and hear their government in action. It's a very valuable resource for anyone with an interest in our recent history," said Carandang. "We are taking the first step and coming to you," he said, adding that the President will be the first Asian head of state to be interviewed on Worldview on November 4.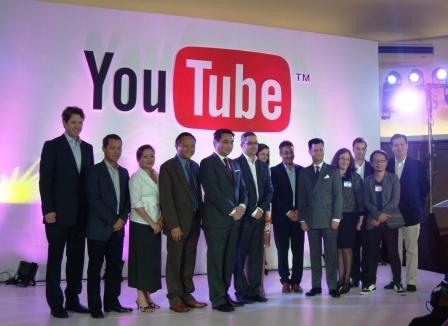 (L to R): Adam Smith, Director, YouTube; Mark Lopez, Group
Information Officer, ABS-CBN; Debbie Gaite, general manager, FILSCAP; Howie Severino, VP for Multimedia Journalism for GMA Network Inc. and Editor-in-Chief of GMA News Online; Ricky Carandang, First Head of Presidential Communications Development and Strategic Planning Office (PCDSPO); Julian Persaud, Managing Director, Google Southeast Asia; Joanna Catalano, Head of Media Solutions & YouTube, Google Southeast Asia, Gautam Anand, Director of Content Partnerships for Asia Pacific; Manuel Quezon III, Presidential Communications Development and Strategic Planning Office; Ann Lavin, Head, Public Policy and Government Affairs, Southeast Asia; David Marx, Google/YouTube Communications Manager, Asia-Pacific Region; Francis Reyes, content director of PinoyTuner; and Chad Sotelo, country marketing manager of P&G.Photo: TeamAsia
Media companies join in too
YouTube has also made partnership agreements with top Filipino media companies GMA Network Inc., ABS-CBN and TV5, as well as music companies VIVA Records, PinoyTuner, Vicor Records, Star Records and Oak3.
"GMA's new YouTube channel provides an ideal way to reach viewers through online video, whether the audience is in the Philippines or anywhere else around the world," said GMA Network Inc. President and COO Jimmy Duavit.
"It's a pleasure to be one of YouTube's first Filipino partners, and we look forward to sharing some of our best content," he said. GMA's channel will include clips of flagship newscasts 24 Oras from GMA and State of the Nation from GMANews TV, as well as highlights of top-rating entertainment programs like Amaya and Munting Heredera.
YouTube's Partner Program
Since it was created in 2007, YouTube's Partner Program has grown to include over 20,000 partners from 22 countries, paying out millions of dollars a year to partners. Partners make up to six figures a year.
"The partnerships between our networks and YouTube is a win-win solution for us all," said GMA Network Inc. VP for Multimedia Journalism and GMA News Online Editor-in-Chief Howie Severino, explaining that YouTube helps viewers access the networks' content anytime they want, and at higher picture quality.
"YouTube is more than a channel, we also see it as a huge online community where our viewers can interact with us and with each other," said Severino.
Anticipating a localized service for the Philippines, YouTube has signed a licensing agreement with the Filipino Society of Composers, Authors and Publishers (FILSCAP), allowing artists to earn revenue on YouTube. Revenue is generated when advertisements are displayed against YouTube partner's videos. Under the agreement, Filipino authors will now receive payments from their associations when rights holders distribute them. Globally, YouTube currently monetizes over 3 billion video views per week.
"Reaching an agreement with YouTube is a step forward that creates major new opportunities for our members and affiliates," says FILSCAP General Manager Debbie Gaite. "From now on, they will receive fair payment for the use of their works on YouTube which is a very positive step for our songwriters and publishers, and more broadly, the Internet."
"This partnership will definitely help us reach our goal a lot faster and in a more entertaining way. This is for all the Filipino musicians in our country and abroad," said Francis Reyes, Content Director for Pinoy Tuner.
"The partnership program allows our partners to upload their programming, their content, create a customized environment for their channel and ultimately monetize. We want to help create businesses online for our partners that have been traditional media companies and help expand their businesses, to not only have their content be available here but because it can be exported internationally, not only to the Filipino diaspora which is spread out across the world but to new audiences," said Anand.
Listening to customers
Advertisers are also excited about YouTube Philippines, as it gives them a new way to listen to their customers.
"Filipinos love to talk and they love to talk back. We are simply amazed at the creativity that this brings," said Procter and Gamble Country Marketing Manager Chad Sotelo.
"It's an overall ecosystem, of users that are embracing YouTube, partners that are willing to work with us, and advertisers that see that as an opportunity as well," said Anand.
With its localized Philippine site, the YouTube Partner Program will also open to Filipino video creators. This enables content creators in the country who make original, high-quality videos on a regular basis to become content partners with YouTube and monetize their work on the site through content creators will be able to apply online for the program at www.youtube.com/creators/partner.html
"It's so powerful. It's like going from absolute obscurity to worldwide fame. YouTube makes it a democratic process. If you have a talent, if you can reach out and make people feel something whether it's through your music or your comedy or any other talent that you have, it's great to see how that talent gets discovered and how opportunities get created that probably didn't exist before," said Anand.
"If it's a good story, regardless of what language it's in, now that we can caption it in multiple languages, that should be universally appealing. You can definitely grow an audience by being on YouTube," he said.
A subsidiary of Google Inc., YouTube has been a venue for billions of people to create and share originally-created videos since the distribution platform was founded in 2005. Over 3 billion videos are viewed every day, with users uploading the equivalent of 240,000 full-length films every week.
— TJD, GMA News