Bong Revilla: Ramona's flight to HK is a 'sign of guilt'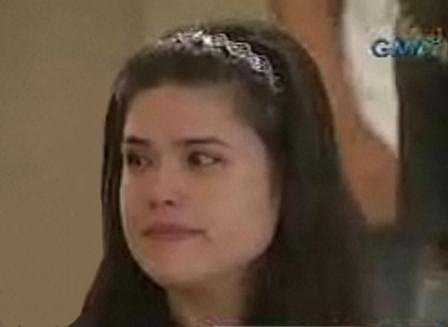 Ramona Bautista, a suspect in the murder of her kuya Ramgen Revilla, fled to Hong Kong Friday. Her half-brother Bong Revilla pronounced it a "sign of guilt." GMA News screengrab
An agitated Senator Ramon "Bong" Revilla Jr.
told a national TV audience
Friday night that he was "as shocked as everyone" that his half-sister Ramona Bautista, 21, had taken a flight to Hong Kong as accusations swirled around her that she was involved in the murder of her older brother Ramgen.
"It's a sign of guilt," Bong Revilla told Saksi news anchor Vicky Morales.
"Bakit siya aalis
in the first place?
Kung talagang wala siyang kasalanan, dapat harapin niya ito."
Revilla denied that Ramona was ever in his custody, and revealed that his half-sister's mother, Genelyn, had become angry at him for not stopping the police from arresting her son, RJ Bautista, another suspect in plotting the October 28 crime.
In a sworn statement, Ramgen's stay-in personal assistant, Ronaldo Ancajas, said the victim and his two younger siblings implicated in the killing—Ramona and Ramon Joseph or RJ—had not been on speaking terms for the past months due to a disagreement over money.
"Ang alam ko ay matagal nang may tampuhan sila tungkol sa
budget
ng bahay, dahil si boss Ramgen ang humahawak at sinisiraan daw siya sa daddy nila, at mga ilang buwan din silang hindi nagkikibuan,"
Ancajas said in his statement, a copy of which was obtained by GMA News.
Bong Revilla, Ramgen, Ramona and RJ all share the same father, screen legend and former senator Ramon Revilla Sr., now nearly incapacitated due to illness. With his father inactive, Bong has assumed de facto leadership of the sprawling clan of some 72 children sired by his father. The slain Ramgen, 23, was an actor too and supposedly a favorite of the elder Revilla, 84.
Ramona was placed at the scene of the crime by Ramgen's girlfriend, Janelle Manahan, who told police that she pleaded with Ramona to call for help but she did not do so.
Ramgen's personal assistant stated in an affidavit to the police that he spotted Ramona and RJ exiting the subdivision on foot after the crime as if nothing had happened.
Ramona later told the police that she was abducted by Ramgen's killers and was driven around before being let down outside a Las Piñas mall. Ramona in an interview with ANC on Friday retracted the abduction story and said that she was too shocked to respond to Janelle's plea for help.
Bong Revilla said that Ramona had told him the same abduction story during the last conversation they had in a Las Piñas police station. He revealed that his entire family was shocked to learn of Ramona's retraction, followed by her sudden flight to Hong Kong.
"Nalulungkot kami. Dapat hinarap niya ito. Pero
(long pause)
wala. Ano pang iisipin ng lahat ng tao? Ano pang iisipin ng buong pamilya sa ginawa niya?"
Revilla said.
"Namatay kapatid naming si Ramgen, dapat panagutan. Kung sino mang may sala dapat makulong."
Revilla's tone was one of resignation mixed with grief, much different from his combative public statement emailed to media on Tuesday expressing disbelief that anyone in his family was a suspect. Rumors abounded that Revilla would use his considerable influence to protect his siblings from prosecution.
By Friday, with the corroborating testimony of at least three witnesses, and Ramona's flight out of the country, Revilla seemed to have come to the same conclusion as many fixated followers of the unfolding family drama.
- Howie Severino/TJD, GMA News