Quiapo Church streams masses online
Filipinos abroad and those at home who want to hear Mass from Quiapo Church in Manila can now do so, after the church started streaming its Masses online.
Quiapo Church rector Msgr. Clemente Ignacio announced the initiative on Sunday, according to a report on dzBB radio.
The streaming Masses can be accessed at the Quiapo Church website
www.quiapochurch.com
, which had some 9,000 visitors as of Monday morning.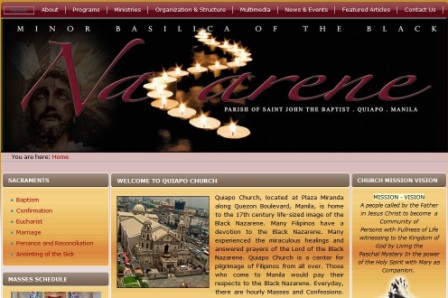 A check of the website early Monday indicated it contains the schedule of Masses, as well as a list of the church's latest activities.
It said the live streaming schedule of Masses and talks include:

Friday
4:00 a.m. to 12:15 p.m. (every hour)
3:00 p.m. (Holy hour)
4:00 p.m. to 8:00 p.m. (every hour)

Sunday
5:00 a.m. to 12:15 p.m. (every hour)
3:00 p.m. to Children's Mass (Misa Pro Populo)
4:00 p.m. to 7:00 p.m. (every hour)

Holy Hour, Talks Inside the Church

However, the website also indicated its video live streaming is still on "test broadcast" as of Monday.
— TJD, GMA News