Porsches, Ferraris, and art at the Manila Auto Salon 2011
If you are a true-blue car enthusiast, chances are, you were among the thousands of people who flocked to the SMX Convention Center last weekend. The Manila Auto Salon, a car show showcasing the best in car customizing and tuning, had its annual four-day run in the mall's cavernous annex where thousands of people ogled at shiny cars—both old and new.
The car show drew around 45,000 people last year, said Sophie delos Santos, president of Tradeshow International Inc., the event organizer. "We're hoping to surpass that record this year," she said. And it looks like they did.
Car lovers milled about the venue, which was like a giant showroom, and oohed and aahed at the automobiles—as well as the sexy female models beside them. Really now, what's with girls posing as car models? Why not employ guys with abs? Straight guys with abs, I mean.
About 140 cars were on display this year, with both local and foreign participants. "We have more off-road vehicles this year. Last year, the SUVs were fewer," delos Santos said.
Times are hard, she noted, but this just inspired some exhibitors to enter their previously shown cars, this time spruced up even more creatively. "That was nice to see," delos Santos said. The car event was also a contest, and awards were given in many categories.
"Some of the cars were just made by local companies. This shows the creativity and ingenuity of Filipinos," she observed.
Among the unique cars on display was sculptor
Ramon Orlina's art car
, a Volvo 780 Coupe Limited Edition Bertone painted in the style of Piet Mondrian's works, which won Best Mural.
One of the eye-catching cars on the floor was the red Ferrari right by the entrance. Even little boys scrutinized it, perhaps fascinated that their Matchbox car has become life-sized.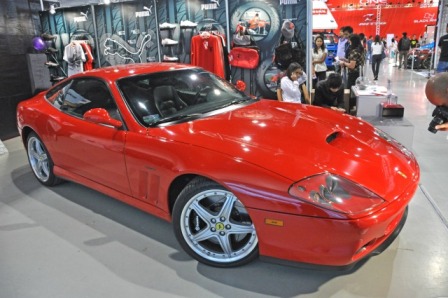 Ferrari
Since the car show was focused on the aftermarket industry, exhibitors tried to outshine each other in presenting their best pimped rides.
Among the eye candy were a 1992 red Toyota Land Cruiser (shop: Dr. G's Car Clinic; owner: Jethro Tan), a gleaming silver 2008 Mercedes Benz SL500 (shop: Wheel Gallery Inc.), a 1979 Porsche 911 dubbed the Martini Porsche that seemed ready to race (shop: JSK Custom Paint and Autoworks; owner: William Tan), and a white 2011 Honda Jazz (shop: Auto Junction; owner: Dennis Sim).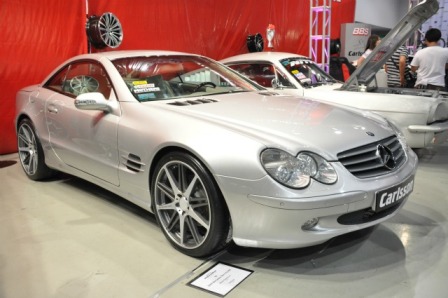 2008 Mercedes Benz SL500
Even Atty. Ferdinand Topacio, lawyer of ex-President Gloria Macapagal Arroyo, had an entry -- a cute little blue Nissan S-Cargo (shop: Alfred Motorworks). It bagged 3rd place in the Van category.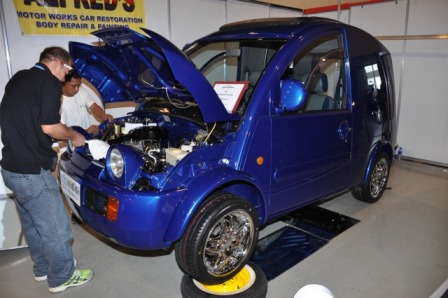 Nissan S Cargo
Restored cars were beautiful, even the rusty blue 1937 Plymouth P3 (shop: Alfred Motorworks; owner: Alfred Perez) that the exhibit touted as "Patina Galore."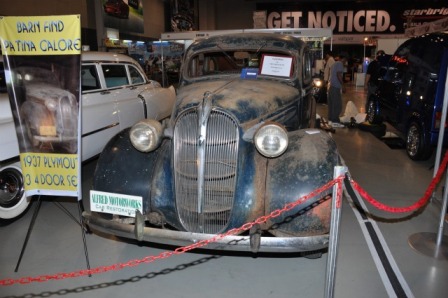 1937 Plymouth P3
A white 1953 Cadillac Limousine (shop: Alfred Motorworks; owner: Domingo Perez) bagged the Best Restoration award, and it was clear to see why. What a beauty!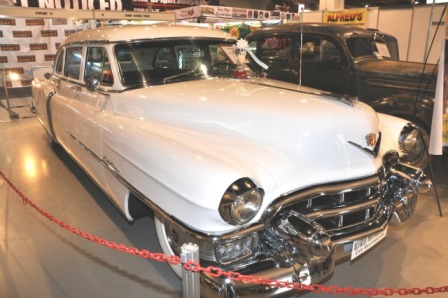 1953 Cadillac Limousine
An interesting feature in this year's show is the Hot Rod Philippine Club corner. "They want to introduce the hot rodding culture in the Philippines, where they take vintage American cars and make them lower," said delos Santos.
Among the Hot Rod cars on display were a bright orange Pontiac and a yellow car with the word "Scandalosa" on the side.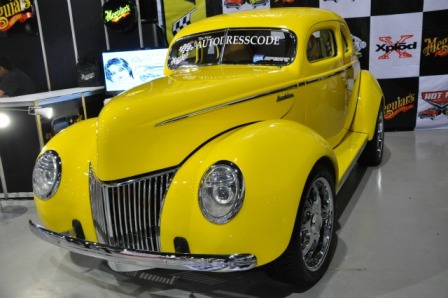 Scandalosa
According to delos Santos, the car show's goal is to help the local automobile aftermarket industry generate business. When they get new business, she said, many people will get jobs: the painters, the welders, etc.
Whether or not the industry indeed got lots of business last weekend is something we can't determine as yet, but if the number of visitors to the Manila Auto Salon 2011 was any indication, the car business—both new and old—won't lack fans—ever. -
YA/HS, GMA News
All photos by RIZ PULUMBARIT