Amorsolo paintings star in new UST museum
As one of the many fruits of the UST Christmas Concert Gala, the UST Museum opened the Hall of the Visual Arts at the Mezzanine level of the UST Main Building.
On display are important artworks whose recent restorations were funded by the donations of the Museum's friends and benefactors through the annual Christmas Concert Gala, co-chaired by Ms. Maricris Zobel and UST Museum Director, Rev. Fr. Isidro Abaño, O.P.
One such painting is Fernando Amorsolo's "Bayanihan" which evokes the cooperative spirit of a bygone era.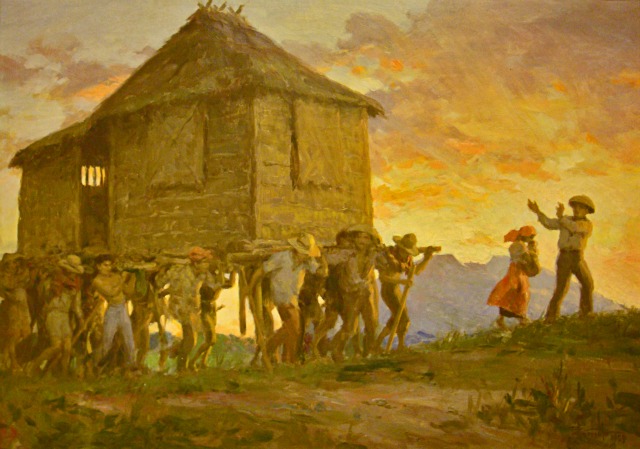 Fernando Amorsolo's "Bayanihan."
The Hall of the Visual Arts include over 40 priceless paintings as permanent display in the Hall of Visual Arts, such as the celebrated "Portrait of A Young Balinese Girl" by Romualdo Locatelli, "Portrait of Bishop Antonio Zulaybar" by Juan Arzeo, "Brown Madonna" by Galo Ocampo, "Pastoral" by Carlos "Botong" Francisco, "Portrait of Dr. Jose Rizal" by Victorio Edades, "Harvest Festival" by Ricarte Puruganan, "Fruit Vendor" by Pablo Amorsolo, "Bayanihan" by Fernando Amorsolo and the "Foundation of the University of Santo Tomas" by Domingo Celis that won the painting competition held during the University's 300th anniversary in 1911.
This event is a journey through the history of art in the Philippines, as well as a tangible demonstration of how the Museum is not only a co-curricular arm of the University but a guardian of our nation's heritage and herald of its cultural transformations through four centuries. In line of the occasion of the 400th Anniversary of the University of Santo Tomas and the 140th year of the UST Museum's establishment, we present to you the opening of the Hall of Visual Arts.

Press release from UST
Go to comments