Possible sanctions loom vs owner, other 'parties' in Parañaque plane crash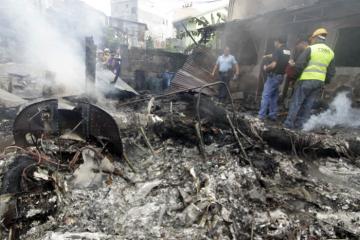 14 killed as light plane crashes in Parañaque residential area. Fourteen people were killed when a light aircraft crashed near an elementary school at Better Living Subdivision in Parañaque on Saturday. Danny Pata
Possible sanctions are being readied against the parties involved in the
crash of a light cargo plane
in a populated area in Parañaque City that killed 14 people last Saturday.
Civil Aviation Authority of the Philippines investigation team head Capt. Amado Soliman said Monday they are now determining the liabilities of the parties involved but declined to name names for now.
"I cannot make any comment on that. Suffice it to say that there are (sanctions) to be issued against the (parties). That is what we are ascertaining," he said in an interview on dzBB radio.
He said they were to review Monday the records of the aircraft and the pilots, and collate the information so they can at least make an initial report by Monday afternoon.
Soliman said that while the engine was recovered Sunday, it will have to be dismantled by the maintenance organization authorized by the company that manufactured the engine.
He said the plane had no black box that could help them determine what happened in the moments before the crash.
Because of this, he said they have to ask for a transcript of the communications between the pilots and the tower.
Extra fuel
Soliman said they are now verifying information the plane was carrying extra fuel to its destination in Mindoro when it crashed.
"That we have to verify. (But) that is not allowed. That is a dangerous move. There are many accidents attributed to unauthorized cargo like that," he said.
He hinted those who allowed the pilots to carry the extra fuel may face sanctions. "May (There are) sanctions against that," he said.
When asked if the pilots involved may lose their licenses, he said the sanction will depend on the "gravity" of the violation.
Plane owner
For his part, Parañaque City mayor Florencio Bernabe Jr. said he expects to talk with the owner of the plane, one Art Velasquez.
"I have his phone number, if he does not get in touch with me I will call him up," Bernabe said in an interview on dzXL radio.
"Kung 'di siya pupunta, hahanapin namin siya (If he does not show up, we will track him down)," he added in a separate interview on dwIZ radio.
Bernabe also said he had discussed the matter with the city government's legal office.
"Sabi clearly may liability 'yan, ang may-ari ng Beechcraft (Our initial findings show the owner of the plane has a liability)," he said but did not elaborate. –KG, GMA News