Lt. Gen. Jessie Diaz Dellosa is new AFP chief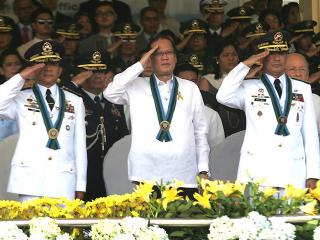 Lt. Gen. Jessie Dellosa is new AFP chief. President Aquino presides over the change of command between outgoing AFP chief Gen. Eduardo Oban Jr (Left) and incoming Lt. Gen. Jessie Dellosa (right) at Camp Aguinaldo on Monday. Ralph Joel
(Updated 10:05 a.m.)
Armed Forces Northern Luzon Command chief Lt. Gen. Jessie Diaz Dellosa will be installed on Monday as the new Armed Forces of the Philippines (AFP) chief of staff at Camp Aguinaldo in Quezon City.
Although Malacañang did not issue an announcement on who the new AFP chief would be, the emcee of the rites for the change of command introduced Dellosa as the new AFP chief.
Dellosa's profile was also included in the press kit distributed to the members of the media.
President Benigno Aquino III arrived at Camp Aguinaldo at 10 a.m., and was welcomed by outgoing AFP chief Eduardo Oban Jr.
Dellosa, 54, previously served as commanding officer of the Special Reaction Unit of the Presidential Security Group that protected the late President Corazon Aquino amid several coup attempts during her term.
He still has two years before retiring from the service.
Oban, on the other hand, had nine months as AFP chief. He was appointed to the post in March, replacing Gen. Ricardo David, who has since been named Immigration chief. Both Dellosa and Oban belong to the Philippine Military Academy Class of 1979.
Dellosa, a native of Sorsogon, is a recipient of numerous awards and decorations including Distinguished Service Stars, Gold Cross Medals, Outstanding Achievement Medals, Gawad sa Kaunlaran, Military Merit Medals, Silver Wing Medal, Military Commendation Medals and Wounded Personnel Medals.
Dellosa is the commander of the Northern Luzon Command prior to his appointment to the highest military post.
- VVP/RSJ, GMA News