My journey with my mother tongue
I reconnected with my mother tongue at the age of 13 and we've had a love-hate relationship ever since. She abandoned me when I moved as a child with my family to the United States. I came home to the Philippines as an English-speaking teenager who was teased for his mispronunciations of Tagalog words. I became withdrawn. I hated not being able to speak Tagalog; I wanted so much to belong.
At Ateneo High School, I had the great fortune of being taught what was then called Pilipino by the great Onofre Pagsanghan. From him I learned the basics. I could finally converse and use the language in public without everyone noticing my twang. I even acted in a few Tagalog school plays. But my writing in Tagalog was still stilted, I found it difficult explaining complex matters in the language, and my vocabulary was pathetic.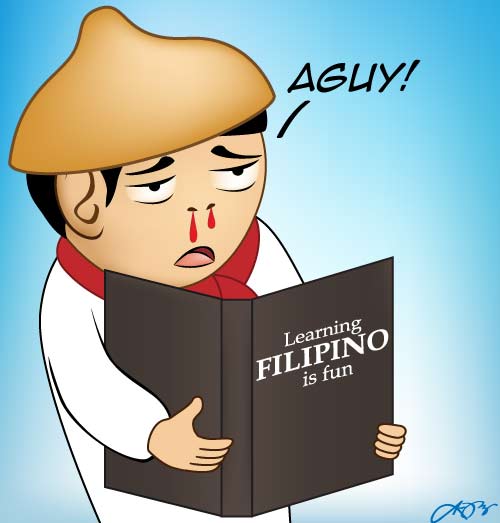 Then I went back to America for college and my progress in mastering my mother tongue virtually stopped. Instead, I was recognized at my American university for my proficiency in
their
native language. I was among the few freshmen who were given exemptions from Freshman English after an exam.
When I came home, I taught English at my old high school and aspired to be a journalist. I was arrested at an anti-Marcos rally and falsely accused of leading the crowd in chants in Tagalog, which quickly became a joke among activists who knew me. My lawyers defended me by saying that I couldn't even speak Tagalog, which wasn't entirely true. But my Tagalog was certainly not activist-quality.
When I became a full-time journalist, I felt lucky to be in the profession in the Philippines and one reason was this: It hardly mattered that I had not mastered my mother tongue, because I was proficient in English, the only language that seemed to matter. The Philippines is perhaps the only country where a native journalist can do well without being very proficient in writing in his native language. When I started out, nearly the entire news media was in English; only tabloids that no one respected were in Filipino.
The news media seemed like a bludgeon to enforce a system of linguistic apartheid in the Philippines, where only those proficient in English, still an incomprehensible foreign language to many, could participate in national conversations about public policies and social injustice. Everyone else had Kuwentong Kutsero and other entertainment.
Non-fiction TV switches to Filipino
Then I joined "The Probe Team," a TV magazine show in English, at the cusp of great change in mass media. Upon my return to the country in the 1980s and into the mid 1990s, nearly all of the news and public affairs programming on Philippine television was in English.
But in the late 1990s, as the English-speaking elite began to subscribe to cable TV and after noticing that much of "Probe"'s competition was switching to Filipino to widen their audiences, I lobbied for the switch too, even if that meant a great disadvantage for a journalist whose comfort zone was English.
I insisted on writing my own scripts in Filipino, as awkward as these were in the beginning. Voicing these scripts was nearly as torturous, forcing production assistants to endure multiple takes and long sessions in the voicing room. But I knew this was the only way to learn, and the psychic rewards soon came.
One of my first TV stories in Filipino was about land inequality in the Bondoc peninsula in Quezon province, and the killings of farmers who advocated land reform. This secluded part of Quezon is among the poorest places in the country, populated by native Tagalog speakers. Despite the script's clunkiness, I think that I was understood by that audience, the first time as a journalist that I felt I had truly connected to a mass audience.
Soon after, I wrote and voiced in Filipino a documentary about the struggle for ancestral domain in the deep south of Palawan, again a region of native Tagalog speakers, many of whom had never gone to school. I realized then that television was a tool for educating even the illiterate, if you could just communicate in their language. Despite having very different backgrounds, we were united by the same tongue.
That documentary was invited for screening at a festival in Japan for which it had to be subtitled. When it was shown to a foreign audience, it gave me the feeling that my work was representing my culture in a way that none of my work in English could ever achieve.
Today, more than ten years later, I rarely speak or write in English for television. I am almost purely a broadcast journalist in Filipino. I still have a long way to go before I can say I have mastered the language. But my struggle to learn the language enough to communicate stories to a mass audience whose mother tongue is Filipino has made me feel whole and in touch with my roots and heritage. The struggle has made me feel proud and even authentic.
In addition, widening my vocabulary and learning the nuances of my mother tongue have unlocked doors to deeper knowledge about my culture and identity. It has plainly made me feel like a better and more well-rounded person.
For all the criticism of television, it is the one medium that we can call the bonfire in our national village, where the Filipino language is the fire under the melting pot, if you will excuse the mixed metaphor.
There are forces still anchoring us to a colonial mentality where proficiency in the colonizer's language is a vital measure of one's worth. But television professionals can feel proud that at least in the realm of language, we are providing a countervailing force.
Filipino language in public spaces
There are still many arenas where we can use language to develop our culture, cultivate pride, and even just to clarify to ourselves who we are.
President Aquino has set a new tone by insisting that all his major speeches be in Filipino, including a memorably eloquent inaugural address that popularized the word
"wangwang."
Previous presidents, perhaps with the exception of President Joseph Estrada, rarely gave speeches in Filipino, as if their primary audiences were foreign investors.
Government can take the next step by mandating that agencies use Filipino in public spaces. The airport is an obvious start. One friend who has travelled the world shared his observation that our airport is the only one he has been to where signs are only in English and there were none in any local language, strongly insinuating that we are confused about who we are.
It shouldn't matter that educated Filipinos are supposed to understand English. The choice of language is a statement of national pride, or its absence, and an expression of our identity. English-only signs communicate that we are mainly interested in informing only foreigners. Besides, there are still Filipino travellers for whom Filipino is still the more functional language, so there is a practical side too to making signs bilingual.
Filipino language as a steamroller
Our confusion, and my angst, about language do not end with our overvaluation of English. Just as a greater devotion to using Filipino can counter our colonial mentality, it could also steamroll our cultural diversity into a homogenous blob.
Tagalog-based Filipino may be my mother tongue, but it is almost as foreign as English to many in a nation of over 70 regional languages.
We have long had a bilingual policy, and aided by television, the school system has given our nation a national native language, taught and at least nominally understood from Batanes to Tawi-Tawi.
But now we must ask ourselves if the bilingual policy, which obliges only English and Filipino to be used in schools, is actually smothering our diversity and making learning more difficult than it has to be.
While shooting a documentary about
kulintang
music in Maguindanao province a few years ago, I recorded the amazing ability at the instrument of an 11-year-old boy, who said he was taught by elders in his clan.
When I asked him if he ever performed in his school, he said no. Surprised, I asked if his teachers knew that he had such a talent. He also answered in the negative. Then finally I asked what kinds of cultural talents they cultivated at his ethnically mixed public school. He said,
Balagtasan
. As with other schools, this boy's school taught him Tagalog-based Filipino but did not teach his mother tongue, Maguindanao.
Mother tongue-based multilingual education
I have nothing against schools teaching the culture of other regions, such as Balagtasan in a predominantly Maguindanao school. That facilitates the development of a national culture that begins with the universal knowledge of a single native language.
But schools must also be used as instruments to keep local cultures alive and well, for diversity is a strength that must not be suppressed by neglect. Public policy already exists to achieve this goal in the mother tongue-based multilingual mandate of the Department of Education, a policy backed by a department order signed in 2009.
Essentially, this policy compels schools to use the mother tongue in their locality as the medium of instruction in at least the first three years of primary education.
But support for local culture has nothing to do with the expressed intent of the policy, and everything to do with learning. International and local studies have shown that cognitive development is more efficient if young children are first taught in their mother tongues. In other words, they become better learners, not just of language but of everything, including math and science.
In the few places where it has been piloted, the mother tongue-based multilingual project has already produced results. In Lubuagan, Kalinga, for example, elementary school students have dramatically improved their performance in standardized tests after just a few years of learning most of their subjects in their native Kalinga language (not dialect, mind you!).
English only?
After decades of a bilingual policy, university professors still lament that many of their students aren't proficient communicators in English, despite its common use as a medium of instruction. Poor English can even be found engraved in stone, such as the statue of famed newspaper columnist Max Soliven on Roxas Boulevard, which is chock-full of grammatical errors. You can almost hear Max ranting in his grave.
The response of some is to propose even more intensive English instruction, with a bill proposed in Congress that would legislate English as the sole medium of instruction. English-only campuses have mushroomed, their monolingual policy advertised as their main selling point.
But could the lack of English proficiency be rooted in a lack of proficiency in
learning
? And if the studies cited by linguists are correct, could these deficiencies be better addressed by teaching in the mother tongue in the earliest years of education?
Then learning English, Filipino, and other languages would be more proficient. That's how it's done nearly everywhere else.
An emphasis on teaching in the mother tongue would create better learners, instil pride in local culture, and enrich the mother tongues themselves with new teaching materials produced in those languages. With young minds better primed, we might even become better English speakers and writers.
Yes, this shift in language policy will be hard. Just as it was hard for
me
to relearn my mother tongue. Today, I count my blessings.
- KG, GMA News
(Essay submitted to the 150th Rizal Anniversary Conference on Nation and Culture on December 3, 2011)

Art by Analyn Perez