Carolina 'Arling' Lapus Gozon, 97
Carolina "Arling" Lapus Gozon, mother of GMA Network chairman and CEO Atty. Felipe L. Gozon, passed away on Monday (December 19, 2011) at the age of 97.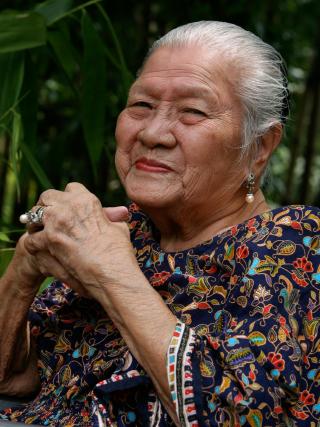 A matriarch of the Lapus-Gozon clan, Arling was a living testimony of the miracles of life. Upon surviving a potentially threatening ailment at the age of 9, Arling committed her life to the Lord. Her legacy lives on in the countless lives she has touched through her Christian faith, the churches she has built, and the loved ones she has left behind. Throughout her blessed life, she was surrounded by her children, grandchildren, and great-grandchildren:
Benjamin and Linda (+) Gozon
Belinda and Jack Madrid (Jacob, Gabe, Ramon)
Mylene and JJ Gana (Nino, Jaime, Ysabel)
Benjie and Heidi Gozon (Joseph, Elise)
Nicky and Carmela Gozon(Max, Gabbie)
Carolina and Nards Jimenez
Butch and Tricia Jimenez (Miguel, Benjamin, Joaquin, Mateo)
Joel and Gidget Jimenez (Jaime, Bianca, Sofia)
Laurie and Matthew Westfall (Alex, Sam, Nicki)
Carmen and Jay Ong (Gabie, Xavi, Andie)
Henry and Tessie Gozon
Annette and Lito Abrogar (Anja, Andy)
Philip
Maritess and Blas Viterbo (Raffy, Basti, Bono)
Flor and Ed Tarriela
Edmin and Maggie Tarriela (CJ, RB)
Ted and Vanessa Tarriela
Tricia and Tom Valderrama (Nando, Natalia)
brother-in-law: Arch. Angel Lazaro, Jr.; her brothers and sisters: Norberta L. Laurea (+), Benjamin Lapus (+), Jaime Lapus (+), Marina L. Villanueva (+), Magdalena L. Lazaro (+), Ismael Lapus (+)
Her remains lie in state at The Heritage Park, Bayani Road, Fort Bonifacio, Taguig City from Tuesday, December 20 to Thursday, December 22, 2011. Visitors are welcome from 1 pm to 11 pm daily.
To celebrate her life, a thanksgiving service will be held at 9:00 am on Friday, December 23, 2011 at The Heritage Park, Fort Bonifacio, Taguig City. Interment at Manila Memorial Park, Sucat, Parañaque City immediately afterwards.
In lieu of flowers, the family requests for your presence or prayers.