Vandalized Wikipedia entry tags Corona as 'Thief Justice'
The Wikipedia entry on Chief Justice Renato Corona was defaced briefly on Tuesday, with the embattled official tagged as "Thief Justice."
On the vandalized page, Corona's position of "Chief Justice" was replaced with "Thief Justice," and his appointment was called "illegal."
"On May 12, 2010, two days after the 2010 elections and a month before Arroyo's term expired, Corona was illegally appointed the 23rd Thief Justice of the Philippines because it was in the period of Constitutional Ban on Appointments," the entry read.
The Wikipedia entry also said, "the people are hoping for his impeachment at the senate [sic] impeachment trial."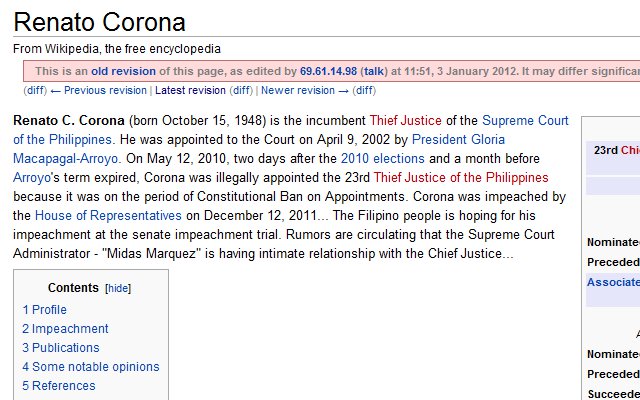 The page history of the Wikipedia entry on chief Justice Corona, showing the recent vandalism attempt.
It alleged that there was something going on between Corona and Supreme Court spokesman and court administrator Midas Marquez.
"Rumors are circulating that the Supreme Court Administrator — "Midas Marquez" is having intimate relationship with the Chief Justice...," the entry said.
Wikipedia is open to editing by the general public, and no sign-up or login is required to make changes in entries. However, the site is constantly policed by members and vandalism is often removed as soon as it is spotted.
Based on Wikipedia's page history, the vandalism was carried out by user "112.201.91.183" at "11.51" on Jan. 3. The page's history shows that the page was corrected at "15:53" or just three minutes after it was vandalized.
Corona is set to face an impeachment trial before the Senate later this month for alleged betrayal of public trust, graft, and perceived bias in favor of former President Gloria-Macapagal Arroyo, who appointed him chief justice in 2010.
Meanwhile, Marquez earlier suffered online taunting when a video of his startling reaction to a microphone that he accidentally bumped off the podium suddenly went viral, eliciting remarks that he was homosexual.
Marquez, a father of two, has repeatedly denied being gay.
GMA News Online is still trying to reach Corona and Marquez for comment.
— VS/TJD, GMA News