Sandra Aguinaldo's backpacking adventure on 'I-Witness'
I-WITNESS
Biyaheng Timog Silangan: Ikalawang Yugto
Dokumentaryo ni Sandra Aguinaldo
Airing date: January 9, 2012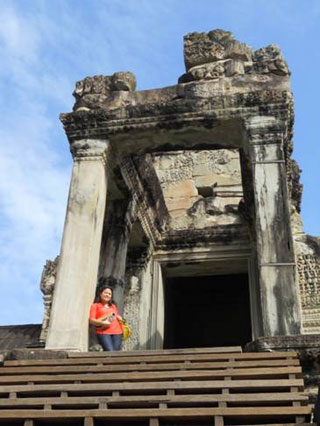 Sandra Aguinaldo in Cambodia's famous Angkor Wat
Backpacking or travelling independently on a shoe-string budget has become a popular alternative to the regular form of tourism. Some backpackers claim having no fixed itinerary affords them a journey that goes beyond seeing the sights. They leave with a deeper understanding of the cultures , places, people… and all the things in between.
Whether travelling alone or with company, most likely a backpacker will meet another that mirrors the same interest and will form new relationships, long-standing or fleeting. As they say, "People don't have your past to hold against you. No yesterdays on the road." And perhaps, this is exactly the thing that makes backpacking so alluring.
However, people backpack for different reasons , and with very little resources , how far would they go?
Last month , first-time backpacker Sandra Aguinaldo packed her bags to visit the heart of the backpacking universe— Khao San Road , Bangkok .
In part two of her amazing voyage, she crosses the border to Cambodia and on to Vietnam.
Her path takes her to Siem Reap to witness the sunrise at the breathtaking temple of Angkor Wat —the world's largest religious monument. From there, she heads off to quaint Ho Chi Minh City to taste all the wonderful flavours Vietnam has to offer.
This January, find out how far her feet – and her budget – can take her. Three countries. One unforgettable I-Witness journey.