Quiapo Church backs Aquino claim of terror plot during Black Nazarene rites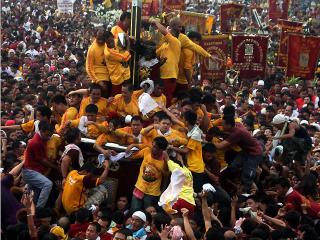 A sea of devotees join the Black Nazarene procession . Thousands of devotees struggle to get near the image of the Black Nazarene at the start of the procession from the Quirino Grandstand to the Quiapo Church on Monday. Benjie Castro
Now it can be told: Catholic Church officials also received their own information on a terrorist plot possibly targeting what turned out to be the longest Black Nazarene procession ever.
Quiapo Church rector Msgr. Clemente Ignacio said Tuesday they received the information even before President Benigno Aquino III met with them Sunday.
"Bago dumating si Presidente, ang aming security group na may connection sa intelligence, kami-kami pinag-uusapan na namin. May pinasa sa akin na text na very concrete ang pangalan ng bombers," Ignacio said in an interview on dzBB radio.
Last Sunday, Ignacio said Aquino canceled a trip to Davao City and instead met with him at the command post for the Black Nazarene festivities.
He said Aquino "explained" the details of the alleged plot to them.
But he said the Church officials eventually decided to go ahead with the procession, saying they had confidence in the authorities.
Also, he cited past instances when the Church pushed through with its activities despite threats.
On Sunday, President Aquino had called a press briefing where he appealed to devotees to stay home due to the
terror plot
.
However, his call was
"defied" by devotees
who still showed up at the procession on Monday. Many of the devotees took part in the 22-hour procession that ended Tuesday morning.
During Monday's procession, the Palace asked telecommunications companies to
"disrupt" services
in areas covered by the procession, citing "national security."
Deep fervor
Ignacio said he was both surprised and impressed by the fervor of the devotees, who he said pushed through with the procession despite several obstacles.
He said the first obstacle came when the andas, the carriage bearing the Nazarene's image, broke down as two of its wheels were damaged. The second obstacle was when the carriage could no longer run near Bonifacio Monument.
In both cases, Ignacio said the devotees persevered in pushing the carriage, rejecting suggestions to cut short the procession.
"Nakita ko talaga ang sakripisyo at lakas ng namamasan (men pulling the carriage)," he said.
"
Ito na ang pinakamatagal na prusisyon at pinakamahirap, pinakamalaking dinanas ng namamasan na kaladkarin ang andas at napakahabang prusisyon
," he added.
Future improvements
Ignacio said they had planned recollections and spreading the message of the Black Nazarene via new media such as the Internet.
However, he said they also understand many of the devotees are from the ranks of the poor and do not have access to the Internet.
On the other hand, he cited Manila Archbishop Luis Antonio Tagle, who noted a "kind of order in the perceived disorder" that marred Monday's procession.
"Kung nangyari ito sa Mecca at ibang bansa, marami nang namatay at nasugatan sa stampede. Pero nakikita ninyo sa stage kung ikaw naroon sa stage, makikita mo may marshals, pero nakikita ninyo they tried to protect each other," he said. –KG, GMA News