Fireworks, dragon dances usher in Year of the Dragon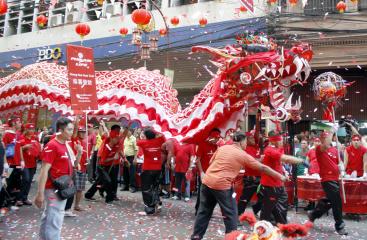 Dragon dance in Chinatown for the Chinese New Year. Chinese Filipinos take part in the traditional dragon dance in Manila's Chinatown on Saturday, ahead of the Chinese New Year on Monday. GMA News
With
fireworks and dragon dances
at midnight Sunday, the Chinese Filipino community in the Philippines ushered in the Year of the Dragon.
Chinese Filipinos in Manila's Chinatown district cheered as the clock neared midnight Sunday, radio dzBB's Rodil Vega reported.
MPD Station 11 personnel kept watch over Chinatown's streets against snatchers and muggers who may exploit the situation.
Since last weekend, pedestrians thronged Chinatown's main streets sightseeing or looking for last-minute bargains.
On Monday morning, some groups held early morning celebrations with dragon dances as early as 4 a.m.
But a separate report by dzBB's Carlo Mateo said many residents also spent early Monday morning cleaning up after Sunday night's celebrations. –KG, GMA News