How I learned I am Tsinoy
In 1975, the year my first sister died, I learned that my siblings and I are members of the Goco clan.
I remember that my parents said one of the visitors at the wake of my sister was from the Goco clan and donated P2,000 pesos for the funeral expenses and necessities. I was six years old and already in preschool at the now defunct St. James Child Care Center, the precursor of St. James School and St. James College.
Back in 1975, P2,000 was a large sum. We needed it because my mother was a public school teacher, my father was a policeman and their salaries were not much.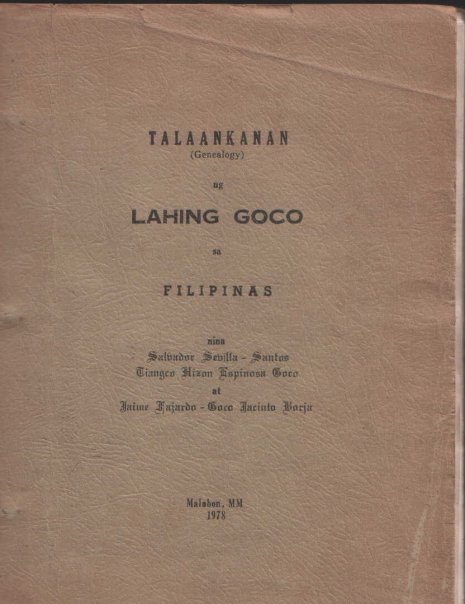 Then a few years later, in 1978, my mother's family—the Landicho family of Kamuning—was given a copy of the "Talaankanan ng Lahing Goco sa Filipinas" researched by Salvador Sevilla-Santos and Jaime Goco-Fajardo of Malabon.
In that piece of genealogical or ancestry research, we learned that my maternal grandmother, Amelia Encarnacion, was our link to the Goco clan, which descended from a Sangley named Ignacio Goco, who, according to the genealogy study, was baptized on March 12, 1676 and stood as godfather to another Sangley, Lucas Tiangco.
That early glimmer of my Chinese roots shows that even the most Pinoy of families, from the heart of Kamuning, will probably have some trace of Chinese in their blood.
According to
www.bahaytsinoy.org
a Chinese-Filipino culture website, Sangley were "the first overseas Chinese workers who hoped to earn enough money to provide for their families back home." The Sangley were from the Southern Fujian province of China.
14th generation
My siblings and I are 14th-generation Gocos. Our great-grandfather on my mother's side was Antonio Goco Encarnacion whose wife was Josefa Montenegro.
The Goco clan has a Facebook group where scanned images of the "Talaankanan" are posted. The Landichos of Kamuning, who are originally from Lemery, Batangas are on page 37 of the Goco genealogy.
In Batangas, the Goco ancestral home is in the heritage town of Taal. The Montenegros also have their ancestral home in Taal. I have been to both ancestral homes.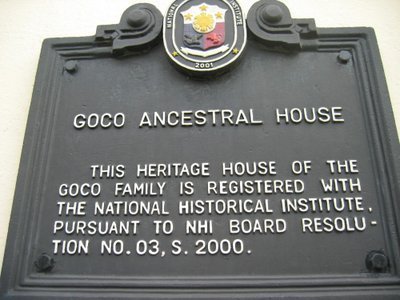 I have yet to attend a grand reunion of the Goco clan though. I hope my Goco cousins will organize a big one soon. Will attend that and post the pictures on my Facebook account.
Yesterday, Jan. 22, the Landicho clan marked the first anniversary of the passing of our Lola Lutgarda Landicho, sister of my maternal grandfather. A few months before she died, I had a long talk with her about our family history and found out that her grandmother was a full-blooded Spaniard of the Artajo line. But that is another story.

Photos from the Goco clan Facebook group