Kindergarten on Wheels launched to address classroom shortage
This June, some kindergarteners will have a different classroom experience with the Bagong Henerasyon Party List's Kindergarten on Wheels (KOW) Project.
The first KOW school is parked at the President Corazon Aquino Elementary School in Batasan Hills, Quezon City, where around 600 students are expected to enroll in School Year 2012-2013.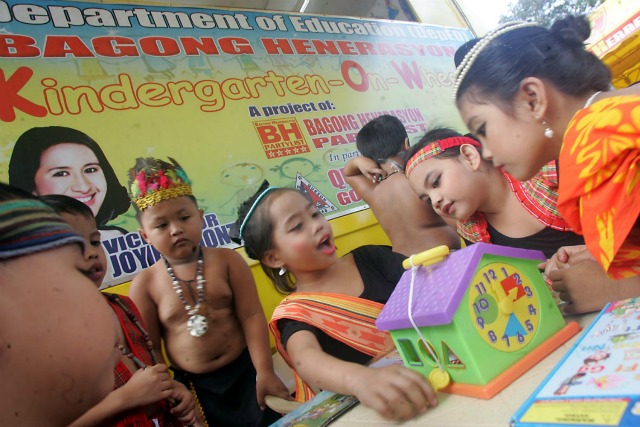 Students not only attend classes but also play with educational toys inside a Kindergarten on Wheels classroom.
Ralph Joel

Launched on January 24, the KOW project aims to address the classroom shortage, which is a problem in many parts of Metro Manila.
Bagong Henerasyon Party List Rep. Bernadette Herrera-Dy told GMA News Online that the KOW is basically an alternative classroom, meaning the curriculum is the same. Dy explained that the KOW was born when Education Secretary Armin Luistro challenged her to come up with a project that would benefit the kindergarten students. Originally, Dy had presented the existing Computer School on Wheels project to the Department of Education (DepEd), which promotes computer literacy with mobile classrooms.
"DepEd welcomes this innovation from Bagong Henerasyon Party List with deep appreciation especially that it continues to intensify its campaign to make education accessible to all and to provide all five-year olds with proper educational interventions in preparation for the implementation of the K to 12 program," said the Department of Education in a
press release
.
"The bigger problem is overcrowded classrooms in urban cities. There's no space, and buying land is very expensive," said Dy, noting that the budget for classrooms in local government units is around P1 million, while the total cost of a KOW classroom is P800,000.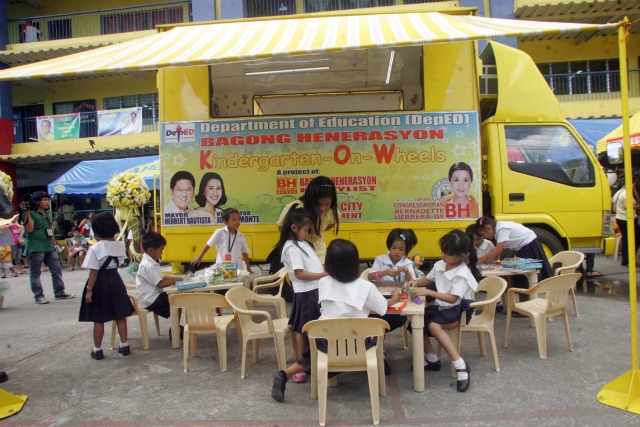 A Kindergarten on Wheels "classroom" costs only P800,000 and is equipped with chairs, tables, a TV and a DVD player, as well as a blackboard and whiteboard.
Ralph Joel

Maximizing space
Each KOW classroom will be equipped with chairs, tables, a television and a DVD player, as well as a blackboard and whiteboard. Since space is still limited, the KOW classroom is designed to maximize the space. The walls double as whiteboards, and there are tents on both sides of the classroom.
A KOW classroom can accommodate 24 students, which Dy said is the ideal number of students in a single class. Currently, the school has 600 students, but only four classrooms, which are actually two rooms divided into two.
"Ang shifting nila, nagsisimula 6 a.m. to 9 a.m. Tapos ang huli, 3 p.m. to 6 p.m. Tapos bawat klase, may 40 to 50 students. Dapat 25 lang para sa isang teacher," said Dy.
Following the four-shift schedule, the KOW classroom can accommodate up to 100 students per day.
Dy said that the KOW classroom also has the additional benefit of a more interactive space. "With the extra space outside, they could also play with the educational toys during their break. "Iba 'yung mode of teaching. Maganda talaga 'yung merong time sa labas ng classroom," said Dy.
During the launch, the pilot KOW truck was parked in the school's courtyard. Plastic tables and chairs were set up next to the truck, where students tried out different instructional materials like alphabet charts and educational toys.
Under a memorandum of agreement between Bagong Henerasyon and the Department of Education, the party list will provide the vehicles to be used as KOW classrooms, as well as the drivers and maintenance officers.
On the other hand, DepEd is responsible for the teachers and volunteers, enhanced curriculum guide for teachers, and initial sets of teaching and learning materials.


In an interview on "Balitanghali" on January 25, Teacher Erlinda Pajo said the new classroom is a welcome improvement. "'Pagka ganito, okay na kasi madali silang i-approach. Hindi ka na sisigaw. At least dito, i-tap mo lang sila, puwede na kasi maliit lang 'yung space. Aircon pa siya," said Pajo.
Student Ryza Belen was also impressed. "Kasi po ang ganda," she said. –KG, GMA News