Reverence and revelry at UST's Neo-Centennial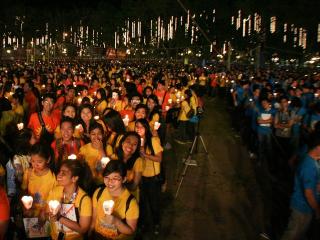 UST's giant choir bids adieu to quad celebration. Arranged according to vocal range, 40,000 students singing as a giant choir fill a University of Santo Tomas open field on Friday as the university ended its quadricentennial celebration. Roehl Niño Bautista
The University of Sto. Tomas (UST) may have ended its 400th year but for the country's oldest university, it isn't so much an ending as it is the beginning of another hundred years.
The University pulled out all the stops for what it called its Neo-Centennial celebration which began last Jan. 20 with the opening of an
exhibit
called "400 Shots to Immortality," by talented Thomasian Paul Quiambao.
After a whirlwind week of events which included a university fair, flamenco night, and a living tableau of 19th century UST among others, the festivities came down to the
grand finale
on Jan. 27.
Grand is indeed the best word to describe the final festivities―how else as candles were lit, fireworks and sky lanterns dotted the sky, and 40,000 Thomasians raised their voices in song.
As a pontifical university and the only one in Asia to have hosted two popes three times, it was only fitting that it began the closing celebrations with a Thanksgiving Mass at the UST grandstand. The eucharistic celebration was a special one, officiated by Cebu Archbishop Jose S. Palma. Plenary indulgence was granted to those who were in attendance.
After the mass, members of the UST community geared up for the musical event called "40,000 Voices," where even in the open air, those voices managed to fill every crack and crevice. Conducted by Prof. Herminigildo Ranera and accompanied by the UST Symphony Orchestra, the 40,000 students, faculty members, alumni, and employees sang their hearts out to a diverse repertoire that included Philippine Folk Song medleys, ABBA classics, "Ako ay Tomasino," and of course, the UST hymn.
After the performance, there were fireworks, as is customary in every big celebration. In UST's case though, it was no ordinary pyromusical show. The fireworks were released from four iconic areas on UST's Main Campus so that the audience at the grandstand was surrounded by spectacle. The music, on the other hand, was drowned out by the ohhhs and ahhhs of the elated Thomasians. As if the fireworks weren't enough, a group of students even released sky lanterns, which elicited their share of sighs from onlookers as they floated into the night sky.
A big feast awaited the students, who were no doubt hungry after hearing Mass, singing and sighing at fireworks. It was a feast indeed as glorious spreads of
lechon baka
fresh from the spit,
lechon baboy
, and roast chicken were strategically placed all over campus.
As the variety program commenced, many flocked to the grandstand to watch as the likes of Jett Pangan and Gloc 9 took the stage. Others chose to hang out in their favorite spots on campus, with some even taking advantage of the occasion to play around at the UST fountain.
The revelry lasted well into the night, but as Thomasian laughter and cheer hung thick in the air, it felt like the celebration could have lasted 'til next century.
— KG, GMA News