3 top JI, Abu Sayyaf leaders killed in Sulu air strike — military
(Updated 4:51 p.m.)
The military claimed on Thursday that it had killed 15 Abu Sayyaf and Jemaah Islamiyah members — including three senior leaders — in a short predawn air strike in a remote area in Sulu province.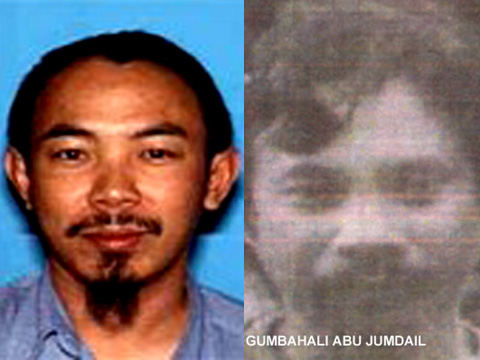 JI Leader Zulkifli bin Hir alias Marwan (L) and Abu Sayyaf leader Umbra Jumdail alias Dr. Abu were reportedly killed in a Sulu airstrike early Wednesday(R)Armed Forces of the Philippines
Authorities said among those killed in the air strike launched about 3 a.m. were JI leaders Zulkifli bin Hir alias Marwan, a certain Mawiyah, and
Umbra Jumdail alias Dr. Abu, a senior leader of the al Qaeda-linked Abu Sayyaf bandit group.
"The troops on ground have confirmed deaths of 15 ASG (Abu Sayyaf Group) and JI members including Mawiyah, Dr. Abu, and Marwan," said Armed Forces information chief Col. Arnulfo Burgos Jr.
"This (operation) is a product of thorough intelligence [and was] carefully planned," Burgos added. "
'Yung sinasabi nating air strike, segundo lamang tinagal
."

The Federal Bureau of Investigation describes Marwan, reportedly a member of the JI Central Command, as among the most wanted terrorists in the world.

According to the FBI, Marwan was indicted on Aug. 1, 2007 in the United States District Court, Northern District of California, and charged with providing material support to terrorists, conspiracy to provide material support to terrorists, contributing goods and services to a specially designated global terrorist, and making false statements.

Bounties
Burgos said Jumdail, who was involved in the 2001 the Dos Palmas and Sipadan, Malaysia kidnapping incidents, has a P7.4-million bounty for his capture. The US government has also put up a $140,000 reward for the same.
Marwan, on the other hand, has P7.4-million and $5-million bounties for his capture while Mawiyah has a $50,000 reward for his arrest, Burgos said.
Malacañang immediately commended the military for its "victory."
"We commend the AFP with this victory in the continuing fight against terrorism," deputy presidential spokesperson Abigail Valte said in a text message to reporters.
Air strike

The air strike was conducted a day after an unidentified group seized two European birdwatchers in Tawi-Tawi. Authorities, however, have yet to confirm if the Abu Sayyaf is involved in the latest kidnapping incident in southern Philippines.

"
Malaki ito kasi three leaders ng grupo na 'to, 'yung natamaan,
so that would be very big impact on the capability of the terrorists
," said
Maj. Gen. Noel Coballes, commander of the Armed Forces' Western Mindanao Command.
Senior Superintendent Antonio Freyra of the Sulu police said two OV-10 bombers dropped four bombs and hit their target at Sitio Lanao Bato in Brgy. Lanao Dakula in Parang town.
"As per [our] monitoring thru Scan Eagle, six KIA (killed in action) were seen laid on the bomb site and two of them were left by the group at the said area," Freyra said, quoting a police spot report.
He added 21 people were seen moving toward east after the attack and "possibly regrouping" with the group of Moro National Liberation Front (MNLF) leader Ahadun Adak.
Coballes said the terrorists were caught unaware by the attack.
"
Naka-istambay lang sila dun
," Coballes replied when asked on what the terrorists were doing at the time of the air strike, which he said was a "deliberate, fully planned attack coming from our forces."
He added that the presence of MNLF forces made it impossible for Scene of the Crime Operatives (SOCO) to proceed to the area.
— with Amita O. Legaspi/Agence France-Presse/KBK/RSJ, GMA News