NDRRMC: Highest intensity in Visayas quake recorded in Dumaguete
Nearly two months after being being devastated by Tropical Storm Sendong (Washi), Dumaguete City in Negros Oriental appeared to be among the areas where the magnitude-6.9 quake that hit the Visayas area Monday was strongly felt.
The quake registered Intensity VII in Dumaguete City, the National Disaster Risk Reduction and Management Council said.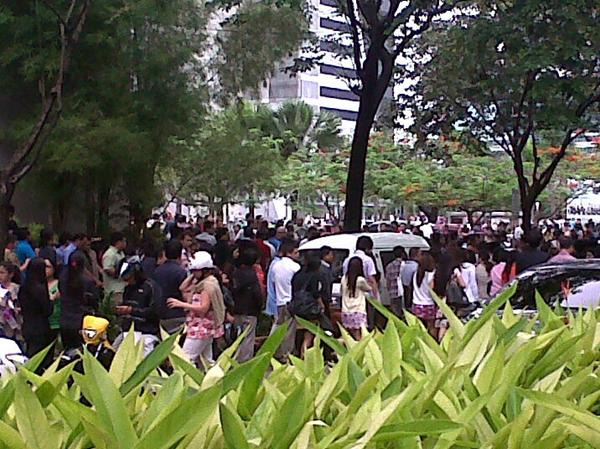 People rush out of the buildings in Cebu City's IT Park following a 6.9-magnitude earthquake that struck central Visayas on Monday. Katrina Chu

Cagayan de Oro City, which also suffered great damage in the wake of Sendong in December, also felt Monday's quake at Intensity III, the NDRRMC said.
Philippine Institute of Volcanology and Seismology head Renato Solidum Jr. had said damage to property can be expected if a quake is felt at Intensity VI or greater.
Intensity VII: Dumaguete City (Negros Oriental);
Intensity VI: La Carlota City and La Castellana, Negros Occidental; Argao, Cebu;
Intensity V: Roxas City; Dao and Ivisan, Capiz; Iloilo City; Ayungon, Negros Oriental; Kanlaon City; Lapu-Lapu City; Guimaras; Cebu City; San Carlos City; Bacolod City; Sagay City; Tagbilaran City; Candoni, Binalbagan, Negros Occidental;
Intensity IV: San Jose de Buenavista, Pandan, Anin-y, Patnugon, Antique; Kalibo, Aklan; Sipalay, Negros Occidental; Dipolog City, Ormoc City;
Intensity III: Butuan City, Agusan del Norte; Legazpi City, Albay; Carmen, Cagayan de Oro; Tacloban City; Catbalogan; Saint Bernard, Southern Leyte; Masbate, Masbate; Cagayan de Oro City;
Intensity II: Cabid-an, Sorsogon; Borongan, Eastern Samar; Mambajao, Camiguin; and
Intensity I: Pagadian City.
The NDRRMC said both damage to property and aftershocks are expected from the quake, whose epicenter was traced to 5 km northwest of Tayasan, Negros Oriental.
The United States Geological Survey said the Mercalli Intensity Scale defines
Intensity VII
as involving damage.
"Damage negligible in buildings of good design and construction; slight to moderate in well-built ordinary structures; considerable damage in poorly built or badly designed structures; some chimneys broken," it said.
An Intensity VI quake is felt by all, with many being frightened. Damage is expected to be slight.
The USGS defines an Intensity V quake was felt by nearly everyone. An Intensity IV quake is felt indoors by many and outdoors by few during the day.
On the other hand, an Intensity III is defined as being felt noticeably; Intensity II is felt by a few persons at upper floors of buildings. An Intensity I quake is not felt except by very few. — RSJ, GMA News