'Unmapped' fault caused Visayas earthquake —Phivolcs
An "unmapped" fault line caused the magnitude-6.9 quake that shook Dumaguete and its neighboring regions on the afternoon of February 6, according to the Philippine Institute of Volcanology and Seismology (Phivolcs).
The earthquake was caused by the sudden shifting of two tectonic plates in the Visayas area. The shift was from a "blind fault" some 20kms below the earth between Negros and Cebu.
Dr. Ishmael Narag, chief of Phivolcs' Seismological Observation and Earthquake Prediction Division, said that the February 6 earthquake was not traced to any known existing faults in the area, suggesting the presence of a previously unmapped fault.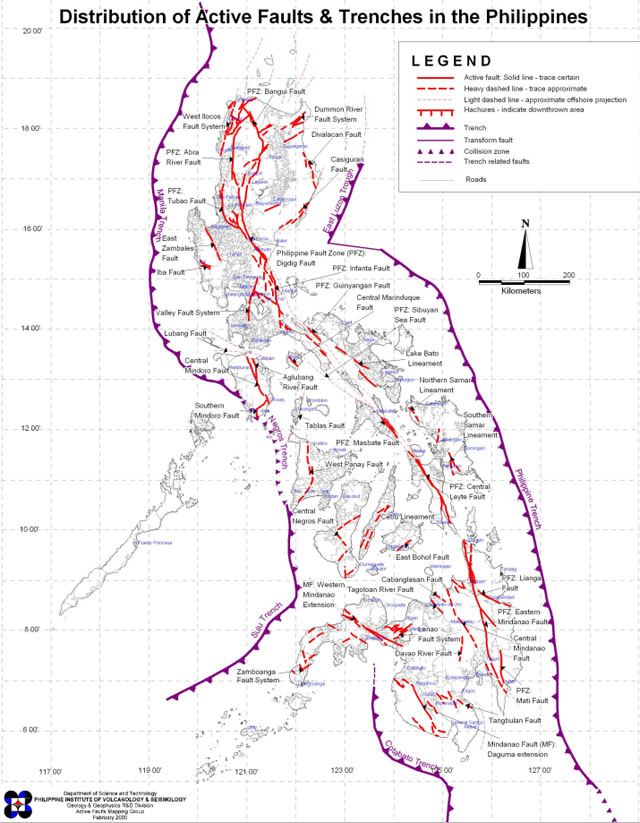 A map showing the dozens of known active faults in the Philippines (in red). The particular fault which caused the February 6 Visayas earthquake has never been properly mapped and is not shown here. Source: Phivolcs
"
Isang clue na kasi pag lumindol sa lugar, meron talagang earthquake-generator diyan, so i-pigeonhole na natin kung ano nga talaga yung gumalaw dito. Pag hindi natin ma-pigeonhole sa existing na fault map, titignan kagad natin na posible bang may isang fault diyan na hindi pa natin namamapa
," he explained.
(If we can't pigeonhole the cause of the earthquake to an existing fault, we look at the possibility that there's an unmapped fault in the area.)
Also, according to Phivolcs deputy director Bart Bautista, the fault that caused the February 6 earthquake was uncommon in that its movement was vertical, whereas most faults in the Philippines move horizontally.
The Philippines, due to its location in the
Pacific Ring of Fire
naturally has at least dozens of fault lines and is prone to earthquakes. But "many fault lines are yet to be mapped," Bautista said, blaming the lack of trained geologists in the country.
He also lamented the lack in the first place of high-resolution base maps of the country's fault lines.
Narag cautioned that residents near the epicenter of the quake might experience several aftershocks for several weeks, although these are not expected to be as strong as Monday's quake.
— with TJ Dimacali, GMA News