Aftershocks dim hopes of finding survivors in quake-hit Negros Oriental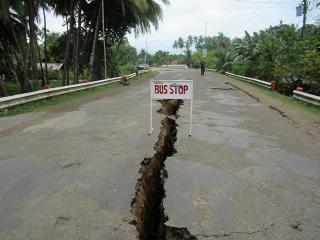 Many roads in Negros Oriental pose risk due to cracks caused by quake. A sign warns motorists that deep cracks on the road leading to La Libertad town in Negros Oriental on Tuesday could pose risk to travelers. Damage to infrastructure in many towns in the Visayas was reported after a magnitude-6.9 earthquake shook the region. Mark Aranas
Hopes of finding survivors from the Feb. 6 earthquake-triggered landslides in Negros Oriental are fading fast as aftershocks continue to shake the affected areas. The National Disaster Risk Reduction and Management Council (NDRRMC) lists 71 persons missing in landslides in two barangays.
"We are praying and hoping that we will get some survivors, but it's likely that many of those missing in the landslides have died already," Roel Degamo, the governor of Negros Oriental, the worst-hit province, told Agence France-Presse (AFP) on Tuesday.
In a statement Tuesday,
Malacañang said President Benigno Aquino III will fly to Dumaguete
City on Wednesday, Feb. 8, his 52nd birthday.
"He will inspect damaged areas and meet with our countrymen affected by the calamity, as well as with the government workers who are providing much needed relief operations on the ground," said presidential spokesperson Edwin Lacierda.
Scientists of the Philippine Institute of Volcanology and Seismology said the
quake was generated by an "unmapped" undersea fault
in the Tañon Strait between the islands of Negros and Cebu.
Coastal cities and towns on the eastern coast of Negros Island —Guihulngan, La Libertad, Jimalalud, Tayasan, Majuyod, Bindoy and Dumaguete — bore the brunt of the shock waves from the earthquake initially recorded as magnitude-6.9 at the epicenter.
The quake's strength has since been downgraded to magnitude-6.7.
Guihulngan City sustained the heaviest damage
, according to the NDRRMC. Its water supply system "was totally damaged," electric power facilities were down and mobile communication facilities were offline.
Guihulngan Mayor Ernesto Reyes said patients at the city's main hospital were rushed out of the building after a strong aftershock rattled the walls and split open a tennis court on Tuesday.
He described a sense of despair and fear throughout the city.
"Our water system is broken, there is not enough food, people are in panic and there is no electricity," he told AFP.
Aside from the destruction in Guihulngan, regional commander Patrimonio said rescue efforts were focused on the nearby town of La Libertad where up to 40 people were feared buried in rubble.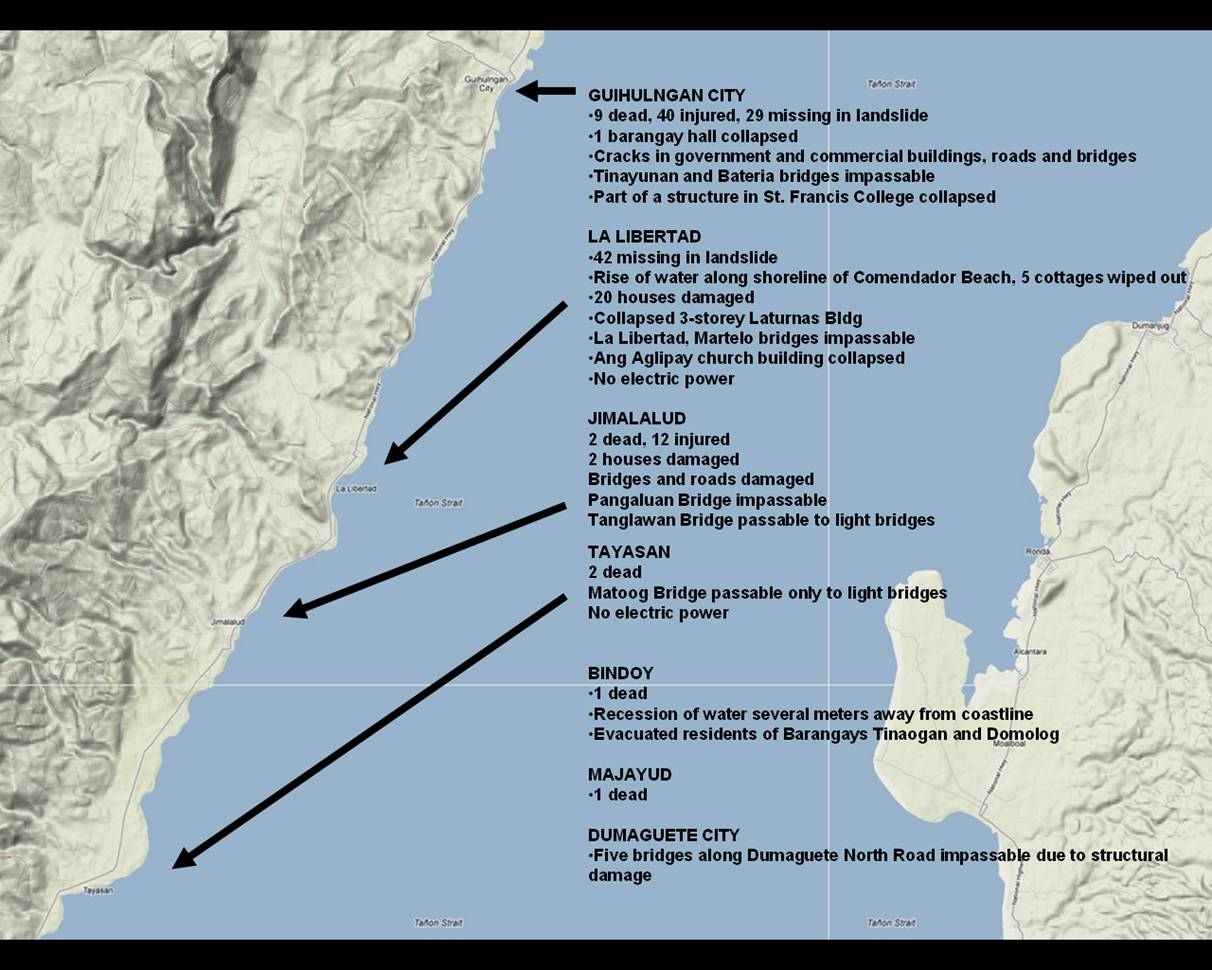 Deaths and damage to homes and public infrastructure along the eastern coast of Negros Oriental were reported by disaster response officials in the NDRRMC update on Feb. 6 quake effects as of Feb. 7 at 1:30 p.m. Google map/Earl Rosero
Infrastructure damage
The quake that devastated parts of eastern Negros Monday caused at least P265.75 million in damage to infrastructure, the Department of Public Works and Highways said in an
initial damage assessment
issued late Tuesday.
The DPWH said at least 11 bridges along Dumaguete North road in Negros Oriental are impassable.
These include:
- Martilo, La Libertad and Malaiba bridges in La Libertad;
- Pangaloan, Jimalalud, and San Jose bridges in Jimalalud;
- Oyangon bridge in Ayungon;
- Baleria, Tinayunan, P. Zamora, and Habag bridges in Guihulngan City.
Sections of Dumaguete North Road were also impassable due to cracks, road cuts, and landslides.
In Cebu, a section of Dalaguete-Mantalongon-Badian Road in Km 111 and Km 112 in Badian town was also impassable due to huge rock falls, landslides, and road slips. The DPWH said it is now undertaking clearing operations there.
On the other hand, the DPWH said other parts of the road in Dalaguete and Badiam towns sustained damage from landslides and rockslides but are now passable to traffic. It added Mangoto Bridge in Pinamungahan town along Toledo-Pinamungahan-Aloguinsan-Mantalongon Road had cracks on the bridge deck but is reported as passable.
Uncommon vertical movement
Phivolcs has recorded more than 1,000 aftershocks since the initial quake at 11:49am of Feb. 6, and 27 of those
aftershocks were significant or perceptible
, including one magnitude-6.2 at 6:10 p.m. on Monday.
The Feb. 6 earthquake was not traced to any known existing faults in the area, suggesting the presence of a previously unmapped fault, said Dr. Ishmael Narag, chief of Phivolc's Seismological Observation and Earthquake Prediction Division.
"Isang
clue
na kasi pag lumindol sa lugar, meron talagang
earthquake-generator
diyan,
so
i-pigeonhole na natin kung ano nga talaga 'yung gumalaw dito. Pag hindi natin ma-pigeonhole sa
existing
na
fault map,
titingnan kagad natin na posible bang may isang fault diyan na hindi pa natin namamapa,"
he explained.
Also, according to Phivolcs deputy director Bart Bautista, the fault that caused the Feb. 6 earthquake was uncommon in that its movement was vertical, while most faults in the Philippines move horizontally.
The Philippines, due to its location in the Pacific Ring of Fire, naturally has at least dozens of fault lines and is prone to earthquakes. But "many fault lines are yet to be mapped," Bautista said, blaming the lack of trained geologists in the country.
He also lamented the lack of high-resolution base maps of the country's fault lines.
Narag cautioned that residents near the epicenter of the quake might experience several aftershocks for several weeks, although these are not expected to be as strong as Monday's quake.
— with Agence France-Presse/Nikki Marzoña/TJ Dimacali/ELR/VS, GMA News