Chevrolet Philippines unveils its biggest dealership – Chevrolet Cebu
Chevrolet Philippines marks another milestone in its history as it introduces the latest addition to its new generation of dealerships – Chevrolet Cebu. Under the management of its New Cebu Dealer Partner - Genesis Motors Corporation (a member of the PAMOCOR Group of Companies), the newly opened dealership is set to capitalize on the great potential for growth and development in the region.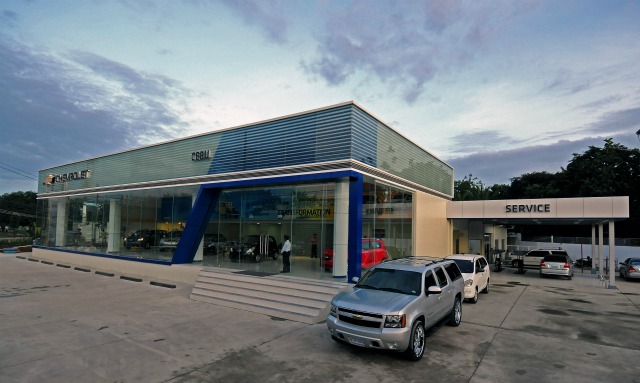 The Chevrolet showroom in Cebu.

The dealership
Chevrolet Cebu, situated at M.C. Briones St., Highway Ibabao, Mandaue City, Cebu is the biggest and most modern Chevrolet dealership in the Philippines to date. With a total lot area of 4,040 square meters of which 500 square meters have been dedicated for the Showroom & Sales Office Areas, while 2,994 square meters are specifically set aside for Service and Administration Offices. Sales facilities are fitted out to cater to customer comfort, with features like the Customer Lounge, Kiddie Corner and elegant Transaction Booths. The state-of-the-art Aftersales equipment and facilities are likewise given special importance in order to provide fast and reliable service to the Chevy clientele based in the South. Chevrolet Cebu's aftersales team aims to provide the best in customer support so that everything from the Receiving Area and the Service Area Rooms to the fourteen (14) Service Work Bays are specially created to ensure an efficient after sales service.
The team
"Chevrolet has been known globally for its automotive excellence for 100 years. And who wouldn't want to be associated with a brand that's celebrated its "ten carat diamond anniversary due to its unprecedented performance throughout the century?" It's not only rare…it's the rarest. It's just one of the reasons why we chose to put up Chevrolet." This from Chevrolet Cebu's President and CEO, Franklyn Ong. He steers the dealership along with VP & Chief Finance Officer, Emily Ong and VP & Aftersales Director, Engr. Sidney Po. Support from General Sales Management Consultant, Teofilo Del Mar; Sales Manager, Rey Lopez; Sales Administration Manager, Elvie Alcala; and Accounting Manager, Myrafe Arriola, round off Genesis Motors Corporation's roster of talented individuals driven to provide a new kind of Chevrolet experience.
The Cebu style Chevrolet
Already, plans for penetrating developing markets like Bohol, the South District of Cebu, and Siquijor are in the pipeline, while its campaign for making Chevrolet Cebu a powerhouse, from tapping local and foreign managed companies based there for business and making it a model dealership for the rest of the Chevrolet family to emulate, is naturally also in the works.
Aside from what Chevrolet Philippines has to offer, the newly opened dealership has taken the initiative to implement deals best suited to the local market. Expect to be treated to Super Low Down Payment plans in partnership with local banks, chances of winning round-trip tickets to Asian destinations and other perks like free gadgets and free fuel for Chevy purchases, just to name a few.
The friends and supporters of Chevrolet Cebu
During the grand opening last February 8, 2012, special guests and local government officials came to show their support for this new venture. Mayor Jonas Cortes was in attendance to express his well-wishes for Chevrolet's business in the years to come. Also present were the President of GM South East Asia Operations, Mr. Martin Apfel; Director for ASEAN Regional Distributors Operations, Akshay Kumar Jaising; and GM Country Representative for Philippines and GM ASEAN Senior Manager, Dante Reyes that not only affirmed their full support but likewise expressed their positive outlook for the Chevrolet brand in the Philippines as a whole. Additionally, to reiterate the partnership's strength and their support to the Genesis team, Chevrolet Philippines-TCCCI Chairman Emeritus Richard L. Lee, Marylou Tiong Lee along with TCCCI's Executive Director, Selene L. Yu were also present to witness the event.
Atty. Albert B. Arcilla, President and Managing Director of Chevrolet Philippines -- The Covenant Car Company Inc. (TCCCI), exclusive importer and distributor of Chevrolet automobiles, parts and accessories in the Philippines, also extended his message: "We welcome the new Chevrolet Cebu to our nationwide family of Chevrolet dealerships. We are confident that our high expectations will be spectacularly met with this new and dedicated management team."
Stay tuned for more exciting developments about Chevrolet Cebu. Chevrolet Cebu is located at M.C. Briones Street, Highway Ibabao, Mandaue City, Cebu. Dealer contact number is (032) 5202288. For more info, please log on to www.chevrolet.com.ph; www.chevy-gmc.net or update yourself through Facebook: Chevrolet Philippines.

Press release and photo from Chevrolet Philippines
Go to comments