UAAP volleyball
:

Valdez steps up to help Ateneo beat La Salle in finals opener
Ateneo ended the La Salle juggernaut on Wednesday as the Lady Eagles overwhelmed the defending champion Lady Archers, 23-25, 28-26, 25-23, 25-17, in Game One of the 74th UAAP women's volleyball finals at the FilOil Flying V Arena in San Juan City.
Ateneo's win delivered a strong message that they weren't just going to lie down and easily hand La Salle, which enjoys a thrice-to-beat edge after sweeping the elimination round, the title.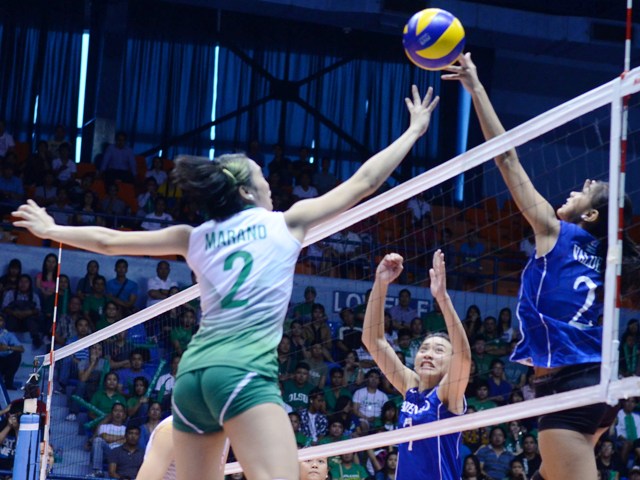 Ateneo's Alyssa Valdez (right) tips the ball against La Salle's Abigail Maraño.
Photos by KC Cruz
Rookie Alyssa Valdez stepped up big time for the Lady Eagles with a game-high 24 points on 19 attacks and four service aces as the Katipunan-based spikers ended La Salle's 25-game winning run, a winning streak that dates back last season, and in the process halted a nine-game losing streak to their rivals.
The last time Ateneo defeated La Salle was on December 16, 2007, when the Lady Eagles scored a 27-25, 25-20, 24-26, 25-16 elimination round win over the Lady Archers.
La Salle, despite committing a number of unforced errors in the first set, managed to erect a 22-17 lead that they protected for a 25-23 opening frame win on a Michelle Gumabao kill.
The Lady Archers, however, couldn't pull off the same feat in the second as the Lady Eagles tied the match at one-set apiece, 28-26.
Ateneo played catch-up the entire match and was again trailing at 17-13 in the third set but managed to tie the count at 21-all, forcing La Salle coach Ramil de Jesus to call a timeout.
The temporary break, however, failed to stop Ateneo's momentum as a Dzi Gervacio off the block hit pushed the Lady Eagles one set away from completing the upset.
An error by La Salle rookie Ara Galang gave Ateneo a 16-7 edge in the fourth set but the Lady Archers, behind Abigail Maraño, scored five straight to threaten at 16-12.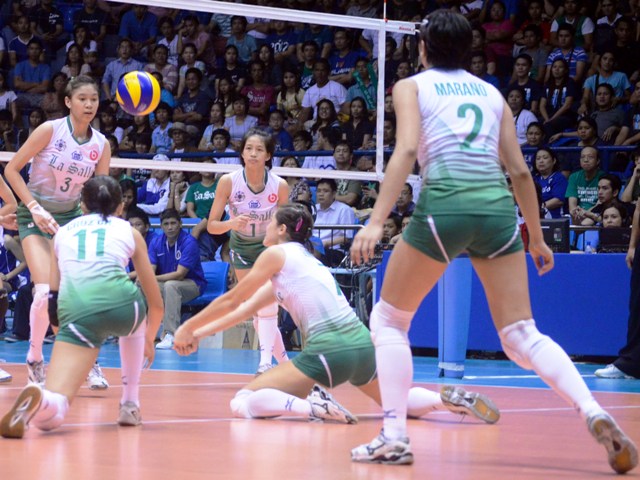 La Salle's Michele Gumabao (center) keeps the ball in play while her teammates look on.
Ateneo, however, played steady down the stretch with Valdez joining hands with Cainlet and Gervacio to score timely hits for the Lady Eagles.
Cainglet added 19 hits, three blocks, and 15 digs for Ateneo.
Maraño paced La Salle with 17 points, while Galang and Gumbao chipped in 14 each.
"I'm very satisfied the girls followed the game plan to the letter. Because of our excellent reception, we were able to attack," said Ateneo coach Roger Gorayeb.
Game Two is at 2 p.m. on Saturday at also at The Arena.
Far Eastern University (FEU), meanwhile, dashed De La Salle's hopes for a shot at a double championship as the Tamaraws booked a 23-25, 25-19, 25-20, 26-24 against the Green Archers in their knockout semifinals encounter.
The Tamaraws arranged a title showdown with reigning five-time champion University of Santo Tomas in a best-of-three championship starting at 9 a.m. also on Saturday.
JR Labrador finished with 20 points and had seven digs, while Kirk Beliran added 17 hits for the Tamaraws.
John Kevin dela Vega had 15 hits, while Myco Antonio added 12 hits for the Green Archers.
— JVP, GMA News