Ati festival in Panay dreams of cultural revival
MALAY, Aklan – Their costumes may not be as glitzy as those of the Ati-Atihan revelers of popular culture, but even in simple patadyong and cloth G-string, the Aeta folk held a distinctive flair as they marched from the local school to the municipal covered court.
The delegates came from as far as Palawan, where indigenous Batak villagers still hunt and forage for food in thickly forested mountains, and even Tarlac, which organized the previous gathering of Aeta communities in central Luzon.

Aeta girl playing during the Dimgo ke Eata Ribo festival in Panay.
This time, it's the turn of the Ati in the island of Panay to host the Dimgo ke Eata Ribo (Dream of all Eata) festival, a gathering of some 200 representatives mostly from various villages in the western Visayas region, including Negros and Guimaras.
With their distinctive kinky hair and dark skin, the Aeta often face discrimination because of their features and traditional ways. In the two-day gathering that ended Monday, however, their sense of style and cultural heritage took center stage.
Even as they wore shorts or briefs underneath their G-strings, the menfolk brandished their bamboo spears proudly, some of them wearing a red headband that projected a warrior look.
Many of the young women strutted in their wraparound cloth as regally as they could, their high cheekbones and long lashes reminiscent of many a highly paid model in glossy magazines.
Both men and women wore necklaces made of nito rings, seeds, and shells–trinkets from their forest and beach abodes. Some had their hair done in cornrows, and still others seemed to have had their curly locks straightened.
The festival featured ethnic music and dance, competitions such as archery and fire making, and preparation of food from forest sources.
For Alicia Ganancial, 43, it was a rare opportunity to showcase her performing skills along with fellow villagers from Barotac Viejo in Iloilo. Not content with dancing and drama, she volunteered to render a komposo—a traditional song–in the Inati language that talked about the purchase of Panay centuries ago.
She recites basic statistics about her Ati group with ease. Their village of Nagpana has a population of 721, and out of their 938-hectares territory, some 200 hectares are protected watershed that is home to the Nagpana Falls.
Rachel Mateo, tribal secretary of the Nagpana Minorities Association, shows off a small turtle she has been dragging around the concrete floor. Known as biyo-ok in Ati, turtles are considered traditional food among the Ati but they are no longer as abundant as before, she says sadly.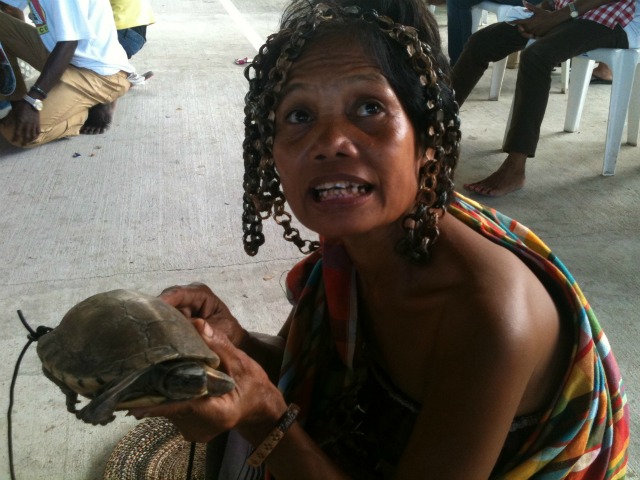 Rachel Mateo, tribal secretary of the Nagpana Minorities Association, shows off a small turtle considered traditional food among the Ati.

Most marginalized group
"The Aeta are the most marginalized among indigenous Filipinos," says facilitator Jenne de Beer, explaining the origins of the festival. Due to insufficient attention from various agencies for the Aeta, he organized a series of festivals with the help of the Non-Timber Forest Products-Task Force, an organization working on livelihood and environmental concerns in upland communities, along with local groups.
The first festival held in 2010 among the Agta Dumagat in Quezon province had a small delegation from neighboring Aurora. Last year, the Aeta of Zambales joined the celebration in Tarlac. This year, the largest gathering of Aeta delegates is expected to take place in a national festival in Lucena in October, during the Indigenous Peoples Month, de Beer says.
In the 2000 census, the Aeta population was placed at 20,000, which De Beer considers as "way too low, it's at least three times more." In General Nakar town in Quezon province alone there are already 4,000 Aeta, he says, attributing the low official figure to the difficulty of conducting a census in the mountain strongholds of the Aeta people.
"They're invisible," de Beer laments. "To take pride in their heritage and roots, articulate their aspirations, what they want and don't want–education, health, livelihood, ancestral domains, ecosystem rehabilitation that's bottom up instead of top down–these are the goals of the festival," he adds.
"They may be the least understood of IPs," adds Joycie Dorado-Alegre, head of the subcommission on cultural minorities of the National Commission on Culture and the Arts (NCCA), who is attending the festival for the first time.
She encouraged the festival participants to list down and submit ideas for future arts and culture activities that they can support–from traditional food recipes to the proper way of folding the G-string for men.
If the demonstration of pride in their culture is any indication, these festivals may yet go a long way in sharing the genuine traditions of the Ati, alongside the annual street dancing competition that, perhaps unknown to many, took its name from Panay's original settlers. – KG, GMA News