The beauty of modesty
The 1st Islamic Fashion Festival held Friday at the Hotel InterContinental in Manila differentiated itself from other fashion shows with its meaningful purpose.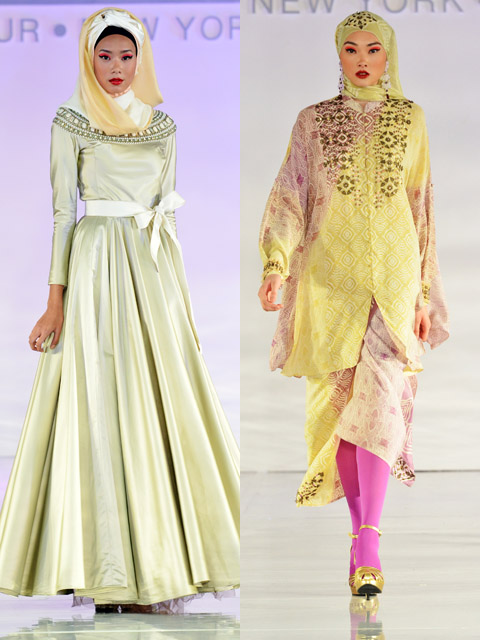 The works of Malaysian designers Syaiful Baharim (left) and M
ilo Migliavacca (right)
"Discover the Beauty of Modesty" was the thrust and theme of the fashion event, which was an invitation to the audience to understand and appreciate the conservative approach of Islam toward fashion.
"To build an updated visual and cultural reference of Islam that can be related to the modern world through the creative arena of fashion" is one of the festival's aim, said its founder and chairman, Raja Rezza Shah.
Islam and the Muslims are not spared from prejudice. Most often, they are depicted as the face of terror and fear. This bleak global backdrop eventually led to the objective of restoring their image into a compassionate people with a forbearing religion, to gradually restore respect to a religion that was once celebrated.
So in 2006, the Islamic Fashion Festival was born. Fashion, being universal, became one of the tools to make international communities experience the vibrancy of Islam, using visual language to break down the Muslim stereotype.
Modern spin
At the festival's Manila leg, four Malaysian designers (Melinda Looi, Syaiful Baharim, Milo Migliavacca, and Tom Abang Saufi) and three Filipino designers (JC Buendia, Veejay Floresca and Jun Escario) showcased fresh and intricate Islam inspired wear.
Young designers Baharim and Floresca took a modern spin on the Islam frock. Baharim used muted hues with generous sparkles highlighting a woman's natural silhouette while respecting Islamic sensitivities. Floresca, on the other hand, used London paintings and artworks as inspiration to make the collection young.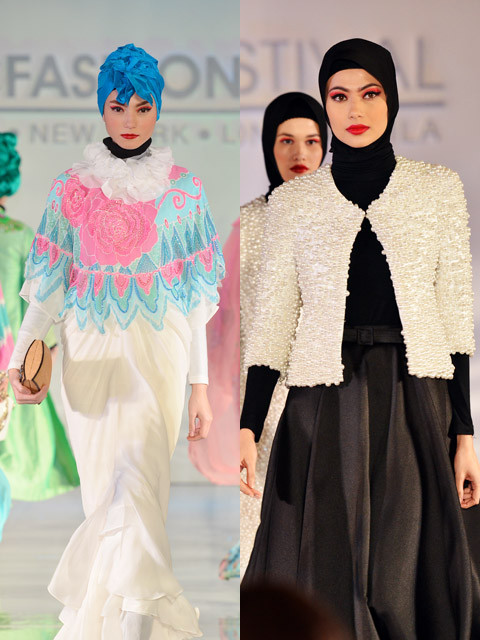 From Malaysian designer Dato' Tom Abang Saufi (left) and Filipino designer JC Buendia (right)
Looi and Migliavacca's collections were beach inspired. Signature silk chiffon, fine fabrics and emerald green colors reminded one of green waters. Their collections also displayed Malaysian art through the batik touch that was carefully included in the execution.
Buendia's collection featured his signature modern classics, pantsuits, A-line jackets and coat dresses. The pieces are easy to wear yet couture in feel. Adding an Asian feel are orchids fashioned from the same fabric used as corsages. The pièce de résistance is a pearl-encrusted coat dress that left the audience in awe.
Escario capped the event with "glam" as the evolving theme of his collection. He presented the Islam dress in a very rich and glamorous manner, using silk adorned with embroidery and beading while keeping the whole look modest.
Aside from experiencing the visual feast, guests were able to recognize the gentle spirit of Islam. The festival was able to establish Islamic fashion's presence in the global arena, and it enticed Muslims and non-Muslims alike to take interest in the often overlooked ensemble.
Indeed, with fashion as one of their avenues, Muslims can effect a shift in perspective.
The strategic intent of the Islamic Fashion Festival was neither to preach nor convert, but to deliver the simple message that there is beauty in covering up. –KG, GMA News

Photos courtesy of 1st Islamic Fashion Festival