Ramona Bautista, suspect in Ramgen slay, now on INTERPOL Wanted List
One of the suspects in the Ramgen Revilla slay, the late actor's sister Ramona Bautista, is now on the International Criminal Police Organization (INTERPOL) Wanted List.
Bautista, 23, is one of the suspects in the killing of teen actor Ramgen Revilla, son of former Senator Ramon Revilla Sr. The crime evolved into a sensational Cain-and-Abel story that gripped the nation late last year with its tales of betrayal and domestic squabbles between the ailing former senator and his former mistress and the mother of the victim and suspects, Genelyn Magsaysay.
Another Revilla sibling, RJ Bautista, has since been arrested by the Parañaque Police and pleaded not guilty to the charges, along with other suspects Ryan Pastera, Glaiza Vista and Norwin Dela Cruz.
Pastera, Vista and Dela Cruz were supposedly hired by the Bautista siblings to execute the plan to kill Ramgen inside their Parañaque home on Oct. 28, 2011.
The killers also shot Janelle Manahan, Ramgen's girlfriend, in the face. Manahan survived the shooting and
underwent reconstructive surgery
.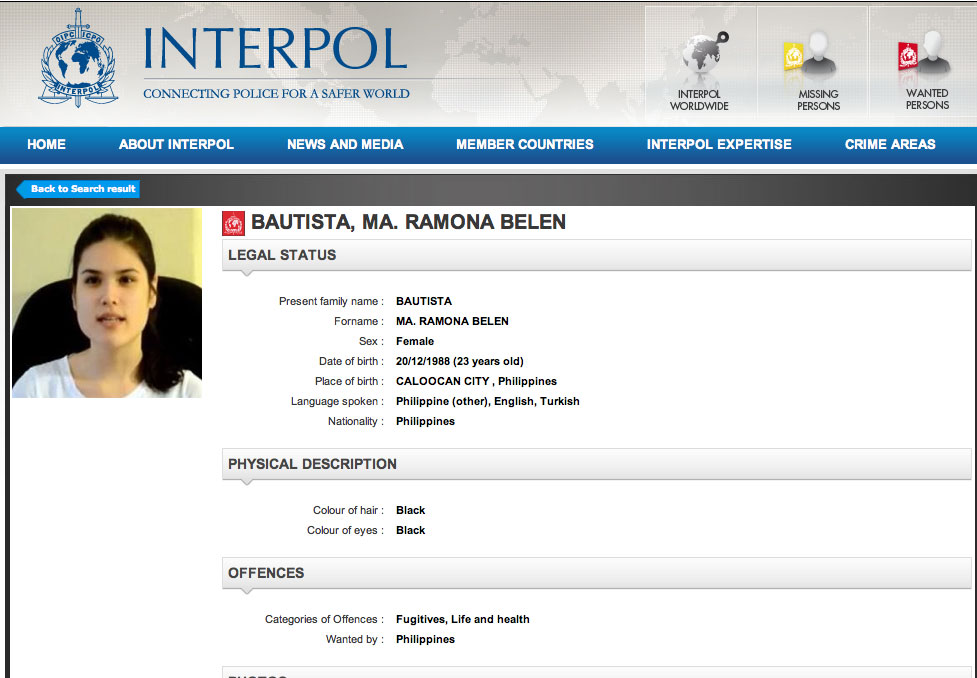 Ramona Bautista on the Interpol Wanted Persons List. Source: Interpol
Also on Red Notice list
According to INTERPOL mechanism, Ramona,
being on the Wanted List
, is now also on the Red Notice list. A person may be on the INTERPOL Red Notice, based "on a court decision for a person wanted to serve a sentence."
"These red notices allow the warrant to be circulated worldwide with the request that the wanted person be arrested with a view to extradition," according to INTERPOL.
Ramona earlier told the police she was kidnapped by the killers, but retracted her statement over cable news channel ANC that she was not in fact abducted by her brother's assailants. She made the statement before
fleeing to Hong Kong on Nov. 4, and purportedly to Turkey
to join her husband.
The Philippines has no extradition treaty with Turkey. An extradition treaty paves the way for the surrender or transfer of a suspected or convicted criminal from one country to a requesting country seeking to put the person on trial or behind bars.
INTERPOL's role is "to assist the national police forces in identifying or locating those persons." Ramona is also considered innocent until proven guilty.
The INTERPOL included Ramona in its Blue Notice watch list on Nov. 9 after the National Bureau of Investigation (NBI) requested the international agency to inform all its members that Ramona is needed in the investigation of her brother's murder.
Last November, DOJ Secretary Leila de Lima ordered the NBI to place Ramona on the INTERPOL Red Notice list, seeking the arrest or provisional arrest of Ramona with a view to extradition.
The NBI said it cannot ask the INTERPOL to locate Ramona because there was no arrest warrant issued against her.
— Lian Buan/VS/HS, GMA News