Comics artist Gerry Alanguilan: Beyond the doubts, rejection and tears
Graphic artist and comic book writer Gerry Alanguilan has shared the news that Marvel's international talent scout will be in town from March 18 to 20. To inspire Filipino artists who were like him when he was a bit younger, Alanguilan also told the story of the rejection he overcame to reach comics heaven.
He had kept the rejection letters he got from Marvel and DC Comics and posted images of them in his blog.
"I began sending submissions to Marvel Comics in 1986. Back then I was so confident of my 'talent' that I worried that I would have to stop going to school so I can begin work at Marvel right away. I mean, I thought I was that good," Alanguilan recalled in his
blog
.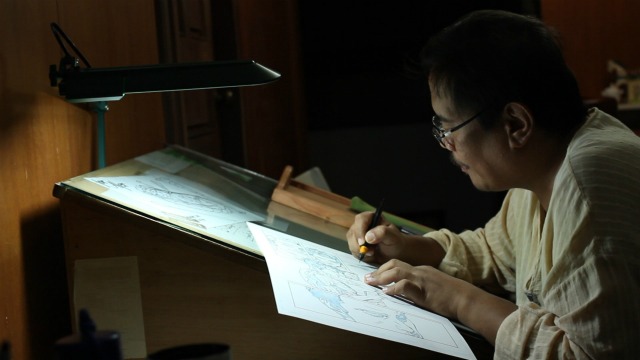 Gerry Alanguilan inking a future issue of Spider-Man. Photo courtesy of Levi Marcelo
He was inspired by the thought that someone—no less than Marvel exec Eliot Brown—knew him and the budding talent in him.
Back then, people typed out letters using typewriters and signed them with personal handwritten signature.
"But then this
rejection letter
came and my immediate reaction was that of relief. Relief that I wouldn't have to quit school. Later, I realized hey, it looks like I'm not good enough yet. Later, I got the sinking feeling that I might not be good at all," he added.
The rejection phase lasted a good seven years, but he persevered, undaunted.
"I was never discouraged by the letters. In fact, I took them as a challenge, improving and developing my work with every submission. While I was sending samples to Marvel, I was also sending samples to DC Comics," the accomplished artist said.
Alanguilan said Neal Pozner of DC "sent him a Green Lantern script to work on" before another script later arrived in the mail.
However, girlfriend-induced heartbreak intervened and dealt him a severe blow.
"I had been trying to break into comics partly because I wanted to follow her to the US, and have a good job when I got there. With her gone, my will to do comics went with her. Needless to say, I bombed that submission. And that is the
letter
I got in response. I stopped drawing for an entire year," he recalled.
But that was not to be the end. Mere prelude it was.
"I would later meet Whilce Portacio who would help me develop my art further, leading to jobs not only for Image Comics, but eventually Marvel and DC. My first work for Marvel was inking Wolverine over Leinil Francis Yu on a few pages of Warren Ellis' 'Not Dead Yet' around 1997-1998. My first work for DC was 'Superman: Birthright' with Mark Waid and Leinil (Yu) around 2003."
Reaching out to others who have comics in their blood, Alanguilan said he posted the rejection letters "in the hopes of inspiring other aspiring comic book artists to keep the spirit alive in the face of great challenges. All of us working in comics today underwent years of rejections like this, years of disappointment and heartbreak and in my case, even tears. Nobody got it easy."
"Plenty of times I just wanted to give up. And one time I actually did. From 1993 to 1994 I never drew anything. I went back to Architecture and worked as a draftsman and construction supervisor. I thought comics and I were done. But if comics is in your blood there's no discouragement strong enough to keep you from drawing. And I eventually went back," Alanguilan said.
The old adage is true indeed. Try and try until you succeed.
— KG, GMA News
C.B. Cebulski, Marvel's international talent scout and senior vice president for creator and creator development, will be a guest of National Bookstore on March 18 to 20. Interested artists may send their portfolio for Cebulski to review.