Pinoy pilgrims follow a heritage trail to learn about Jose Rizal
Since 1956, Filipino students have come to know Jose Rizal through lectures and readings, as classes on the Philippine National Hero are required under Republic Act 1425.
A tourism heritage promotional campaign launched last year, however, offers an alternative learning experience for followers of Rizal.
The Lakbay Jose Rizal Heritage Trail aims to promote domestic tourism, as well as give people the chance to discover the national hero by visiting important places in his life.
"Every Filipino should avail of this chance to get to know our national hero better, to learn from his experiences, and to appreciate the many significant places in his life. Our foreign visitors are welcome to participate and share our pride. With increased tourist traffic to these areas, the project helps spread the economic benefits to the host communities," said then Tourism Secretary Alberto Lim in a
press release
on the campaign launch on May 18, 2011.
Visit Rizal sites
Pilgrims are given a Rizal passport and map, which will guide them to various sites. At each site, the pilgrims have their passports stamped, with the goal of visiting all 27 Rizal sites around the country.
The first 100 pilgrims who complete the stamps will win a token and an official "Kalakbay ni Gat Jose Rizal" completion certificate.
As of now, 54 tourists have visited all the 27 Rizal sites around the country.
The DOT recently awarded the top 15 finishers with the "Kalakbay ni Gat Jose Rizal" certificates, Rizal books, and a round-trip Cebu Pacific Air ticket to any local destination.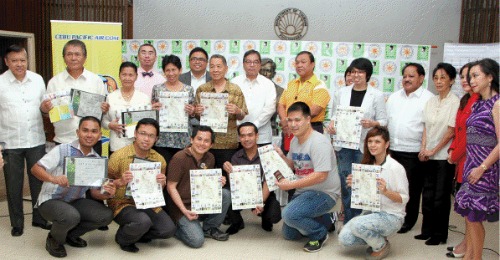 DOT Secretary Ramon R. Jimenez, Jr. (center) with some of the awardees of the Kalakbay ni Gat Jose Rizal project, inter-agency committee members and sponsors.
The winners include Requilio Labarda and Gloria Labarda, Anthony Rabor, Alvidon Asis, Danny Diez, Juanito, Maureen, and Franze Micah Castaneda, Marjorie Salinas, Jeremaia Joson, Lilibeth Cruz, Charlie Garcia, Edelburgo and Miguela Cheng, and Renante David.
"Do not hesitate to share Rizal with the world because the world can surely appreciate what he did, and what he fought for, which is justice and freedom. Truly, the world can see what heroism can achieve," current Tourism Secretary Ramon Jimenez Jr. said in a press release.
"We, together with those who are all over the world, who commemorate and remember Jose Rizal, are living proof that the most important heritage site of Rizal is indeed in our hearts," he said.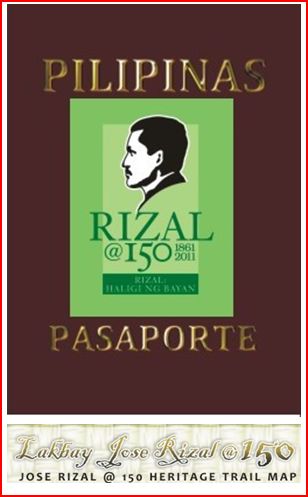 Pilgrims will get stamps at each Rizal site on the map.
The tokens and certificates are only valid from June 19, 2011 until June 19, 2012, but the rubber stamps will be permanent and available even after the one-year period.
Pilgrims can enjoy some of Rizal's favorite dishes, including Tsokolate e and Sardenas Secas Tuyo.
They will visit Fort Santiago, where he was detained, and Paco Park, where his remains were buried.
Pilgrims will also travel outside Manila, to places like the San Fernando train station in Pampanga and the Kamestisuhan District in Bulacan. They will also go as far as Dumaguete and Camarines Norte. Of course, Rizal's birthplace Laguna is also included in the trail.
"With all of our national hero's monuments and commemorative sites not only in the Philippines, but all over the world, Jose Rizal, has remained the single most important memory in our history," said Jimenez.
On Rizal's 150th birth anniversary, some 40 hikers joined a
historic walking tour
in Hong Kong to trace the hero's daily route back in the 1800s.
The Lakbay Jose Rizal passports are available at the DOT Tourism Information Office in the DOT Building on Kalaw St., Manila as well as at DOT Regional Offices nationwide. For more information, visit the
DOT website
.
–Carmela G. Lapeña/KG, GMA News
Photos from the Department of Tourism