Theater review: Discord in 'Jekyll & Hyde'
At the risk of sounding redundant, the discord in "Jekyll & Hyde" is not just about the text itself, as it is about this production as a whole. It's a discord that becomes apparent halfway through the musicale, when you find during intermission that you are undecided about this narrative: it seems to be moving too slowly for a story that is actually being told swiftly, it's like an action film that should be fast-paced but feels to be dragging really.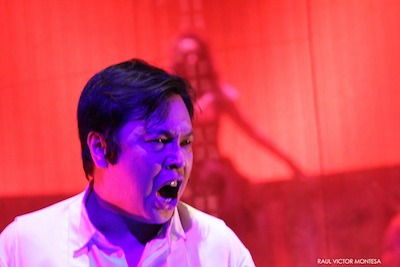 Jett Pangan as Jekyll/Hyde. Photos courtesy of Repertory Philippines
Which does not speak at all, not one bit, about the talent that is here. At curtain call, it was second nature to go give Jett Pangan's Jekyll/Hyde a standing ovation; at curtain call, Pangan, along with the three other leads Cris Villonco (Emma), Kalila Aguilos (Lucy), and Junix Inocian (Utterson), could only stand onstage and be such a measure of Pinoy talent like no other. Because "Jekyll & Hyde" is almost an easy text to grapple with, one that we know of, is familiar, where characters are archetypes and the social structure is everything and familiar. This allows for actors to take it on and breathe new–if not different–life into stock characters; this cast cannot be found wanting.
Yet, this apparently is not all that a text like "Jekyll & Hyde" needs, it is not just about the talent that's on stage, up to the challenge of elaborating on complexity. It's in this sense that a production, over and above its actors, must also rise to the occasion of layering the narrative with nuances that are particularly a reading of the text's complexities. Here it seems that this Manila production of "Jekyll & Hyde" must find its footing, must take into consideration how set and choreography tie together and could tie down the storytelling itself.
Because here is a story riddled with the thoughts of a townspeople, that can only be the context of Jekyll's insistence on dealing with the other side of his persona, where Hyde can only be a product of the lack of justice that were in those times of a stark social divide between the rich and the poor, the corrupt and the corrupted and the hungry. This context speaks in this narrative, the townspeople sing of their removal from these events that dictate upon their lives. That it resonates is the reason why "Jekyll & Hyde" can only continue to be important. That this production works with the notion of the townspeople not just as context but also as background/backdrop, and literally so, barely lends anything to the idea that they are oblivious to the oppression they are bound to.
Because these townspeople were rendered onstage, all the time, like eavesdroppers quietly looking in on private and secret events. Yet as eavesdroppers they were all always but aware of the end product, of the murder victims not the murders themselves, no matter that they were there, just right there, looking at the murder happen. This all-seeing versus blinded dichotomy is nothing but confusing and confused here, where members of the ensemble stand there unmoving in too much of the play.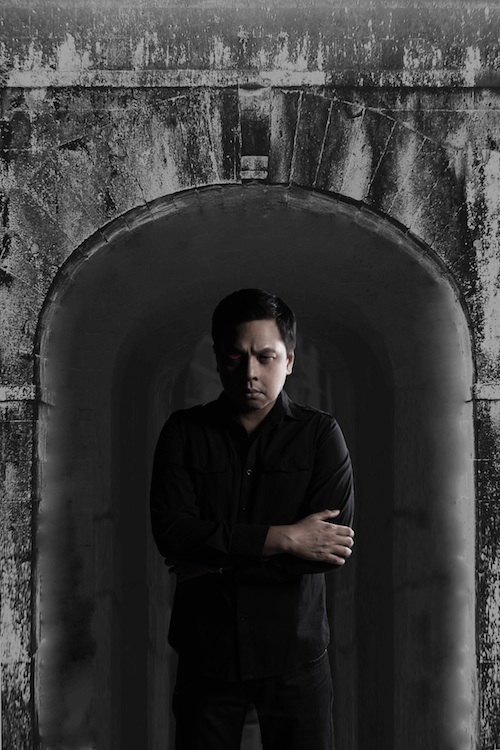 Jett Pangan shows the struggle between good and necessary evil brilliantly.
It would work as a statement on context were it not awkward, also inexplicable: if they were not seeing, why do they turn away for certain murders? If they were all-seeing why were they not also executioner? If they were blind but seeing depending on what they could take, at what point do they speak about this struggle?
Making the ensemble-as-ever-present-townspeople more problematic is the fact of that set: one that is nothing really but a set of bleachers, one that looks rickety in certain parts, but worse than that is the fact that it renders the townspeople as spectators by default. There is no working with bleachers that high then allowing the audience to forget that those are bleachers, there's no working with it that will make you forget that the point of those bleachers is the show that's going on at the foot of it.
Which is the stage itself, and in which case why the need for bleachers at all? Not only did it always make the stage look bare at any given point that the ensemble was performing onstage, it also made it unwieldy: isn't it that people climb up in moments of clarity? But Lucy was always only going down those steps, whether as prostitute looking for a customer, or as a girl being given the possibility to dream, and the symbolism of that movement has to matter given the evolution of her character.
Which brings one to a sense, or lack, of choreographic vision here. Because here are lead actors infusing complexity into their roles, yet they seem to be limited by the movements they are allowed to make. Villonco's Emma is a layered portrayal of love, not as stupid and unconditional, but as bright eyed in understanding and unapologetically conventional. There is strength in the layers of acceptance that Emma comes to represent here, where Villonco moves with ease from strength to vulnerability, with a falsetto that speaks of softness and power in equal turns. Yet she is made to only move from one end of the stage to another, entering and exiting between those bleachers and never climbing up or going down.
The strangeness of this kind of blocking is made even more obvious in the Emma-Lucy duet, where they both perform stage front, and do nothing but walk past each other, moving from stage-left to stage-right and back, with no sense of where they are, how their contexts are different, how their loves for Jekyll are distinct. Aguilos' Lucy is even more limited by this lack of choreographic vision, not just because she goes up and down those bleachers, but even more so because in that climax of a song she is made to do nothing but look to the audience and belt it out in a fab nightgown. Where Aguilos' Lucy did work with the necessary evolution towards vulnerability at this point, her movement did not allow us to see this change in her body, in her knowledge of self. Like Villonco, Aguilos hits Lucy out of the ballpark, the weight of the character's oppression cleanly interwoven with the possibility of hope in her mere existence, all in the lucidity of a voice that moved from powerfully belting to softly expectant of what cannot be had.
Pangan's Jekyll/Hyde is affected in this same way too, where the evolution into Hyde is wonderfully executed and the struggle between good and necessary evil is nothing short of brilliant. And yet there seemed to be too little movement for Pangan here, Jekyll's struggles were limited to the front of his desk, the murders of Hyde all had to happen from behind the victim. It also didn't help that even as there were countless murders here, there was practically no blood.
Here lies discord in this production of "Jekyll & Hyde." Because the production itself is not wanting in brilliant performances, yet it seems static and slow. Discord is in the fact that while the lead characters were well-developed and portrayed, they seemed to be moving separate from the set of bleachers behind them, the ensemble-as-townspeople looking in. Discord is in the truth that while "Jekyll & Hyde" should be about the evil that is in each of us, there is barely any blood here, barely any indication of the murders that riddle our lives, as Jekyll or as Hyde, equally. Here is discord that had set itself up for success, if only because this text already calls for it. Luckily for this production, there is time to see this discord through. –KG, GMA News
"Jekyll & Hyde" book and lyrics are by Leslie Bricuse, music by Frank Wildhorn. It is directed for Repertory Philippines by Menchu Lauchengco-Yulo, with set design by Joey Gonzalez-Mendoza. Performances are scheduled on March 24, 25, 30 and 31, and April 1, 13, 14, 15, 20, 21, and 22 at OnStage in Greenbelt 1, Ayala Center, Makati City. For details, visit the Repertory Philippines website.
Katrina Stuart Santiago writes the essay in its various permutations, from pop culture criticism to art reviews, scholarly papers to creative non-fiction, all always and necessarily bound by Third World Philippines, its tragedies and successes, even more so its silences. She blogs at http://www.radikalchick.com. The views expressed in this article are solely her own.