Man on a motorbike teaches the world about kidney disease
When Stephane Etienne's son Ilhan was born with chronic kidney disease, he and his motorcycle buddy Paul Torriero set off on a journey that would take them across four continents and nine countries. From Etienne's residence in Sydney, Australia to his birthplace in France, they visited children's hospitals in Malaysia, India, Saudi Arabia, Egypt, Libya, Tunisia, Italy and Paris in just four months.
The goal was simple. Kidney disease affects over 550 million people worldwide, but Etienne perceived a great lack of information on the subject. "It's not a cool thing to write about a disease and it's even less of a cool thing to show it on TV, so it was pretty difficult to find information about the disease. The only way we did was talking to doctors and eventually, meeting with a few patients that have that issue," he says in a phone interview with GMA News Online on March 8.
Etienne explains that chronic kidney disease usually affects people aged 35 to 45 whose lifestyle puts them at risk. "So, if you are about 35 years of age, you're starting to drink a little bit more, to smoke a little bit more. You're stressed at work so you develop hypertension. Or your eating habit isn't as good as before, so you become a perfect candidate for diabetes. So once you have one of those two issues, diabetes or high blood pressure, then you're the perfect candidate to become affected with chronic kidney disease," he says.
Unfortunately, this can also happen to babies. "It's quite unusual, but it does happen, and also, kidney disease affects one out of seven people around the nations... It's not an uncommon disease. It is out there and it is so prominent and the numbers are only getting worse and worse every year," says Etienne, whose goal is to build an Internet-based information-sharing platform that would connect doctors and medical staff in major hospitals with the remote developing world and impoverished regions.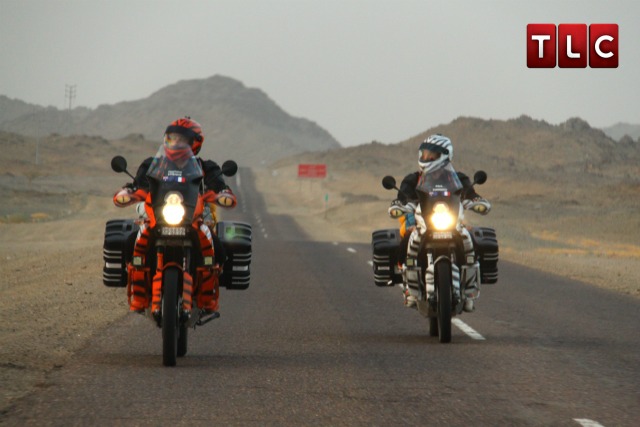 Motorcycle buddies Stephane Etienne and Paul Torriero are on a mission to build awareness about kidney disease.


From Sydney to Paris and beyond
In order to build awareness, he decided to literally get his show on the road.
He first got rid of his company, which sold security equipment for vehicles. Then he gathered support from the government, doctors, and carefully chosen sponsors. He and Torriero also had to prepare physically, and put on about six to eight kilos to be ready to ride the 300-kilogram motorcycles around the world. "When you go on such trips, you can't just sit on your bike and expect not to break down physically. It will happen," he says.
Apart from the physical challenges, Etienne shares that being away from his family was of course difficult. Fortunately, social media and technology played a big role in keeping them connected, and eventually allowed them to share their cause even beyond the countries they visited.
Since March 22, TLC has been airing its six-part series "WorldRiderZ" which features Etienne and Torriero as they build awareness and help parents and patients connect with each other and find information on chronic kidney disease.
After Season 1, which shows their journey from Sydney to Paris, they will begin working on Season 2, which will go from France to the US via Canada.
"Our social network is growing every day and it's going to be very, very big by the time we reach the US. It'll be completely worldwide, and we're very happy about that because every one of those followers, they're aware of what we're riding for and that makes awareness out there a lot more important than it used to be—about that disease," says Etienne.
He adds that they will definitely visit the Philippines in July 2013, when they work on the show's third season.
A journey not just for his son
The journey allows Etienne to combine his enthusiasm for motorcycles with his personal mission, as he finds it to be very efficient in terms of communicating with people around the world. "When you're in a car, you have that shell—that barrier between you and other people. I just prefer utilizing a two-wheel base than a four-wheel base. It just makes the journey much more interactive," he says.
Etienne recalls falling in love with riding when he was 12 years old. "You can smell things; you can see things differently because you're outside... It makes the communication a lot easier whenever you pull over on the road and you want to meet with someone or you need to find your way... You can always be in contact with nature and meet with anyone out there in a very friendly and easy way," he says.
The free spirit of traveling on a motorcycle proved to be perfect for his mission. "Unbelievable—in every country where we were going, we not only had escorts of hundreds of motorcycles … escorting us from one hospital to the next, but we also were invited on national news," says Etienne, who had to meet with top officials like the Minister of Health of every country and the king of Saudi Arabia.
Meeting his holiness, the Dalai Lama, was one of their travel highlights. "This is something that is very unique in someone's life, if you are lucky to ever meet with him. He is an amazing person and let me know without talking about religion as a human being, you've got so much to share and to learn from him," he says.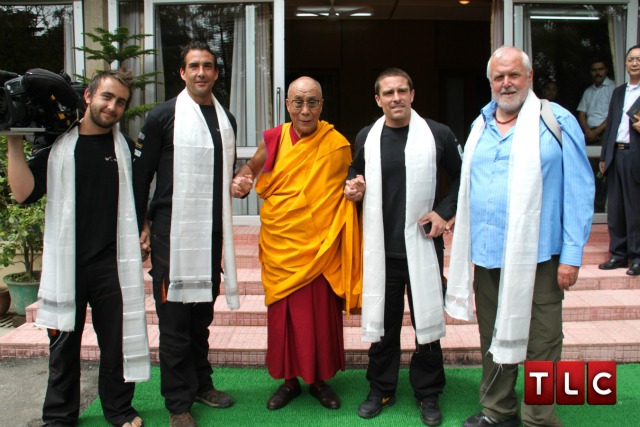 Meeting the Dalai Lama was one of Etienne's travel highlights.

On the other hand, they also encountered some trouble, including having his motorcycle stolen in Tripoli in Libya. "We found the motorcycle back by the end of the day, but that moment when this happened, I really thought that I was letting my son down by not being able to push on the journey, and mentally, this was very difficult," says Etienne.
He explains that the journey is not only for his son, but also his way of helping others in the same situation. "It's also a way for my wife and I to feel better and keep moving forward positively in the future. So that way we can look forward to the future days where progress and medicine and treatment will be there and it will be there for my son and there for all of those patients," he says.
While he and Torriero are on the road, his wife also helps develop WorldRiderZ. "What we do is we're trying and we do connect every second every day over the phone," says Etienne, who reaches his wife via satellite phone, and sometimes Skype.
He also meets with his family from time to time. "They spend a week while we're riding towards that place and then we spend a few days together, and then they're off back to another place and waiting for us to get to the final stage.... That gives us that very important family time," he says.
Ilhan, now turning 3, is currently at a "good" stage. "He obviously needs medication, but he is at a stage where his kidney function is okay for now," says Etienne, who describes his son's health condition as a roller coaster of good and bad.
"It is very difficult to leave them behind, but the reality is I have to be able to see all of that and think about the future and think about all those people affected with the same disease. That is a quest that is not just for my son, but it's for all of those patients around the world," says Etienne. –KG, GMA News