Tim Tebow, Kirk Long, and other third culture kids
"
Tim Tebow was born in Makat
i???" This was the response of many Filipinos when word got out that the popular football hero, no. 15 in the New York Jets, was born in the Philippines. His parents were missionaries assigned here when Tebow was born in 1987.
Tebow is just one of the many people who grew up as third culture kids, or TCK. He still returns to the Philippines regularly for charity work.
"TCKs," said international speaker Libby Stephens, "are those who spent a significant part of their developmental years in a culture other than their parents' culture."
These children find themselves exposed to a culture different from their roots, usually due to their parents' jobs.
"TCKs are global citizens. They are international business kids, diplomatic corps kids, military kids, non-government organization kids (such as missionary kids), immigrant kids, refugee kids, international school kids," Stephens said.
The international speaker spoke at the forum "Raising Kids to be Global Citizens" before a group of mom journalists and bloggers last March 7 at Faith Academy, a K-12 international Christian school in Cainta.
According to Stephens, TCKs form one of the fastest growing groups of kids in the world. She quoted a study done in 1995, which revealed that 100 million people lived outside their passport country. "Ten years later, this number became 200 million," she said.
"And (their number) is not getting smaller," Stephens added. This is why it is important for monocultural people to understand them.
Stephens said TCKs are exposed to at least three cultures: the legal culture, the geographic culture, and the relational culture.
"The legal culture is the culture that 'owns' the child. It's where they have to pay taxes, where their passport is issued," she said.
"All the cultures they have been exposed to, and the countries they have been to, form the geographic culture," Stephens explained.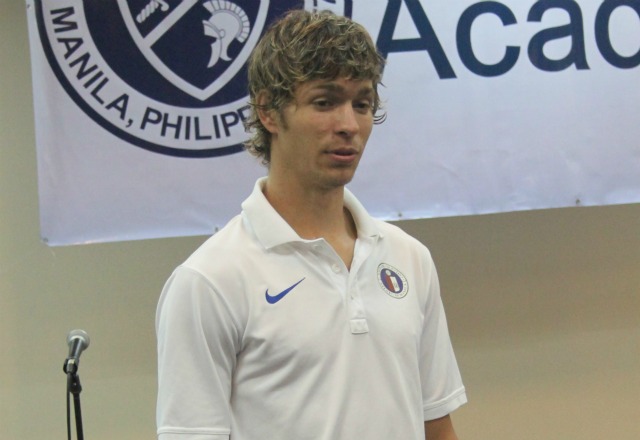 Basketball player Kirk Long talks about being a third culture kid before a group of mom journalists and bloggers at Faith Academy in Cainta. Photo courtesy of Faith Academy
And the third culture, the relational, is the key to their development. "It's the community of people that have also been involved with other kids or people living in other countries," she said.
"These global citizens not only have been to many places in the world, they think differently about the world," Stephens said.
Raising global citizens is challenging, as the elements of different cultures become part of their life experience.
"They understand culture and languages, and they have intercultural skills," Stephens said. They are also more accepting of other cultures.
She cited Jesus as an example of a TCK, having been born in Israel then brought to Egypt before going back to Israel, who had a heart for people around the world.
Stephens said TCKs need to possess critical thinking skills and hone their creativity and innovation, and not just be skilled in technology.
Because of the different background of TCKs, Stephens said, "we must expose them to international education."
Steve Schwarze, director for development of Faith Academy, agrees. "The strength of a multi-cultural school is that you get to work with different kinds of people," he said.
Many TCKs find themselves out of place in schools where most of the students are locals, as initially experienced by Faith Academy alumnus Kirk Long when he enrolled in a university in the Philippines.
Now with the PBA D-League, Long says his holistic education has helped him adjust to his multicultural environment and become more confident. -
YA, GMA News