Movie review: Battleship: Sinking naval sci-fi
When the aliens finally come down from the stars and view our entertainment media speculating about extra terrestrial life and first contact they will laugh. That's a given. But "Battleship" will definitely be one for the alien comedy books. It's one of the things they'll be laughing about for quite a while that it may possibly become an inside joke. They will, in all likelihood, center skits around it if they ever do come up with an ET version of SNL.
Why? I'll tell you in a bit, but please do know that Battleship isn't as bad as rotten tomatoes. Certainly not as cringe-inducing if you're not one to indulge in poking holes at world building and plot construction.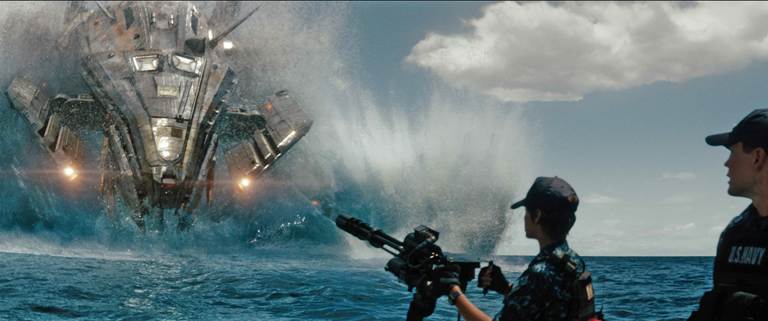 See, it does have naval war and sea battles aplenty, the military buffs will dig the scene where all they got left is the USS Missouri and the ship's weapons score hits off the alien craft. The darn thing may be outdated but its guns can still pack a wallop. Being based on the similarly titled children's game by Hasbro (the one where us 80s kids faced each other and tried to drop the enemy into the blue abyss by guessing where he is, and when you do destroy him the other exclaims, "You sunk my battleship!") there are fascinating events where the crew try to outguess and outmaneuver the aliens using buoys and signs of displacement.
Also, it stars an A-list ensemble cast with Taylor Kitsch (the volatile and perennially outraged Lt. Alex Hopper) as main protagonist, Brooklyn Decker (his gorgeous and very blonde girlfriend), Liam Neeson (said girlfriend's father and an admiral), Alexander Skarsgård (as Stone Hopper, Commanding Officer of the USS
Sampson
and Alex's elder sibling), and R&B pop star Rihanna as, would you believe it, Petty Officer (GM2) Cora Raikes, a weapons specialist.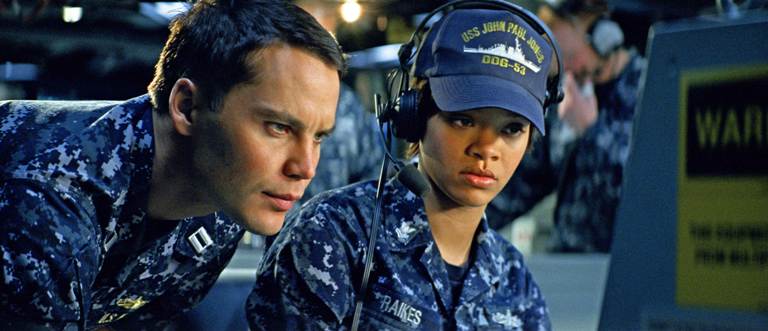 There's a whole 12-15 minutes of screen time devoted to establishing Alex Hopper as a man with aggression issues (he breaks and enters a convenience store to woo a girl with a burrito, he gets into a fight with his Japanese rival at the naval war games) and a personality that just can't get it together. Anyway, the ET aspect of the movie comes in when several years ago a probe was sent into deep space into the trajectory of a planet similar to Earth with a message of invitation. All in all a friendly "hello" and "could we possibly visit just in case we seriously louse up our planet's ecosystem and render it uninhabitable?"
Several years later, at the RIMPAC international naval wargames in Hawai'i, the aliens do answer. They do this by sending a scout team that presages an invasion fleet. Landing in the Pacific, they encounter the USS
John Paul Jones
, USS
Sampson
and a few other vessels and then quickly build a dome made of energy encasing these ships and several Hawaiian islands, cutting them off from the rest of the naval participants. This is where Lt Hopper and Co engage in a dynamic and intense tête-à-tête against the species, we later find out, are known as "The Regents".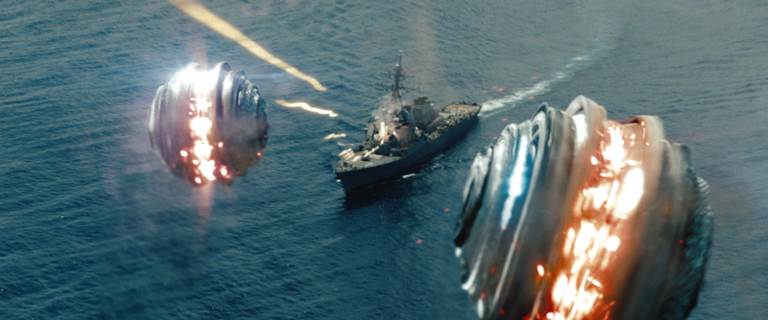 And this is where the writing becomes incredibly deficient. Paging director Peter Berg (Hancock, The Kingdom), someone tell me why the aliens look like stoner metalheads from the System of a Down era? As far as motivations go, we're shown some of the scenes from the POV of the aliens, illustrating that they have come to build a power source in the ocean, test the resistance of the natives, and send out a signal to the rest of the Regent fleet to come on over and join the fun.

Problem: their communications ship got thrashed entering the earth's atmosphere. So, they take over the satellite array on a mountain and try to beam up their message. Granted that the four ships were the scout vanguard, did these guys really travel vast distances to not have a viable plan for back-up communications? Let's ignore that, though.
By this time, in the middle of all the explosions and human vs Regent close quarters battle, "Battleship" becomes the kind of movie that non-sci-fi fans love to hate and point fingers at for being all whiz bang special fx, trying hard to make the human element count. This is mostly because of the glaring internal inconsistencies concerning the tech of interstellar travel and alien weapons.
Let us count them:
1)
The aliens have tech for an energy dome but nothing in the way of assault rifles, just some kind of multi-purpose tool and blade units fitted on their arms to go along with their armor suits. Say what?
2)
The aliens have the tech to travel space and time but their ships, while still light years advanced from our own firepower, have nothing in the way of energy weapons. Only some kind of trajectory fired explosives that bury into a structure and then shred it to smithereens.
3)
A petty officer on a ship notices how the alien's eyes are remarkably similar to his pet lizard's (meaning a weakness for sunlight) and it turns out he's right. Someone more credible and, I don't know, with a science degree could relay this crucial information perhaps?
4)
Perhaps most glaring of all are the burning wheel AI robots (oh, but I did love these nasty things) that can bust through nearly anything and apparently have a Transformer-type scorpion tail. So why didn't the aliens send these guys out to wipe out the destroyers first? And why were these wheel robots shredding interstate highways along with military installations?
Please note: I had such high expectations for this film. I wanted to enjoy it so bad but these irregularities were as hard to ignore as the barded alien in the corner. Still, if you do want to take your kids to a no-brainer movie they'll enjoy and be engaged in without asking too many annoying questions, then this is the one to go to.
For more nerve-stimulating adult sci-fi, however, look elsewhere. The analog board game may present less frustration and mental hassle. Mr Berg, you sunk my battleship. — TJD, GMA News
---
All photos courtesy of United International Pictures and Solar Entertainment Corp.

Karl R. De Mesa has been a journalist for the past 14 years. He is also the author of the horror books "Damaged People" and "News of the Shaman," available in print and international e-book formats. His collected non-fiction is forthcoming very soon in "Report from the Abyss." He plays guitar for the post-beat, drone metal band Gonzo Army. When stumped, he lets a stud-collared Snoopy push him around and call him names because it's better than having a polar bear do it. The views expressed in this article are solely his own.