The Top 5 Free Time-Killer Games on iOS
iDevices have so many uses, ranging from communications, music, video, and productivity. But we have to be honest; most of us use them for one purpose: games.
There are many great games that could be purchased from the Apple App Store; popular titles like Angry Birds, Plants vs. Zombies, and Fruit Ninja have never left the Top 25 most downloaded games since their respective releases.
It is pretty rare to find an iDevice owner without any of the mentioned games, but there are some out there who are content with drawing from the generosity of kind game developers who give their games for a song.
So for those of you want to have a something to do while waiting in line without having the App Store access your Paypal account, in no particular order, here are the Top 5 FREE games on the iOS:
Publisher: Imangi Studios, LLC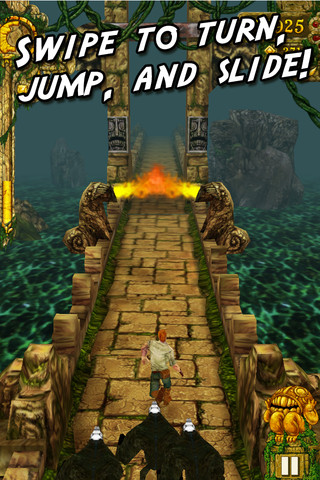 Of course, this is in the list. It wouldn't be a top 5 if it didn't have the game that has wasted one-too-many total man-hours, and has drained countless iDevice batteries.
Temple Run is a game with only one objective: Survive for as long as you can. You know that you're going to be playing something over and over again if it's a game that you can't really win. You'll have to guide the protagonist, Guy Dangerous, through a maze of bridges, forests, and swamps – running, jumping, and sliding through obstacles – in hopes of escaping the jaws and claws of a band of rabid temple monkeys. Along the way, you'll need to grab as many coins as you can, so you'll have something to spend on power-ups and other characters that you can use for your next few "runs".
Though the 3D graphics look dated, what Temple Run has going for it is the intuitive control system: swipe left or right to turn, up to jump, and down to slide. You can also tilt your device if you want Guy to bank to the left or the right.
The purchasable upgrades and the randomly generated levels in each playthrough promises a lot of replay value. Definitely worth the $0.00 you spent!
Publisher: Triniti Interactive Limited
KungFu Warrior is a 2D side-scrolling beat-'em-up with nothing else in mind but pure chop-socky Kung Fu action. And as with most narratives set in this world of Buddha Palms and Iron Shirts, it tells a tale of revenge! A band of bandits killed your master and you'll stop at nothing to avenge his untimely demise. Of course, we all know that's just an excuse so your Bruce Lee-looking avatar can unleash the fury of a thousand Martial Arts gods on those bandits.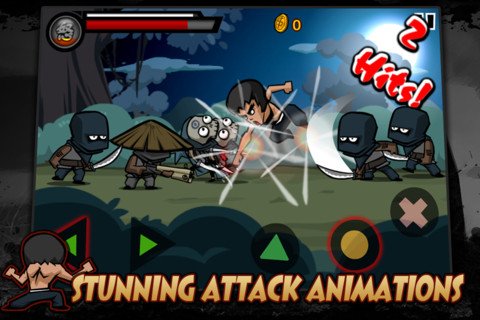 Gameplay is pretty straightforward, and somewhat cathartic. You can move your character around with the left and right arrows and use the jump/block, attack, and special attack buttons to eliminate all the enemies in a level. As you play through the 27 levels of the game, your character gets items and masters some combos that you can use in your quest for vengeance.

Visually, the game looks impressive. The animations are very smooth and the moves look really cool. It's definitely something that you'd want to play while waiting for the receptionist to flash your number.
Just try not to get too carried away and keep yourself from screaming "Hwa-taaaaaaah!" lest you want everyone else in the line to look at you funny.
Publisher: Halfbrick Studios
Many of you may be familiar with this title due to its popularity. Aside from being free, and created by Halfbrick Studios (the developers of Fruit Ninja), it's also highly addictive.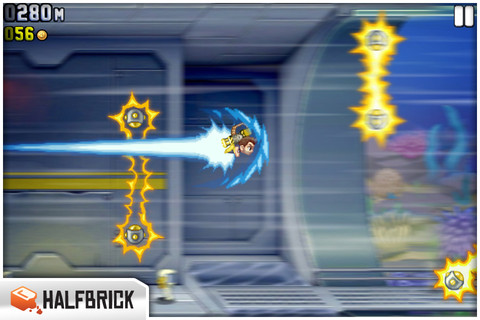 Jetpack Joyride features Halfbrick's Barry Steakfries, who also stars in Monster Dash. Barry needs to escape a laboratory and has stolen a jetpack to help him do such. It's your job to guide him through an endless hall of obstacles, power-ups, and coins. Unfortunately for you, much likeTemple Run, there is no escape. It's just a matter of completing objectives (such as high-fiving a number of scientists, collecting a number of coins in a single run, etc) and going as far as you can to break your own distance record.
The graphics are vibrant, cute, and nostalgic. It has that 16-bit feel that most retrogamers will appreciate. The controls are very simple as well, touch the screen to make Barry ascend, let go to make him descend.
The host of missions and the many purchasable in-game upgrades ensures that you'll be telling yourself, "Okay, last run," many times in a day.
Publisher: Mass Creation Sp. z o. o.
The village of Hanzo the Ninja has been attacked by Pirate Monkey Zombies, razing and pillaging the entire town, and kidnapping his loved ones in the process. The quick-drawing Ninja warrior is more than capable of cutting down these undead invaders, but he will need your finger to guide his blade.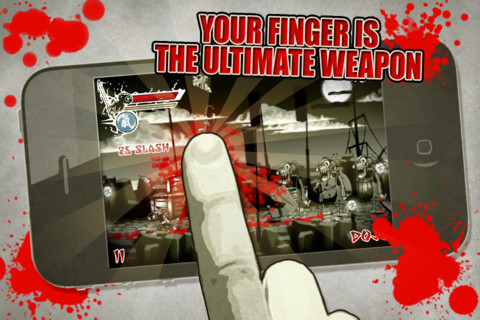 Draw Slasher: Origins is a 2D slashfest that promises lots of fast-paced Ninja action; and, boy, does it deliver. As mentioned above, your swiping your fingers on the screen is how you will control Hanzo. Swipe a path with your finger, and Hanzo will fly through that path, cutting down everything that he and his sword crosses. This simple control scheme and the visceral combat will have you slashing through your touchscreen so much that you'd have to bring out your cleaning cloth every now and then.
The game looks and feels very much like an old samurai movie. The visuals are entirely in black and white, save for the red slashes, life bar, and, of course, blood.
There is a paid version of the game, but the free version and the aforementioned differ only in their visuals. The former is colored while the latter is in vintage black and white.
Publisher: Backflip Studios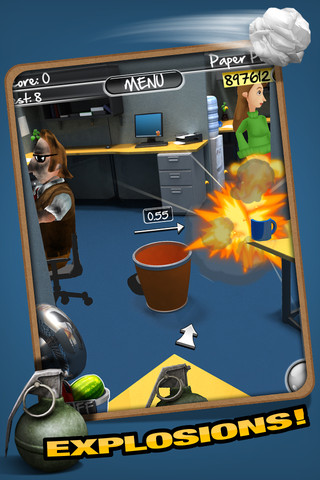 Sometimes we just find ourselves with nothing to do in the office, and we start playing with the most mundane office supplies, most common of which are the crumpled scratch papers scattered on your desk. Tossing the scratch papers into a trash bin is indeed oodles of fun, but doing it in the office could attract the ire of your officemates, your boss, and the janitor who cleans up after all of your missed shots.
Paper Toss 2.0 simulates all the fun of "shooting hoops" without the consequences mentioned above, although it does simulate the consequences as well.
The objective of Paper Toss is to throw a piece of paper into the garbage bin. This may sound simple enough, but adding in the factors of wind, distance, annoyed co-workers and (sometimes) a moving intern could make this task a bit more challenging.
Your aim is to make as many consecutive successful attempts. As you go along, you are awarded with points that you can use to purchase other things to throw into the bin – tomatoes, crumpled soda cans, explosives (you read that right) and much more.

— TJD, GMA News