PNoy stresses responsible stewardship of PPUR
Now that the Puerto Princesa Underground River (PPUR) is officially one of the New Seven Wonders of Nature, Filipinos should take the next step from being its promoters to being its responsible stewards.
President Benigno Aquino III made this appeal Saturday night at the inauguration of the PPUR in Pasay City,
saying
Filipinos should not take such a blessing for granted.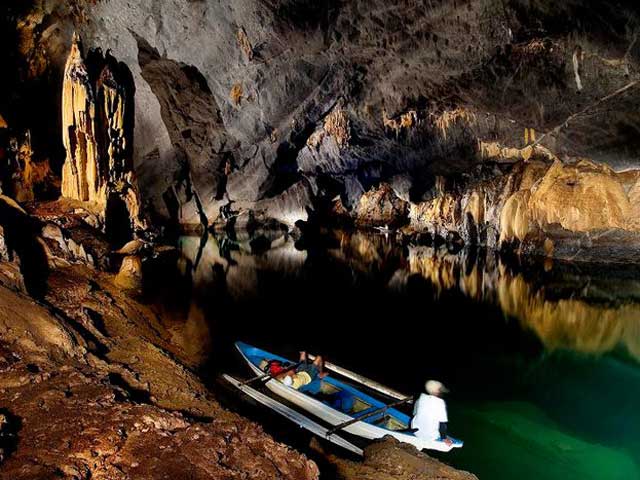 Puerto Princesa Underground River now officially one of the New Seven Wonders of Nature.
"This honor reminds us of how truly blessed our country is – and of how it is our task as Filipinos not to take these blessings for granted. We have to act as responsible stewards," he said.
This means, he added, "valuing our natural resources and ensuring the environmental sustainability of all our development efforts."
Moreover, he said tourism must be "nurtured and sustained," with the best way to do it being to take care of sites like PPUR "not in words but most importantly in deeds."
The same care must also be applied to other tourist spots in the country, he stressed.
"Let us protect it, preserve it and make sure that it retains the natural wonder, the same goes for all our other natural treasures," he added.
Aquino received the plaque from New7Wonders president and founder Bernard Weber signaling the inauguration of the PPUR as one of the World's Seven Wonders of Nature.
Present at the event were Secretaries Jesse Robredo (interior), Ramon Jimenez Jr. (tourism), Ramon Paje (environment), Presidential Communications Operations Office Secretary Herminio Coloma Jr., and Puerto Princesa Palawan Mayor Edward Hagedorn.
The president lauded the collective success of Filipinos in making the PPUR one of the world's wonders of nature.
"In the face of tremendous competition – when we got to the finalist round, there were 27 other finalists and millions of other voters from all over the world – we pulled together, and once again put the Philippines on the map," he said.
"I thank everyone who participated in this effort – from those who led the campaign, but most especially, to those who joined us in sending their text and Internet votes," he added.
78 more ecotourism sites up for promotion
Aquino said at least 78 more ecotourism sites are being eyed for promotion.
He said the Environment and Tourism Departments are working together to market these natural wonders.
"I understand that 78 of them have been identified in addition to those that we already have. While they may not have the acclaim and titles that the Puerto Princesa Underground River has gathered, I can guarantee you that they will be equally representative of the beauty and the diversity of our country, and they will undoubtedly boost our tourism industry as well," he said.
He also exhorted Filipinos to continue protecting and preserving tourism sites while promoting them.
"If we put in the kind of work that brought us to this day – if government and the private sector continue working together, if we take pride in our country and continue fulfilling our individual roles – no matter how big or small – then we can be sure that our successes will not stop here. Our country will continue to stand strong and progress, guided by the broad light of day," he said.
— LBG, GMA News