Art review: Traditional textiles live on at 'Origins and Translations' exhibit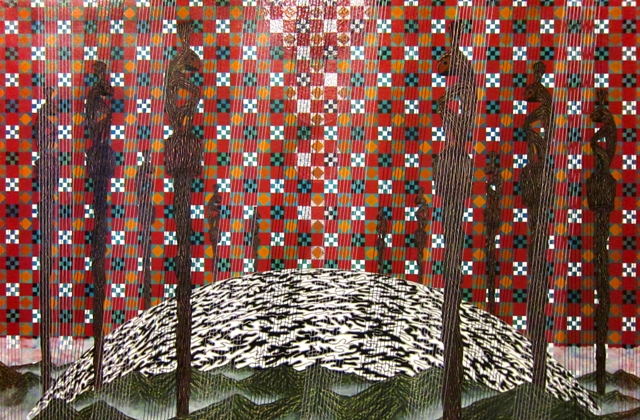 John Frank Sabado's "Caretakers" Photo courtesy of Yuchengco Museum

Traditional textiles get a contemporary twist as the Yuchengco Museum hosts "Origins & Translations: Philippine Textile Patterns & Motifs," a design-centered exhibit that showcases ethnic textiles and contemporary translations of these.
At the heart of the exhibit are Floy Quintos' collection of indigenous textiles and clothing from Northern and Southern Philippines, and Al Valenciano's collection of select cloths from upland Ilocos.
Among these local traditional clothing and fabrics, one can find a display of colorful Ilocano blankets made of pure cotton, ikat-print Philippine silk malongs, a finely embroidered Maranao canopy, jackets heavily beaded in bright, dizzying patterns from the Bagobos, and many more authentic native fashion from as far back as the 1900s.

But more than these artifacts of ancient aesthetic, the exhibit also displays contemporary creations that were inspired by their more traditional counterparts.
Of course, the clearest confluence of the traditional and the modern can be seen in the couture on display, where the inspiration was taken from the material itself—for instance, a silk bustier made from T'nalak fabric done by Randy Ortiz, or a dress made of mauve abel weave by Pepito Albert, or Inno Sotto's beautiful and delicate pintado bodysuit—a high fashion interpretation of full body tattoos of South Sea Islanders.
There was also a beaded bolero made with abaca weave designed by Lulu Tan Gan, red pants made from Yakan weave by Jeannie Goulbourn, and an orange dress with B'laan inspired beaded patterns by Lenora Cabili of Filip+Inna.
There was even a pair of bright-pink platform-heel shoes by Earl Gariando made from handwoven grass and carved molave, and an exquisite necklace designed by Maria Victoria Balingit made from T'boli brass and freshwater pearls.
Yet stunning as these interpretations were, the modern translations of traditional textiles were not limited to fashion alone.
Also on display were various other forms of visual art, including paintings, sketches, and even a love seat from furniture designer Ito Kish—all of which clearly took inspiration from the native textiles that were placed alongside them, whether from the patterns, the colors, or the texture.


Among the artists whose works were on display were National Artists for Visual Arts Abdulmari Asia Imao, Arturo Luz, and Hernando R. Ocampo; visual artists Ivi Avellana-Cosio, Roberto Feleo, Ricarte Purugganan, and John Frank Sabado; and stage and costume designer Gino Gonzales.
Ultimately, the exhibit showed not so much the evolution of Philippine art but the endurance of local aesthetic—that no matter the medium or the time, the colors and patterns that Filipinos have grown and loved are never forgotten and never go out of style. –KG, GMA News
The "Origins & Translations: Philippine Textile Patterns & Motifs" runs until April 24 at the Yuchengco Museum located at RCBC Plaza, corner Ayala and Sen. Gil Puyat Avenues, Makati City. Museum hours are Monday to Saturday, from 10 a.m. to 6 p.m. For more information, call (02) 889-1234 or visit www.yuchengcomuseum.org.