UP summa cum laude grad reminds batch: be true Iskolar ng Bayan
Passing the University of the Philippines' College Admission Test (UPCAT) with top marks, Charlton Sean Gaerlan II started his university life at the podium, addressing newbies like himself at a welcome assembly in 2007 about the challenges and expectations they faced as students.
Finishing his degree with highest honors five years later, the Oblation scholar was once again tasked to speak to his batchmates, reminding them this time that being an Iskolar ng Bayan never stops upon graduation.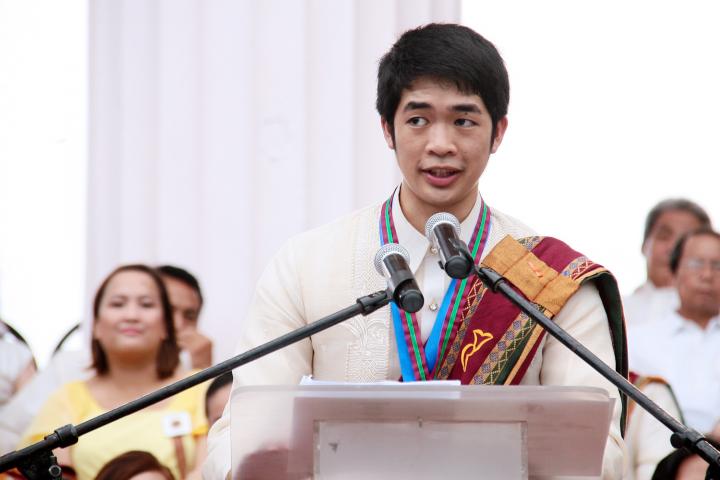 With his mom proudly looking on, Charlton Sean Gaerlan II talks to UP's graduating class of 2012 about duty, respect, and proving oneself worthy of the title Iskolar ng Bayan.

"Bilang mga Iskolar ng Bayan, inaasahang malaki ang ating maiaambag para sa tunay na pag-unlad ng ating bansa," said Gaerlan during UP's 101st commencement exercises in Diliman on Sunday.
The College of Business Administration's (CBA) top student this year represented close to 4,000 candidates from Batch 2012, which produced 862 cum laude, 222 magna cum laude, and 19 summa cum laude graduates.
"When I gave my speech in front of fellow freshmen, I was apprehensive because I felt that I would have to prove myself to them during our stay in UP and not just be all talk," Gaerlan told GMA News Online. "Giving the speech in front of my fellow graduates made me realize that I have to live up to my words once again."


Thousands of UP students in attendance rejoice as they shift their sablays to their left shoulders, signifying that they have officially graduated from the university.

The 21-year-old business administration and accountancy student finished at the top of his college's class with a weighted average grade of 1.134, which also made him the university's fifth top student this year. He now prepares for the October board exams to be a certified public accountant.
"I've known Chase since first year and all I can say is he has never let his successes get into his head," said Englebert Chua, Gaerlan's classmate and chairperson of CBA's local student council.
Both of them were given awards for special services they rendered to the college during a recognition ceremony earlier on Sunday.
"Yet, behind all the achievements and distinctions, you can see that taong-tao rin si Chase," Chua added about Gaerlan, who he called "a natural genius in everything he does."
Gaerlan, however, thought of himself as "a typical student who hung out with friends a lot, spent a lot of time with my orgmates, made time for school activities, and found some of my college subjects difficult."
"I exerted as much effort as my batchmates," he added. "But I was fortunate to have higher grades."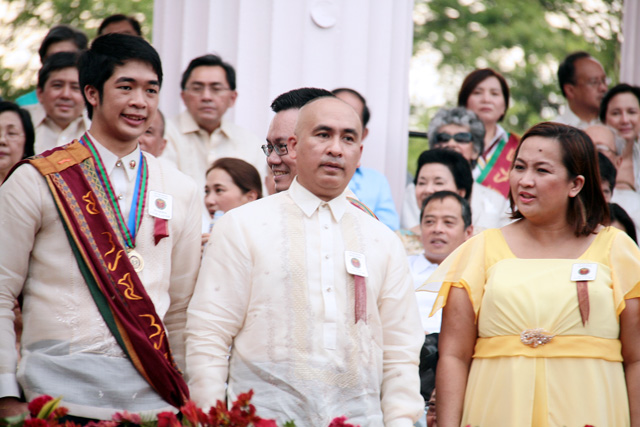 Chase, with parents Lt. Col. Charlton Sean M. Gaerlan and Atty. Aileen L. Duremdes.
The class valedictorian of Baguio City National High School fell in love with UP thanks to his lawyer mom and military officer dad, who both studied in the university.
"(They) told me a lot of humorous stories of academic mishaps and blunders, coupled with tales of personal and academic achievements," said Gaerlan. Seeing UP students with an "air of confidence" during his campus visits, he said "there was that feeling that I wanted to belong, so I eventually chose to study in UP."
He shared in his speech that UP strengthened his resolve to stand by his principles and protect it when necessary, a lesson instilled in him by his parents.
"Subalit kaakibat nito ay ang pagbibigay-galang sa paniniwala ng iba bagama't taliwas ang ilan sa mga ito sa aking paniniwala," he said on stage.
While the next six months will be spent reviewing for the board exam, he looks forward to teaching in UP someday.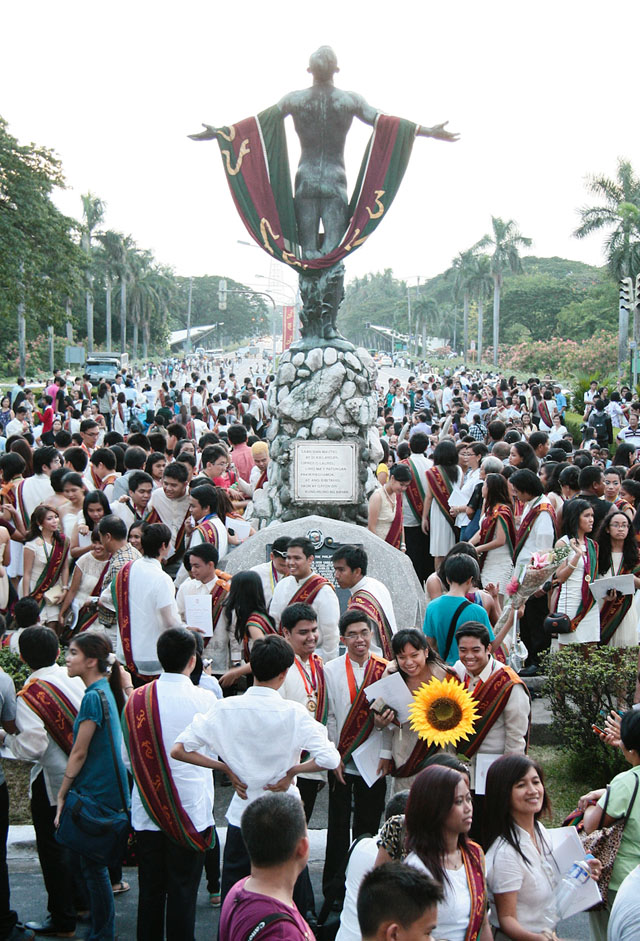 Fresh graduates flock to the Oblation for their obligatory souvenir photos. According to urban legend, undergrads who have their pictures taken before receiving their diplomas won't graduate on time.
"I want to be able to uphold the culture of excellence my professors have imparted to me when I was a student," said Gaerlan. "They inspired me so much that I, too, want to be an inspiration to a new generation of students."

In his speech, he said that UP students had different methods of addressing their concerns, but the aim was just the same: "ang maipakita ang ating tunay na pagmamalasakit sa kapwa at ang pagtulong sa abot ng ating makakaya kahit na tayo ay may sariling suliranin at responsibilidad."
Gaerlan himself balanced his time in studying for six-hour (or longer) advanced accountancy exams, preparing for interschool competitions, and serving as Vice President for Education and Research in the UP Junior Philippine Institute of Accountants.

"To survive UP, one must always (be) constantly on his/her toes and continuously improve. Being classmates with the best and the brightest in the country is not easy," Gaerlan told GMA News Online. "One must always push himself/herself and strive for the best so as not to be left behind by others."
For now, he and his batchmates will rest from all the academic and co-curricular load of the university.
"Ngunit bukas o makalawa, muli tayong magplano at magsumikap," he told them from the podium. "Maging karapat-dapat tayo sa bansag at pagkilala sa atin bilang mga tunay na Iskolar ng Bayan." –KG/TJD, GMA News