Peace Blossoms stages 'The Tao of Tai Chi' on World Tai Chi and Qigong Day
For five years straight, Peace Blossoms Internal Arts Society has been organizing and hosting the Philippine celebration of the World Tai Chi and Qigong Day (WTCQD), an annual event held simultaneously in more than 65 countries worldwide.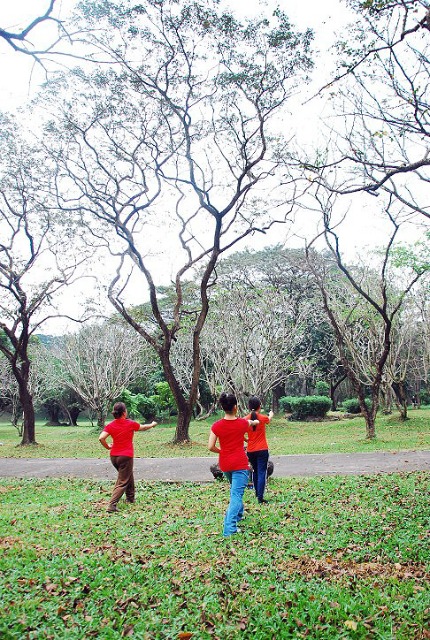 This year, the organization will once more lead the public through a three-hour program on April 28, 2012, from 9 a.m. to 12 noon at the Bulwagang Tandang Sora, 3rd floor of the UP College of Social Work and Community Development building in UP Diliman, Quezon City.
The celebration begins with a group exercise of Tai Chi 18 Forms Qigong (Shibashi).
This will be followed by the staging of "The Tao of Tai Chi," a production that showcases the origin and selected routines of tai chi chuan, including Snake and Crane style Kung Fu, Five Animal Frolics Qigong, Chen style 56 forms, Yang style 24 forms, Wu style, Yang style 32 sword form, Tai Chi for Arthritis (Sun style), Push hands technique, Chang Quan (Wushu), Wah Lum Tam Tui Northern Praying Mantis Kung Fu, and Kung Fu Fan.
Founded in 2008, Peace Blossoms Internal Arts Society is a recreational club with the mission of promoting internal arts, primarily tai chi and qigong, in achieving holistic health for the self and the community. The group offers both free and paid lessons on Tai Chi and Qigong to communities, groups, individuals, companies and organizations.
The general public is invited to attend the 2012 World Tai Chi and Qigong Day Philippine celebration. Admission is free of charge. For inquiries, please get in touch with Ms. Irene Chia through 02 436 1860, 0917 845 6856, or peace.blossoms.society@gmail.com.
Press release from Peace Blossoms Internal Arts Society
Photo by Elmer Esma
Go to comments