Animal welfare group seeks help on arrest of Facebook user who hung puppy to dry
The Philippine Animal Welfare Society (PAWS) revealed on Friday via a Facebook post that police on Thursday were unable to arrest Jerzon Senador, the Facebook user who in June last year hung his puppy to dry on a clothesline and posted pictures of it on the online social network.
"PAWS was in Calamba, Laguna yesterday for Jerzon Senador's long-delayed arrest, but when police arrived at his Looc address, the accused's parents said that Jerzon Senador has left home and that his present whereabouts are unknown to them," the animal welfare group said in its Facebook
post
Friday.
"Anyone who may have information leading to the arrest of Senador, please call PAWS at 475-1688 or the Calamba Police Station at 049-545-1694," PAWS added.
The warrant for Senador's arrest was issued September 21, 2011 by Calamba municipal court judge Carolina Icasiano-Sison. A bailbond of P4,000 was recommended.
Senador is charged with violating the Animal Welfare Act (Republic Act 8485).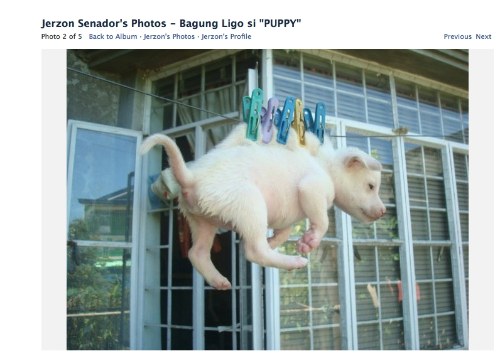 Senador's Facebook photo album
Bagung Ligo si 'PUPPY'
was
posted
on June 12, Independence Day in the Philippines. The puppy was not free as he was hanging there secured by five clothespins.
The images ignited an online firestorm that Senador at first met with defiance. But he later apologized and took the photos down, demonstrating once again the speed of fame and infamy on the web.
— ELR, GMA News