Police: Labor Day rallies peaceful so far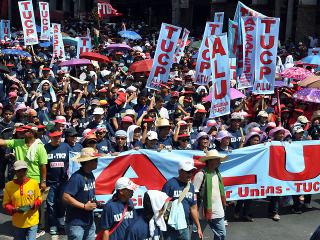 Workers march to Mendiola on Labor Day. Moderate labor groups march to Mendiola on Tuesday to mark International Labor Day. The group is asking President Aquino to address the worsening problems that beset Filipino workers and trade unions. Danny Pata
The Labor Day protest actions lined up by various workers' groups in Manila have been peaceful so far, the Manila Police District said Tuesday afternoon.
MPD head Chief Superintendent Alejandro Gutierrez said a first batch of protesters left Mendiola Bridge near Malacañang without incident.
In an interview on dzBB radio, he said they are preparing for the second batch of workers' groups to march to the historic bridge.
"Sa ngayon mapayapa sila, nagpoprograma sa Plaza Miranda. Ang unang grupo natapos bago tanghali," he said in an interview on dzBB radio.
He said they expect the group at Plaza Miranda to leave the area at 2 p.m. and arrive at Mendiola before 3 p.m.
Gutierrez said some 3,000 police personnel have been deployed in Manila, including Plaza Miranda and Liwasang Bonifaio.
Earlier, police securing Mendiola Bridge got a brief break at noon Tuesday after the first batch of militant workers left the area peacefully.
But the first batch of workers also left behind a mess as they departed. –KG, GMA News