Whedon crowns 'The Avengers' with epic action
What else can be said about the most hyped movie of mid-2012?
10 things you might not know about 'The Avengers'


TESSE-WHAT?: In the movie, the Tesseract (or Cosmic Cube) is an energy source of unknown potential which, when activated, opens a portal through space and time. In geometry, a tesseract is a shape that exists in four dimensions. Think of it as a square that's gone hyperspace, meaning the tesseract is to a cube as a cube is to a square. Which means parts of it are always invisible since they exist in another dimension.

BIG NUMBERS: It's a bona fide blockbuster that the numbers confirm. It's bagged the biggest opening weekend in the country, grossing P281-million nationwide. Which means it beat "Spider-Man 3" back in 2007 (which had P236-million) and "The Twilight Saga's Eclipse" (a paltry P55.4M on a Wednesday opening). On an international scale, it's bagged $178.4 million since opening last April 25.

NOT C.I.A., YOU SAY?: S.H.I.E.L.D. Stands for "Strategic Hazard Intervention Espionage Logistics Directorate." It deals with the US government's covert affairs in espionage and secret military law enforcement. It is the black ops of black ops or, as Tony Stark would say about Nick Fury, director of S.H.I.E.L.D, "Even his secrets have secrets."

WHEDON'S WORDS OF PLOT WISDOM: "Iron Man, Hulk, Thor and Captain America don't seem like they could co-exist and ultimately that is what intrigued me and made me go, 'This can be done and this should be done.' These people don't belong together and wouldn't get along, and as soon as that dynamic came into focus, I realized that I actually have something to say about these people."

MANHATTAN IN OHIO: Special effects supervisor Dan Sudick and his team built the New York set on East 9th Street in downtown Cleveland, Ohio, and then proceeded to blow the whole thing up when they shot the invasion of the Chitauri Fleet. "Yeah, today we blew up the whole world," laughed director Joss Whedon about the day of the fated sequences. "I don't remember writing anything quite as big as what we shot."

RUFFALO SMASH!: Industrial Light and Magic put actor Mark Ruffalo through many motion capture paces, putting his bone structure, the contours of his eyes and mouth into the mix as he performed in front of a four-by-six foot monitor where he could see the sketched outline of the animated outcome. "You step out in front of it and incredibly you see The Hulk looking back at you!" exclaimed Ruffalo. Whedon adds: "We really wanted to bridge the gap between the characters so that when he turns into The Hulk, you go, 'Oh my God, that's Bruce Banner! Only he is big and green and very angry!'"

LOKI JUST WANTS TO FIT IN: Tom Hiddleston's take on his character: "Loki's villainy is motivated by the fact that he's damaged and searching for his place in the universe, but in this film he's a lot more menacing and a lot more powerful. He's much more self-possessed. He's also a god, so he's more powerful than any human."

S.H.I.E.L.D.'S HELICARRIER: Production designer James Chinlund distilled the essence of the various versions of the floating headquarters and finally settled on a size that takes up one-quarter mile of airspace. While some visuals of the Helicarrier have it looking like a Bozanian fortress bristling with weapons, they tried to make this one believable as a vehicle that could plausibly exist in today's military while still retaining its mind-blowing nature.

WHEDON VOLUNTEERED: "When we put the word out that we were looking for directors, Joss Whedon came in and was very interested," recalls Marvel Studios Executive Kevin Feige. "I told [Whedon] that one of the most important things with 'The Avengers' is it needs to stand alone and you need to structure it in a way so that people can watch the film without having seen any of the other Marvel films and get the story start to finish."

ROBIN JOINS S.H.I.E.L.D.: Cobie Smulders (who plays TV anchor Robin Scherbatsky in the comedy show "How I Met Your Mother") landed the role of Agent Hill, second in command to Nick Fury, on her first audition. "I was just blown away when I found out that I got the role," she exclaims, adding that it's one of the biggest coups of her film career. –KG, GMA News

That it's an extravaganza for the senses is an understatement. The action sequences are pure cinematic dope exceeding the hype that will claim your eyes and come back for the sockets. To say that it's superbly entertaining is to call a roller coaster ride a good time.
Director Joss Whedon sure reached deep into his bag of tricks from his "Buffy" and "Firefly" days for this one, firing on all cylinders, with blessings from Stan Lee et al. to feel at home in the Marvel playground. All that is par for the course, but Whedon's genius really becomes apparent when you see how deftly he blends together inter-character tension, overarching plot conflict, a sense of dramatic scale, character histories and motives that interlace into a bigger story tapestry.
The fact that he's got five superheroes played by A-list actors would have given any director pause, but Whedon masterfully, carefully places all that thespian brawn into the loom and flicked the on switch to see how his exposition could be fueled with the help of ILM's sheer CGI firepower.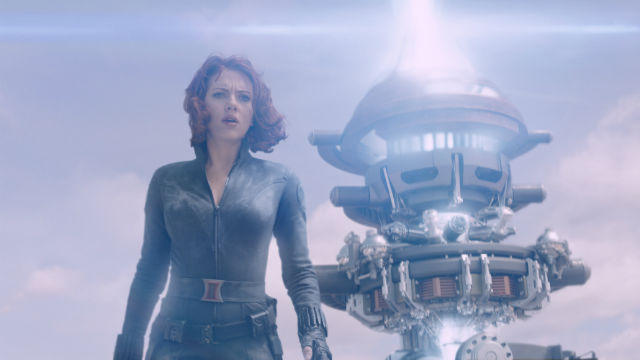 Scarlett Johansson as Black Widow.




I tell you, this is Whedon's crowning glory in the house that Marvel built.
We open at a secret facility of the shadowy US organization known as S.H.I.E.L.D., where they've been conducting experiments on the Cosmic Cube or The Tesseract, a glowing blue cube that has been, in the words of physicist Dr. Erik Selvig (Stellan Skarsgard, whom we last saw in "Thor"), "misbehaving." Nick Fury (Samuel L Jackson), director of said shadowy order, comes in to see what's going down and consults agent Clint Barton aka Hawkeye (Jeremy Renner) about his opinion.
The Tesseract interrupts them by activating and opening a portal through space. And who steps through? Exiled Norse god Loki (Tom Hiddleston) bearing a magical scepter. As Fury looks on, Loki proceeds to destroy the opposition or convert them to his cause with mind control. With Hawkeye and Dr. Selvig in Loki's sway, the Tesseract in his hands and no idea what the villain's up to, Fury reactivates the Avengers Initiative. He approaches Steve Rogers (Chris Evans) and sends Natasha Romanoff aka Black Widow (Scarlet Johansson) to India to convince Dr Bruce Banner, while Agent Philip Coulson talks to Tony Stark at his building.
Soon Loki's plans are revealed to us; how he encountered and befriended the predatory Chitauri, an alien race whose conquest, hungry nature, and appetite for war have led them to bargain with the exiled god. In return for the Tesseract, the Chitauri will use their military might to subjugate Earth for Loki. Boy do they ever make a good case. When the invasion fleet finally comes, the behemoth transports of the Chitauri are astounding and terrible to behold, proving a match for the heroes and their abilities even as, with their sheer numbers, they try to overwhelm the Avengers. And if you see the movie in 3D, like I did, the destruction wrought over New York and the CGI will look doubly tasty—you can almost feel the air sizzle to a crisp when Thor summons his lightning.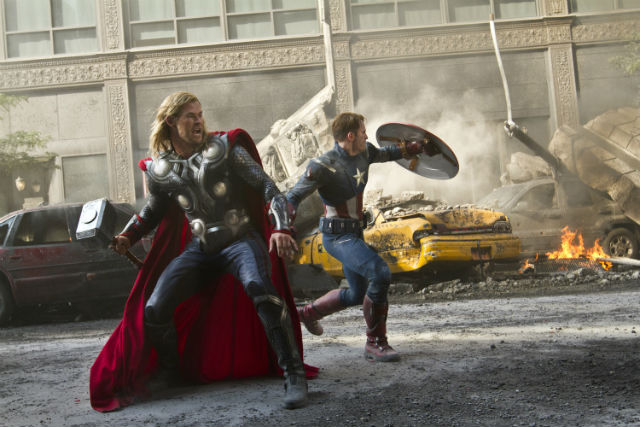 If you see the movie in 3D, the destruction wrought over New York and the CGI will look doubly tasty.







"But we have a Hulk," goes Tony Stark and The Hulk's primal strength really is one of the linchpins of the team as a game changer. Mark Ruffalo is a surprisingly good Bruce Banner, and a victory of casting intuition, with the new take on his control over his alter ego as a Zen of anger. "I'm always angry," he explains to Captain America, about how much of an upper hand he actually has on The Hulk by keeping his rage at a constant simmer.
Despite Dr. Banner's reassurances it's hilarious how everyone's still nervous around him, jumping at his voice when it's raised above conversational. Only Stark, with his half-joking, half-mocking verbal stabs dares to treat the doctor's condition as something other than a freak to be steered clear of. In one scene he pokes Banner's elbow with a soldering iron. Granted, it's not the proper way to broach such a subject (especially if catastrophic results may occur) but at least he's talking about the green elephant in the room, unlike any of the other heroes.
Thor, Captain America, Hawkeye, Black Widow and Nick Fury all have their moments in the movie, and there really is something for everyone to dig, no matter who your favorite is, or no matter your level of Marvel geekiness. Let me stop there and let you discover the rest of the surprises for your viewing delight.
The fact that it's a Walt Disney feature shouldn't deter adults from checking this one out not only for the superb actions scenes but also to see how a storyteller like Whedon can put his touch on a master class level and blow your mind to smithereens. Bring your kids, bring your wife and siblings, heck, bring your grandparents along and they'll enjoy "The Avengers" guaranteed. –KG, GMA News

Photos from Walt Disney Studios