Witness: Mon Tulfo started brawl by kicking Claudine karate style
(Updated 9:25 a.m.) - Contrary to his claims that he was the victim, columnist Ramon Tulfo started the scuffle with actor Raymart Santiago at the Ninoy Aquino International Airport Terminal 3 Sunday when he hit Santiago's wife Claudine Barretto, a witness to the incident claimed.
In an interview aired on GMA News' "24 Oras," the witness identified only as "Anna" said she could not keep quiet after learning Tulfo repeatedly claimed in various media interviews that he was the victim.
"I reacted because sabi ko (I believe) that's not true," she said.

She also said she was "seriously thinking" about testifying if she were asked to. "The way I see it the poor couple is being inaapi," she said.

"Anna" said she was one of the passengers of one of the airlines at NAIA-3 and saw the incident.
Tulfo and Santiago engaged in a scuffle at NAIA-3 after Santiago saw Tulfo taking footage of Barretto scolding ground personnel of Cebu Pacific.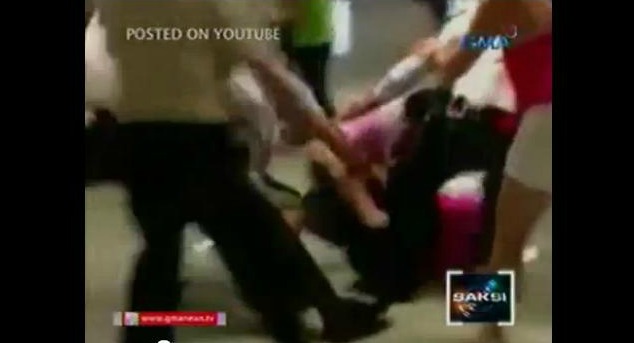 A YouTube video shows Tulfo and Santiago in a scuffle at the NAIA-3.


Barretto was angry about the offloading of their baggage from Boracay.
"Anna" said she saw Barretto asking Tulfo for the cell phone he used to take footage of her, but added she was not aware an altercation was already brewing.
She recalled she and some passengers were even egging Barretto to take the mobile phone from Tulfo's pocket. She also noted Tulfo kept denying he had taken footage of her.
"At that point he pushed Claudine at tinadyakan. To me it looked like martial arts. Kinarate," she said. Tulfo is known as a martial arts practitioner.

"It did not look like he was protecting himself," she added.

She recalled shouting to Tulfo, "Hoy, babaeng tao 'yan! That's a lady! You don't do that to a lady!"
She added many of the witnesses reacted because Tulfo could have just held Barretto instead of kicking her.
"I wish I'm not the only one who can speak like this. There were a lot who were watching," she said.
"To me, from what we looked at, Raymart was just defending his wife," she said.
"Anna" said it's about time women "stand up for our rights" and demand they "be treated the right way."
She also advised Tulfo to apologize to Barretto.
"
Sana Mon Tulfo, kung nakikinig ka rin, sana mag
-apologize
ka kay Claudine
," she said.
Tulfo denies kicking Claudine
In a story aired by GMA News on Sunday, Tulfo admitted to kicking Barretto. "Tinadyakan ko. Natadyakan ko siya. Eh sinuntok ako eh," Tulfo told reporter Aubrey Carampel at the airport police headquarters on Sunday.

But in a subsequent interview, he "vehemently" denied it and said he believed women should not be hurt.
"
Malayo 'yan sa mga Tulfo, lalo na sa akin na pinalaki kami na hindi dapat manakit ng babae. Ang babae kasi ay minamahal at hindi sinasaktan
,"
Tulfo said on 24 Oras
on Monday night.
–KG/HS, GMA News