Comics artist Tony de Zuñiga dies at age 79
Comics artist Tony de Zuñiga, the co-creator of "Jonah Hex," passed away early Friday at the age of 79.
De Zuñiga died at 1:25 a.m. after suffering from stroke, heart failure, and brain damage, his wife Tina told GMA News Online.
She said the doctors attempted to resuscitate de Zuñiga but could not because his heart and brain have already malfunctioned.
She added that the family wishes to have the interment at The Heritage Park in Fort Bonifacio, Taguig City, but no date has been set yet.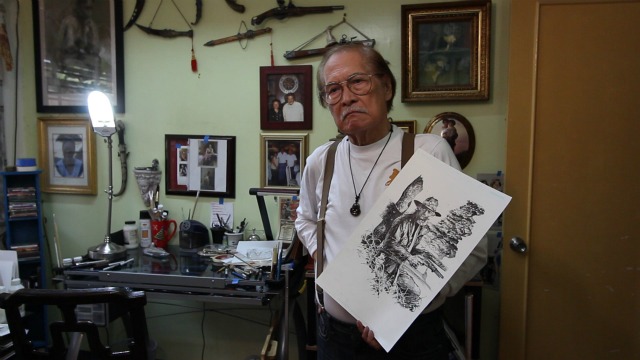 Tony De Zuñiga posing with a sketch of his most popular creation, Jonah Hex. Levi Marcelo
De Zuñiga was with his wife, his sisters-in-law Ching and Florie, and his daughter Sheryl when he passed away.
De Zuñiga is a legendary comics character creator who penned the images of Jonah Hex, Batman, Superman, and Spider-man.
Early last April, he was admitted to Las Piñas Doctors Hospital and received Intensive Care Unit (ICU) treatment for his
stroke
, his friend Felix Cua said.
Tina was quoted by an
online comics community
as saying that the stroke had damaged De Zuñiga's brain and the doctors needed to perform an operation to stop the bleeding.
"The brain was swollen so they need to take the pressure out so they need to insert a tube to release the pressure, but since I don't want them to open up it created an hernia," Tina told Comic Art Community.
Knight in shining armor
Now, all the family has of de Zuñiga are memories they will cherish.
"Tony is very smart, clever, and funny," Tina said. "He is my knight in shining armor."
She recalled that when people converse with him, it is "as if they have already known him for so long."
De Zuñiga would always be willing to answer even petty questions from children and help them with whatever they wanted to do.
"I just wished nabuhay pa siya ng kaunti, para makita niya ang pagmamahal ng mga tao," Tina added.
Condolences from Neil Gaiman
Neil Gaiman, a renowned author of fiction and graphic novels, expressed his condolences online.
"RIP Tony DeZuniga, amazing Filipino artist. The 1st to crack the US & the 1st artist of Black Orchid," Gaiman posted on his Twitter account (@neilhimself).

Comic book aficionado and media personality RJ Ledesma (@rjled) also sent his sympathies, saying: "Rest in peace Tony De Zuniga.A proud Filipino comic book creator. Eternal rest grant upon him, o Lord."

"Thank you to all the support," Tina said. "We saw how the world loves him so much."
His friend and fellow comics artist, Gerry Alanguilan, said in his
blog
that De Zuñiga gave him a sense of security and someone he could count on.
"And while our conventions may seem empty now without him, as if something would always be missing, his memory will help keep us going, and keep us making comics," he said.
De Zuñiga finished Commercial Arts at the University of Santo Tomas, and later went to New York to work for DC Comics.
While in DC, he inked the first version of Black Orchid, Supergirl, Ghost Rider, Weird War, and Dracula, among others.

He then moved to Marvel and worked on some renowned characters such as Spider-man and Robocop. –KG, GMA News