'Somewhat Different': Fresh takes on everyday household objects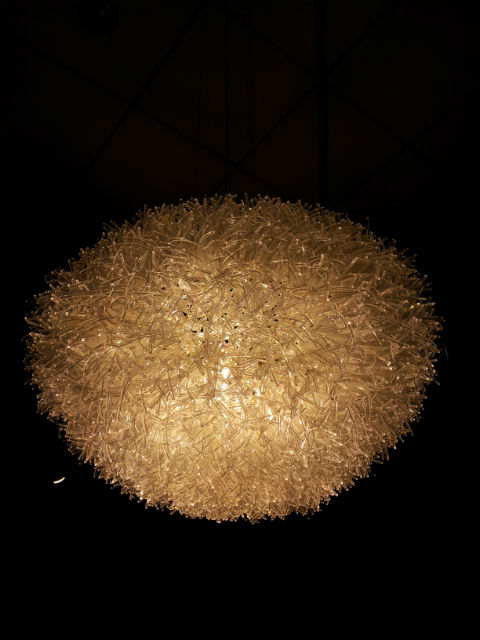 Olivia D'Aboville's chandelier is a bright idea.
Photo by
Manix Abrera
Design is everywhere, but we rarely give it any thought. When it comes to objects like lights, chairs and shelves, these are things we use on a daily basis, so there isn't really a need to think about how they're made, or the purpose they serve.
At the Goethe Institut's "Somewhat Different: Contemporary Design and the Power of Convention," 67 individual designers and studios present a total of 148 objects in fresh and pleasantly surprising ways.
As explained in the exhibit notes, "designers deliberately subvert their general, conventional understanding to reveal their absurdity. The designs do not only provoke astonishment, but challenge one to reflect on general expectations, codes of behavior as well as the referential context of firmly established notions, and to review traditional fixations."
Curator Volker Albus points out that changing habits have a great impact on design. For instance, one of the pieces in the exhibit features shelves that can be used as transport boxes. "Which kind of shelf do I really need?" Albus shares the question that designer Tom Pawlofsky had in mind when he came up with his unique bookshelf design.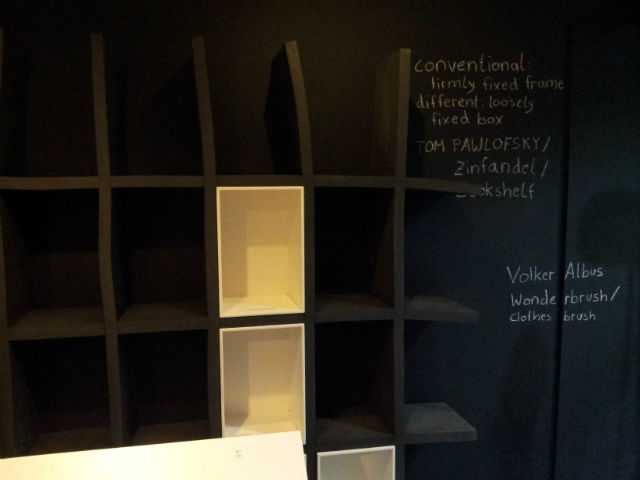 Tom Pawlofsky's bookshelf doubles as transport boxes.
Photo by
Manix Abrera

"We have to make life easier, and we can do that with good design," said Albus at the exhibit opening on May 2 at the Yuchengco Museum.
Each of the pieces on exhibit shows an ordinary object designed extraordinarily, like Konstantin Grcic's clothes hanger and brush, Christophe Vaillant's backrest hallstand for jackets, or Jorg Hundertpfund's "Two of Us" laundry basket.
"Somewhat Different" features 47 designers based in Germany and 20 in other European countries.
Also joining the exhibit is Epoch, described as a group of six young international artists who challenge old concepts with alternative perspectives with their new design concepts, allowing for the reawakening of the imaginative flair and creativity of the Filipino people.
New uses for charcoal, cocktail stirrers, pineapple fiber
One of the Epoch designers is Filipino artist Jinggoy Buensuceso, who shares that for his piece, the material came first. "I was in the car and I saw some charcoal being sold by the road. I pulled over and bought so much, but I didn't know what I was going to do with it yet," he laughs. In the end, he came up with "Detox," a sculpted lamp that detoxifies your living space with charcoal, a powerful air purifier.
Known for his work with buffed aluminum metal, the 30-year-old artist used one of his old metal stands for the lamp, which is held up using knobs from a grill.
The other Epoch designers are Daniel Latorre Cruz, Wataru Sakuma, Martha Cech, Stanley Ruiz, and Olivia d'Aboville.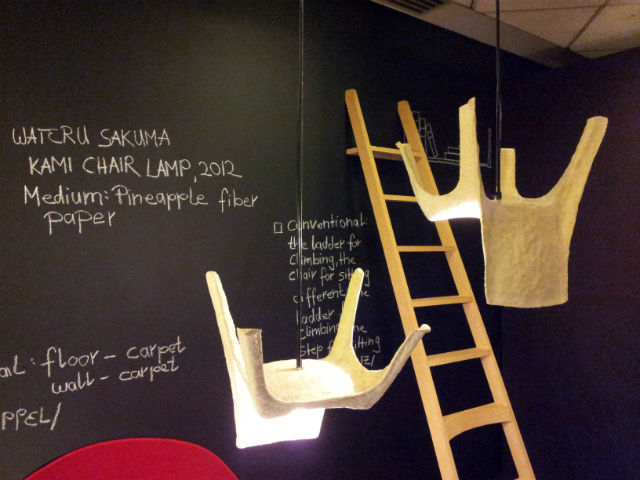 Turn your room upside down with Wateru Sakuma's Kami Chair Lamp.
Photo by
Manix Abrera
Cruz uses a Singer treadle with a connected lamp to create a one-of-a-kind study table, which has a black iron cast leg frame and a native tree tabletop. The lamp is powered by kinetic energy from the treadle machine. He also creates an updated rattan lounge chair with an iron frame and upholstered seating, and "Icarus," a mulberry paper lamp of hand-shaped paper wings.
In his Rebaroque Chair, Sakuma recreates a classic into a contemporary piece by curving and adding local wood scraps onto an existing Baroque chair. In his Kami Chair Lamp, he turns the world upside down with pineapple fiber paper.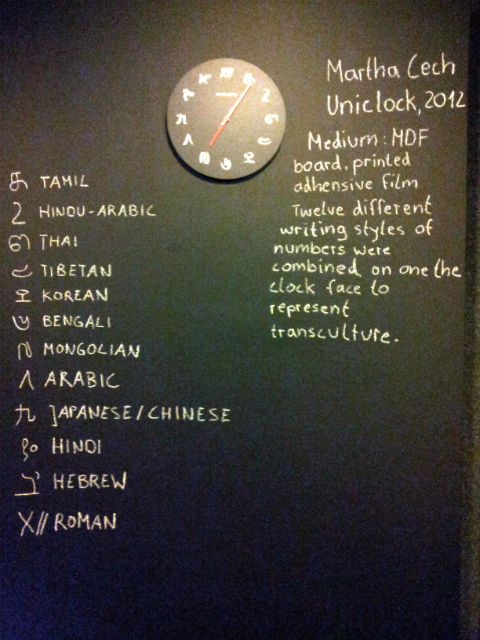 Martha Cech's Uniclock tells you the time in different writing styles.
Photo by
Manix Abrera
In her Uniclock, Cech uses printed adhesive film to combine 12 different writing styles of numbers on the clock face to represent transculture.
Ruiz paints the ubiquitous root chair kindergarten yellow in his Root Chair No. 1, while D'Aboville recycles cocktail stirrers for her Echinus Chandelier.
"It's not your usual art house fare," observes Roy Kagalingan, one of the exhibit visitors. "I find it interesting... This is just a microcosm of the grand scheme of things," says Kagalingan, drawing a comparison to the creation of the universe.
Walking around the exhibit is like window-shopping for your dream house. During the opening, the guests enjoyed looking at the different objects, at the same time coming up with their own ideas. As promised, the works show alternative ways of doing things, and make one realize just how important design is.
"It's incorporated within our lives. There's no escaping design," Kagalingan says. –KG, GMA News
Goethe Institut's "Somewhat Different: Contemporary Design and the Power of Convention" exhibit runs until May 31 at the Yuchengco Museum, RCBC Plaza, 6819 Ayala Avenue, Makati City.